Mom shows ingenious way to teach kids consent, and it's just brilliant
Seeking consent at every turn, the child is given the choice to make his own decisions and understand boundaries.
Image source: TikTok/@once.upon.a.mama
Consent is the foundation of a healthy relationship. It doesn't necessarily have to be a romantic or sexual relationship. Consent matters every time two individuals interact. In a world where sexual minorities are often blamed for being sexually assaulted, men are often let off. The standards for men are so low, they're basically underground. With more sexual minorities speaking up about being harassed and sexually assaulted, the conversation is now turning towards holding men responsible and raising responsible sons. A mother from Chicago showed a really good example of teaching consent and body autonomy from a very young age. Her son might only be a toddler, but Alissa seeks his consent at every turn and her parenting style really makes you sit up.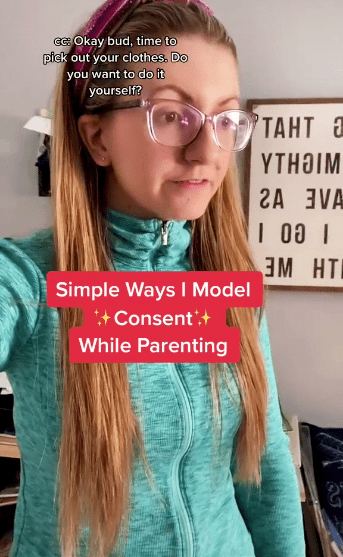 The 32-year-old teacher seeks her son's consent for everyday tasks ranging from asking his permission to comb his hair, tuck his shirt and even give him a hug. While some of that may sound on paper, the TikTok video posted by her shows how enthusiastically he responds to each of her questions. Even when he says no, you can sense the boy is aware he can make a choice out of his free will, and that really is the basis of consent. Alissa's emotionally intelligent style of parenting has really struck a chord with more than 1.9 million having watched the video.
Alissa is also aware that there are situations where some things need to be done to take care of the baby, such as changing a diaper as it's necessary care. But that doesn't mean she overrides him in a rude or abrupt manner. Alissa likes to involve the child as much as possible in such tasks and always explains what she's doing and why she's doing it, so the baby understands what's going on. The 32-year-old spoke to PopSugar about teaching kids consent and the importance of creating boundaries. "It helps to protect children from future abuse and teaches them to respect the boundaries of others. Even parents can make children feel uncomfortable when the touch is not wanted. My videos are geared toward parents and future parents to help them understand the importance of not only respecting their children's boundaries but doing so in a way that parenting can still be done as well," said Alissa.
You can follow her work on TikTok and Instagram.