Editor's note: This article was originally published on April 21, 2023. It has since been updated.
It doesn't come as a surprise that most women have to take up the burden of household work, which includes cleaning, cooking, etc. Many of them also have the added responsibility of office work, but they still manage to do everything ending up exhausted. A mom from TikTok, @5kids5catssomedogstoo, posted a video in which she shared how difficult it is to manage household chores along with office work. "I've worked six, ten-hour days in a row, only one day off being a sick day," wrote Lynalice Bandy in the video. Meanwhile, she shows how dirty her whole house looks, with everything spilled around.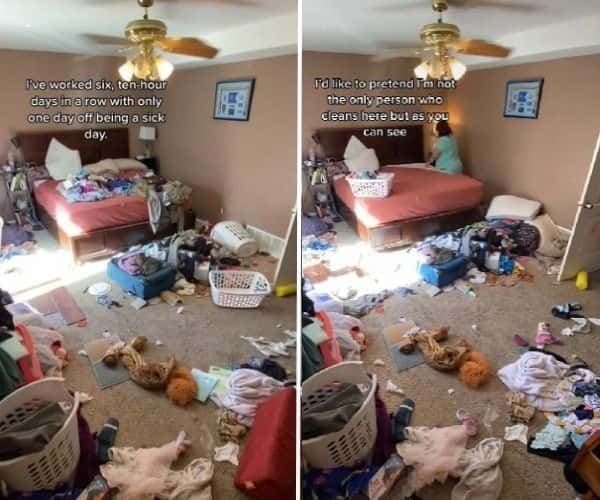 "I'd like to pretend I'm not the only person who cleans here, but as you can see," reads the overlay text. She can be seen setting up the bed and cleaning up the room. "These rooms don't get much attention when I'm not here, especially the kitchen counters," mentions Bandy. She further explains why everything ended up the way it is at home. "While summer session was happening, my soon-to-be-ex-husband claimed he couldn't watch the kids while he was focusing on homework," reads the overlay text. "Now, that school is out for a break, he doesn't have that excuse anymore," adds Bandy. The kids can also be seen helping her out with cleaning up a bedroom. Next, she can be seen cleaning up another room, clearing a table, and brooming the floor. "Despite that, every single day after I've gotten home from work, I've been met with one disaster or another caused by inattentive parenting," wrote Bandy.
She then mentions the disasters that she comes home to. "Shampoo on the carpets in the girls' room, nail polish all over nugget covers, hair, and carpet. Scissors were used to cut hair, the down comforter, the mattress cover, and two nugget covers," wrote the mom. Then she is seen cleaning up the drawing room. She further says, "My ex lost his temper and smashed my dogs' food bin."
"All of his attention has been focused on the four vehicles in our driveway that he wants to work on continuously. His obsession has hit an all-time high and he's even brought car parts into the dining room and left oil everywhere. This was because he claimed he had to be able to watch the kids and just not doing the task wasn't an option," reads the overlay text while Bandy is seen cleaning the kitchen counters and washing dishes. "I wish so much that the housing economy wasn't what it was and I could afford to move out. My soul aches without a place to feel safe and happy. Hang in there, lovelies," concludes Bandy in the video. In the end, she also shows how clean the bedroom, living room, and kitchen look.
The TikTok video garnered about 7.7 million views. Many on the platform supported the mother and what she has been going through. "All I'm gonna say is I'm proud of you, Mama. I'm going thru the same thing and it's hard for me to even clean. Hugs," commented @christina_jim81. @amnakhalid_ wrote, "Being a single parent while married is the worst. I'm glad you're changing that for yourself and the kids." @rhirhi.15 expressed, "Kids are messy for sure. I like how you acknowledged that it was "inattentive parenting" and not "destructive kids" or the like. You're a great mum."