Birthday parties for kids these days are quite expensive and countless hours of work. It is not something that every parent can afford. From fancy decorations and return gifts to entertainment and delicious food - it can make any parent concerned when faced with the prospect of organizing a similar party for their own children. This is why one mom on TikTok was very impressed when her son received a rather unique invitation to a birthday party. Nat Lele (@not.just.nat) shared the invitation with the caption, "These are my people." She says in the video, "My son has come home with the most hilarious birthday invitation I have ever seen and I need to share it."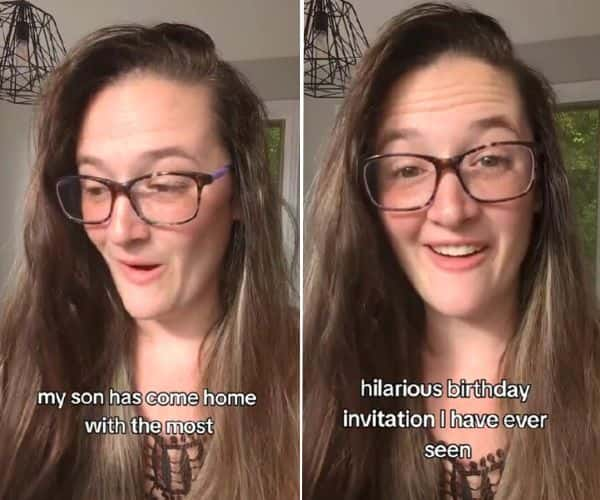 "It reads as follows: Evan, you are invited to [Insert Child's Name Here] fifth birthday party. This event is brought to you by Pinterest Fails and the Dollar Store, so please set your expectations appropriately," Lele continues.
The card also addresses the conundrum parents find themselves in when their little bundles of joy can't decide on any one theme for their birthday parties. "As requested, the theme will be unicorns but with rainbows and maybe bats, but there should be princesses and also Minnie and we need dancing lights, so dress accordingly. Please pack a bathing suit, sunscreen, puddle jumpers, etc., in case your sweet baby angels decide our original plan sucks and the pool would be a better time," reads the invitation.
The best part of the invite is that it gives parents the option to just drop their kids off and not be around for the party. "If you would like to drop off and run, we support that entirely. If you would like to stay, we will provide adult juice and deny any offers to help to be polite, but deep down, want to support you. You do you," Lele read from the invite.
"Needless to say, we will absolutely be attending because these are my people. This is the kind of mom I can be friends with," the mother says in the video.
The video went viral with about 4.3 million views and 646.1k likes. Many parents were equally impressed by the invitation card. @LifeisaB_tch3000 commented, "I'm glad a parent is finally lowering the standards/expectations because I'm done with these Pinterest/IG-inspired kid parties." @mollypap wrote, "This is incredible. It's what we're all thinking when hosting kids' parties." @illwritememo expressed, "Can't wait to see how everyone interprets 'dress accordingly'. Someone better [come] dressed like a bat princess." @dona_give_a_xx said, "Love, Love, Love this and please hug this Mom for me! Incredible down-to-earth vibes and I need to be updated ASAP!" @thatgirlmaddie22 commented, "PLEASE update us when you attend... I NEED to know how this sick party rolls out!"
In a follow-up video, the mom shares, "I am calling for the official end to these highly curated, highly perfected children's Pinterest birthday parties."
She adds that she will be attending the birthday party in July and give a full update. "I absolutely will be posting a follow-up and I will bring some adult juice to share. I've also never met this mom and I'm super super super excited. I think we're gonna hit it off like besties right from day one. And if you have any ideas on what I should wear for the 'rainbow princess mini bats dancing lights' theme, please let me know because this is where I got started," says the mom pointing at the rainbow cap she is wearing.