Many mothers have hoarded their kids' baby teeth in their drawers as they like to be reminded of their baby's initial years. They cherish them as mementos of their early years and as part of the tradition of saving teeth for the tooth fairy. However, a mother on TikTok has recently cautioned others about the potential consequences of hoarding their kids' teeth.
If the child happens to stumble upon these stored teeth, they may be filled with curiosity and have numerous questions to ask. We will have two choices: to tell them the truth that the tooth fairy does not exist or to make up an even more elaborate story. Laney Goff—who goes by @thisislifewithlaney on TikTok— shared her experience.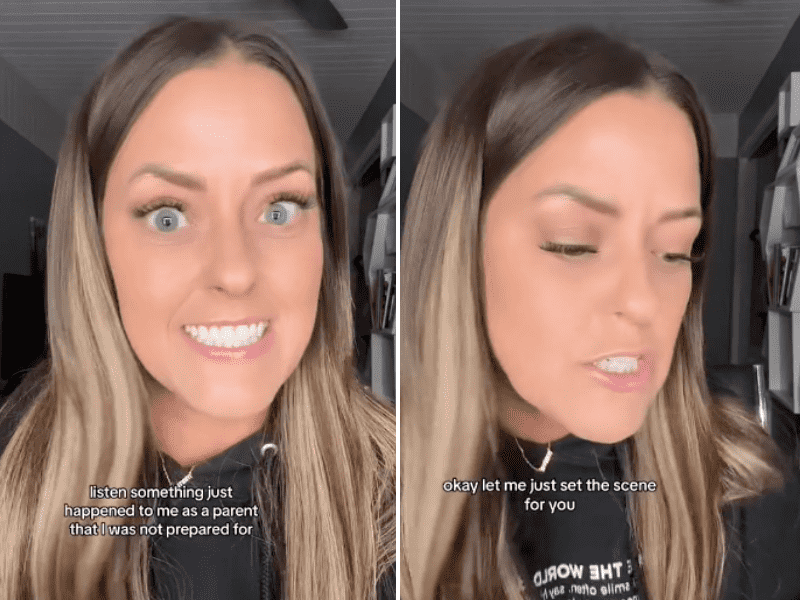 "Listen. Something just happened to me as a parent that I was not prepared for," Goff said at the beginning of the video. She was in the kitchen when her 7-year-old daughter, Molly, asked her to come to Goff's room, and when they entered the room, Molly was in tears and crying and "a mumbling, jumbling mess." Molly was afraid of getting into some trouble, but her mom could not understand the situation yet. She held Molly and tried to calm her.
As a mom, Goff was scared and imagining the worst-case scenario. Her daughter was seeking answers and some assurance, "I'm immediately conjuring up some bullsh*t," Goff says. "I immediately start telling her she's not in trouble. This is her house. She's welcome to go through anything she wants to because I'm not hiding anything from her. But that's not the truth because I was trying to hide those teeth. So I tell her that the tooth fairy gives the teeth back to the parents for memories. So that whenever she gets older, I can pull her teeth out and show them to her for good memories."
"Also, in the event she ever goes missing and a dead body is found, we can use them for DNA. I get it. It may not have been the smartest choice of words." The trouble was not over and Molly told her mom that her friend in school said the tooth fairy was not real. Molly had started to believe what her friend revealed to her. The mother came to complete honesty after she blamed America a little, "I don't know why Americans come up with all this bullsh*t. But this is what they've done, and they've put me in the position as your mother to lie to you."
Hereon, many truths had to be revealed. When Molly asked if Easter Bunny was real, her mom told her it wasn't. Then Molly asked about Santa and although her mom wanted to keep the Christmas magic alive, she was still honest with her daughter and told her it wasn't real.
Goff joked she would have to tell her ex-husband, "I just wanted to tell you that your daughter no longer believes in anything" and he would hate her for this reason. However, she emphasized how important it is for her to be honest and transparent with her daughter. Now, they just have one problem, "Now I'm gonna make her lie to her little brother, so her little brother has the same experiences."
Many parents emphasized with the mother and told her that she handled it very well. @jay_souther commented, "When you first said that she went through your nightstand I thought she found something else. It could've been worse." @chickenlady_04 said, "My son found his teeth when he was 7 and his reaction was, 'Wow mom, you could be rich! you should put these under your pillow!'" @bethaniebrook62 suggested, "Omg we should be friends because this is the exact story I gave to my oldest almost word for word."