Jodi Benson is known for giving voice to Ariel in the 1989 cartoon version of "The Little Mermaid." Since then, she has been seen as a Disney icon and not far from a real-life Disney queen. Recently, a mother and daughter had a chance to meet with Benson while visiting a hotel and it was like a dream come true for them. The TikTok user and mom, Jayla, narrated in a video how they ended up meeting Benson.
"When you walk out of your hotel room, and these ladies want a picture with your daughter... and then you realize, it's Jodi Benson," Jayla wrote in a text overlay on the video, reports Scary Mommy. "The original Little Mermaid that you have been obsessed with since you were little!"
Jayla's daughter, Nyla, was also dressed in an adorable Little Mermaid dress carrying a Little Mermaid doll, which the two were taking to a premiere of the latest "The Little Mermaid" film. Before posing for the picture, Benson even helped Nyla brush her doll's hair and make sure it was front and center for the picture. "I LITERALLY CANNOT STILL I AM CRYING ALL OVER AGAIN," Jayla wrote in the TikTok video's caption.
The mother-daughter duo also attended the premiere of the new "The Little Mermaid" movie in which Halle Bailey is starring. "Nyla enjoyed every single second, and we even saw Ariel herself." Jayla posted a video clip on TikTok while attending "the blue carpet" event. In a follow-up video, Jayla expressed her gratitude for being able to share such a special moment with her daughter.
While sobbing, Jayla said, "I am just so thankful... the life we live, getting to experience like this is just crazy... like yes, I get to live these moments too, but my daughter..." She then shared that she and Nyla are on their way to Disneyland in the morning.
The video of her meeting with Benson has garnered over 15.1 million views and 3.7 million likes on TikTok. @flourishing_fancy commented, "I love how Jodi Benson made sure the doll was facing forward. Small acts like that mean a lot." @the.kyltira wrote, "I ADORE Jodi Benson so much. Her meeting Halle at the premier brought me to tears! Absolute queens!" @melissabailey91481 expressed, "Your daughter is adorable. Jodi Benson looks like a princess for real. Her voice is angelic."
We all know and see how children love to enact as Disney characters. In another adorable video posted on Reddit, a 2-year-old can be seen enacting a scene from the movie "Frozen" in the snow. Her moves and her attitude definitely deserve an award.
In the background, the most famous song from the movie, "Let It Go," plays and the child sings and acts with it. She first sways her hands and then throws away her gloves while singing the song's chorus. Then she picks snow from the ground and throws it away. After a while, she begins to walk just like Elsa, one of the two main characters from the animated movie. It is adorable to see the kid enacting every step from the song.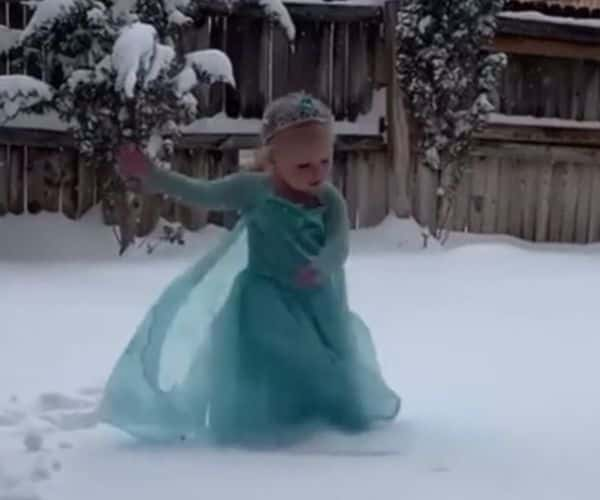 The video is captioned, "2-year-old re-enacts her favorite 'Frozen' scene." Many on social media found every move of the child adorable. u/imariaclay commented, "The toss of the gloves had me laughing," while u/joemama161105 wrote, "2 years old but that ATTENTION TO DETAIL." u/Shot_Boysenberry_232 shared, "This is sweet. I remember my niece coming home from school and changing into a costume she had a few different ones. But she really liked changing from the uniform into a princess or Elsa it was cute af lol."