Editor's note: This article was originally published on June 20, 2022. It has since been updated.
Maybelle Blair, a women's baseball player who inspired the classic movie "A League of Their Own" publicly came out as a lesbian at the age of 95. Maybelle Blair was one of the members of the All-American Girls Professional Baseball League, a professional women's baseball league that existed from 1943 to 1954. The women's league inspired the 1992 classic movie "A League of Their Own" starring Geena Davis, Tom Hanks and Madonna, reported HuffPost. It also inspired an Amazon Prime series of the same name. And it was during the promotion of the series that Blair opened up about her sexuality, leading to raucous cheers from the crowd. The caption of the post read, "For the majority of her life, sports legend 95-year-old AAGPBL player, Maybelle Blair felt like she had to hide her authentic self. Today she came out publicly for the first time. We couldn't be happier for her and continue to push for love, acceptance and education on and off the field."
Blair, from California, pitched for the Peoria Redwings in 1948. She was at the 2022 Tribeca Film Festival in New York about the series created by Abbi Jacobson of "Broad City" and Will Graham. "I think it's a great opportunity for these young girl ball players to come to realize that they're not alone, and you don't have to hide," said Blair. "I hid for 75, 85 years and this is actually basically the first time I've ever come out," she said to loud cheers. Madonna played Maybelle Blair's character in the original film and was known as "All The Way Mae," just as Blair was called during her playing days.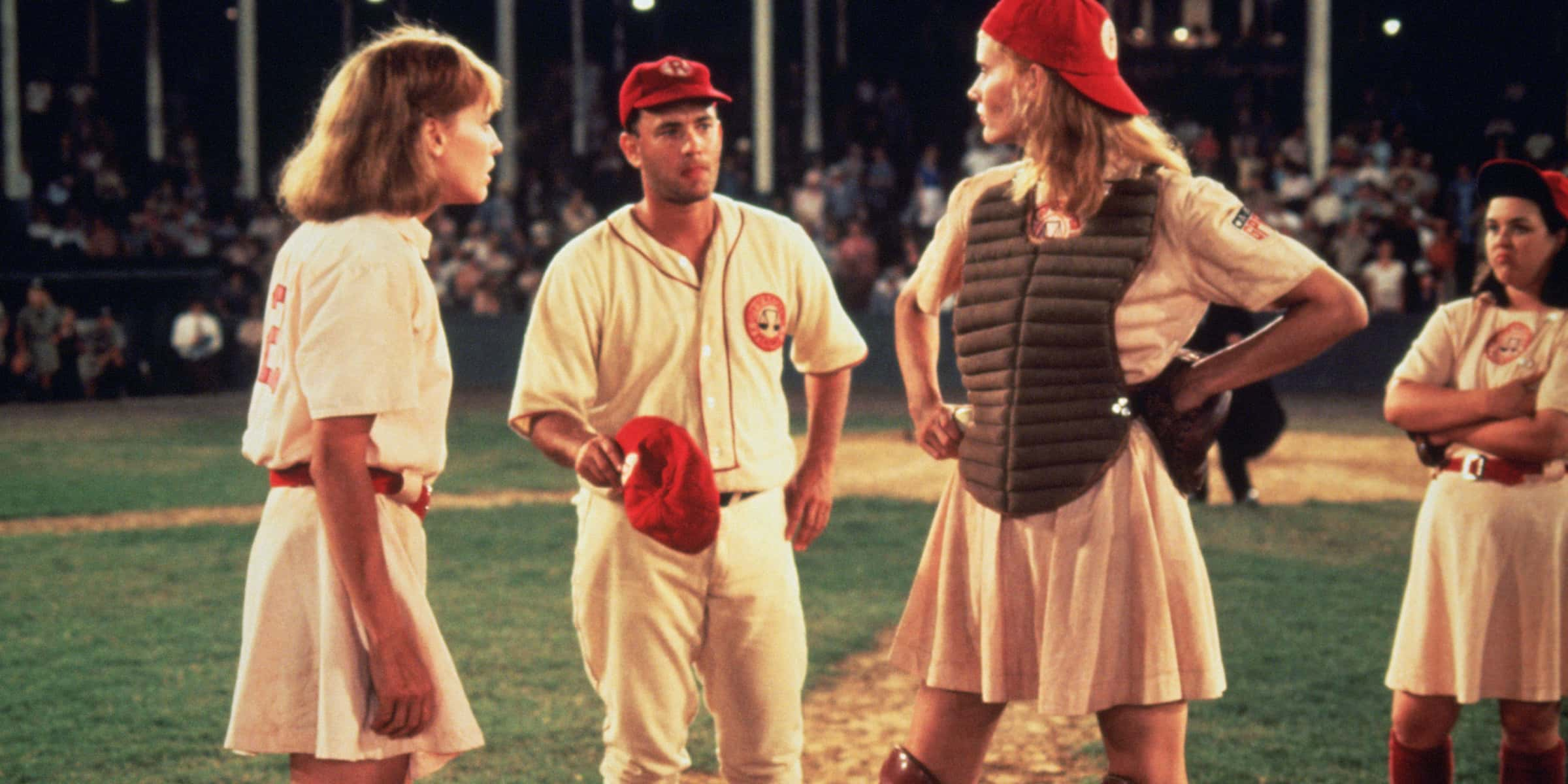 Blair recalled developing feelings for girls and feeling guilty about it. "I thought, oh my gosh, Maybelle, what's wrong with you? Because I had a crush on this girl in high school and finally, we sort of had a little thing, you know how you do. It was really bad because in our day you wouldn't dare tell your family or hint to anybody that you were gay it was the most terrible thing in the world," said Blair, reported LGBTQ Nation. Blair recalled how joining the league changed her life. "I went back to Chicago and I got on the team and I'll tell ya, it was the most amazing time of my life because they asked me to go out to a bar," she recalled. "Well, it turned out to be a gay bar and I was never so happy in my life."
Blair's speech at the Film Festival was shared on the official "League of Their Own" social media accounts. The new series, much like the movie, is based in 1943 and tells the story of fictional members of the team Rockford Peaches. The original movie was directed by Penny Marshall. "Twenty-eight years ago, Penny Marshall told us a story about women playing professional baseball that up until then had been largely overlooked," said Graham and Jacobson in a statement in August 2020. "We grew up obsessed with the film, like everyone else." Abbi Jacobson revealed on "The Drew Barrymore Show" that she had sought the blessings of the director before the former passed away in 2018. Jacobson, who also stars in the series, revealed it will go beyond the original movie and take "a deeper look at race and sexuality, following the journey of a whole new ensemble of characters as they carve their own paths towards the field, both in the league and outside of it."
Jacobson said the series also explores racial issues and that one of the prominent characters is a Black woman. "A door opens for a lot of white women and white-passing women that get on the league that we all know from the film," she said. "But what about the Black women who were not allowed to try out and who had to sort of carve their own path to play baseball? It's also a really queer story," she said.
Rosie O'Donnell, who starred in the original, confirmed she will make an appearance in the series. "I'm playing a bartender in one of the scenes at the local gay bar," she said on the "Everything Iconic With Danny Pellegrino" podcast. The cast also includes Roberta Colindrez, Nick Offerman, Saidah Arrika Ekulona, Kate Berlant, Kendall Johnson, Kelly McCormack, Alex Désert, Priscilla Delgado, Aaron Jennings, Molly Ephraim, Melanie Field and Dale Dickey. Nick Offerman is playing the role of Rockford Peaches coach Casey "Dove" Porter.