Editor's note: This article was originally published on May 19, 2021. It has since been updated.
Pregnancy is considered a beautiful blessing but those who get pregnant can have a hard time toward the end of their term. Even doing basic tasks can seem herculean and walking in itself can be cumbersome and tiring. Pregnant people get bigger and it gets harder as one nears delivery. Many of those who have not experienced pregnancies rarely understand the physical and mental toll it can take on an individual. Former Olympian and gymnast Shawn Johnson, who's having a baby with her husband Andrew East, an NFL football player, wanted to help East understand how hard life can get when you're pregnant.
The pair is popular on TikTok and created a series of videos on pregnancy difficulties, titling it "Making My Husband Feel What It's Like to be Pregnant." They decided on a simulation plan to make Andrew East experience the physical sensations and difficulties of pregnancy. In the first video, Shawn plastic wraps a 14-pound weight ball around Andrew's midsection to simulate the baby along with its weight. East says, "I don't even know what I'm signing up for."
As soon as Andrew East starts to feel the weight of the ball, he starts complaining. Shawn actually documents the number of times East complains in the video. Shawn then lets East know that he's actually carrying only half the weight of a usual pregnancy. The pair is incredibly cute in the video. She explains to him that the average weight gain is 30 pounds during pregnancy. "This is half of the actual weight?" he asks, "That's terrifying." She then asks him to pick up a toy off the floor with the 14-pound ball attached to his body. Johnson can't control her laughter as East struggles to pick up the ball. He does it on the second try. Shawn then shows him the easier way to do it.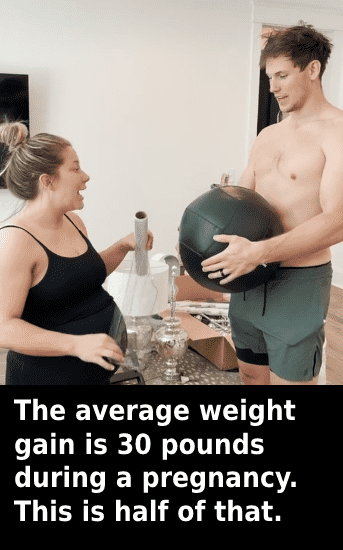 In the second video of the series, she asks him to lie down on the bed. Shawn captioned the video: "This is how @andrewdeast is trying to build empathy." While it sounds like a relatively easy task, East realizes it's not once he sits down on the bed. He is not sure what's the right way to lie down with the ball weighing him down at his waist. After Shawn instructs him, East slowly eases himself into the bed and then struggles to sit up. Shawn lies down and shows him how it's done.