Dean Mayhew was always forgetting the rewards card of his favorite supermarket but he found the perfect way to ensure he never misses out on Tesco's discounts and best deals—by getting a tattoo of the card's QR code. The 30-year-old coughed up $240 to get a permanent tattoo of the Tesco's QR code at A Star Tattoos in the U.K. as he's very forgetful. Mayhew says that, this way, he will always have the card with him. The video of the tattoo being done was posted on TikTok by artist Dan Rossetter and went viral immediately. He can be seen tracing the code onto a sheet of paper before inking it on Mayhew's wrist. Rossetter was extra careful as he recreated the intricate QR code. Unlike the other tattoos, Rossetter would get to know the success of this one only when it was tested at a Tesco shop.
They decided to put it to the test and headed to the nearest Tesco, reported Mirror. They bought cookies using the code. The code scanner was at awkward angle, so Mayhew had trouble bending his arms to scan the code at the self-checkout center. They were disappointed until a cashier stepped in and used the scanner. Mayhew held out his wrist as the cashier scanned the tattoo. The scanner read the QR code tattoo and they were ecstatic. The cashier let out a laugh as Mayhew celebrated the new tattoo. He couldn't be more pleased. "I'm chuffed, I love it and use it all the time. I use it every morning when I go to Tesco before work," he said. "I used it this morning. It's one of those things where I get to see people's faces and make them smile."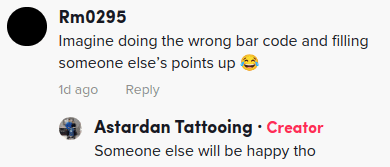 While it may seem like a decision off the cuff, Mayhew says he's been thinking about it for months and is happy to finally get it inked. "I've wanted to do it for ages, about three months I've been thinking about it," he said. "I just thought it would be funny," he added. Mayhew said the cashier at Tesco couldn't believe it and said to themselves "That's not real." He convinced them it was and urged them to scan the tattoo. Everyone was fascinated by the tattoo and ecstatic when it worked. Mayhew says it's a pretty decent tattoo to have, even if the scanner hadn't picked it up but thankfully, it did. Credit to Rossetter who got the intricate details down to the T. "I was worried about that 😂," joked Rossetter about the tattoo not working.
Mayhew added that someone had even asked for a selfie. While some had a laugh and thought it was a silly joke, others said it felt dystopic. "The government will be making us all have one in no time," wrote one user. "Late stage capitalism," commented another. "We really are living in a dystopian world," added another.