Welcoming a new child is a profound experience not just for the parents but their entire extended family. Uncles and aunts prepare for their little nephew and nieces with utmost excitement. Hayden was also extremely excited to meet his newborn nephew when something happened that made the experience even more special. he discovered that his sister has named the child after him. His sister, Katie Stone–who goes on TikTok by @_katiestone–caught the moment when she revealed the news to Hayden and his reaction to it is priceless.
The video unfolds with anticipation as viewers are introduced to Hayden, a young uncle whose life is about to be changed forever once he enters the room. The video is set in a hospital room and there is a palpable sense of excitement in the air shared by the family, who are about to embark on this emotional journey. Hayden's expression is a blend of excitement and curiosity as he approaches to meet his baby nephew. As the parents ask Hayden if he would like to know the baby's name, he responds with an enthusiastic, "Yes!" The build-up to this revelation sets the stage for the surprise that follows.
With utmost expectation, the parents introduce their precious baby boy's name to Hayden, which takes him entirely off guard, as they say, "Brooks Hayden Stone." He is visibly shocked after hearing the name and with a quiver in his voice, he asks, "Are you serious?" It's a moment where joy, astonishment and gratitude converge, encapsulating the very essence of what makes family moments so precious.
He can't help but wear his happiness on his sleeve as he gazes at baby Brooks. His eyes glisten with tears and the sheer weight of the honor bestowed upon him sinks in. When someone offers to take the baby so that he can have a moment to collect himself and perhaps shed a few tears, Hayden gently declines, turning his back to her and stating, "No, I want to hold him."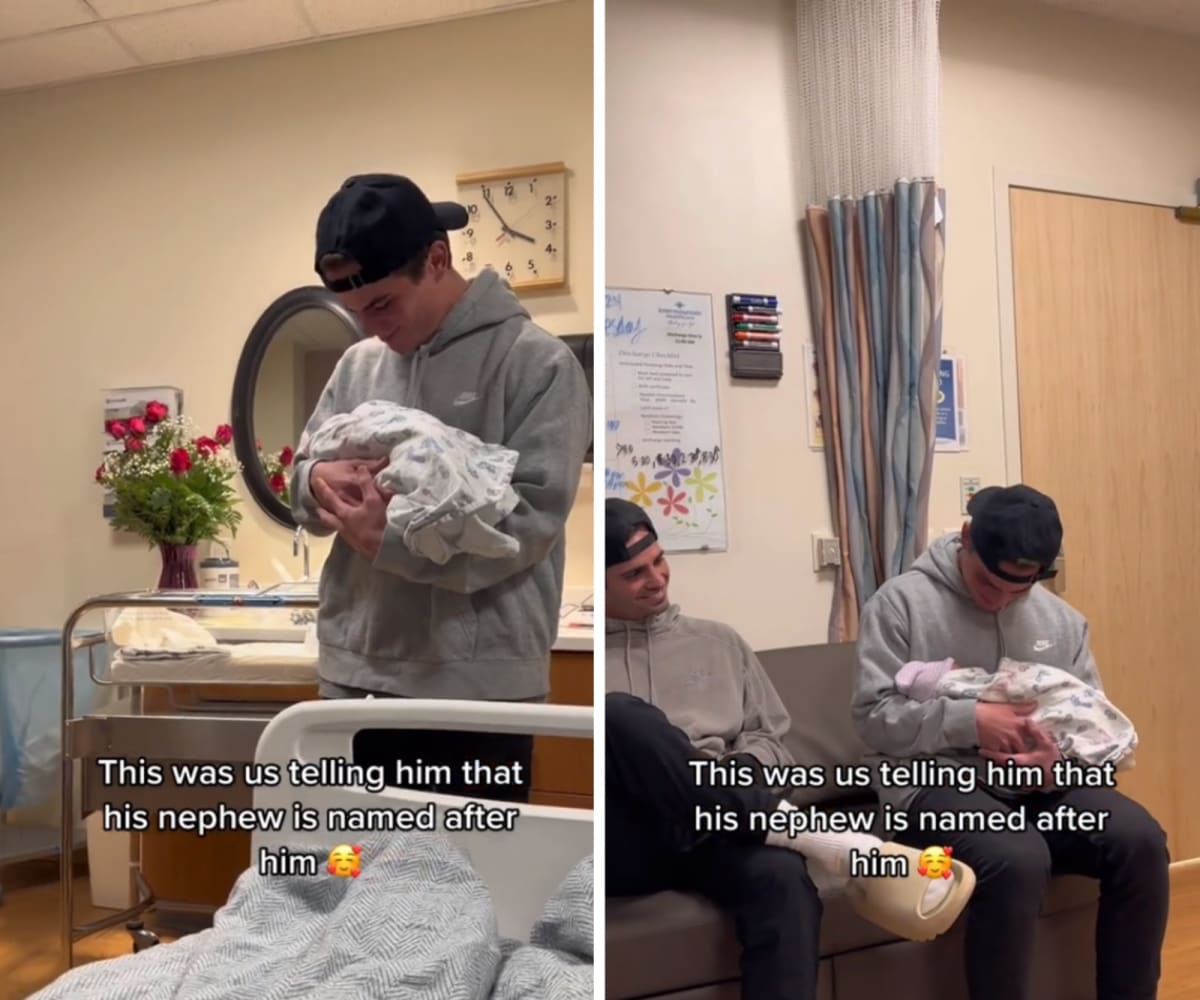 As touching as the video itself is, the comments it has garnered offer a glimpse into the shared sentiment of the viewers. User @jncruz211 said, "We have to protect Uncle Hayden at all costs because that is the purest of humans." @misplacedredneck74, said, "That baby's first outfit has to be a grey zip-up hoodie and a black hat! Congratulations!" This comment playfully suggests a future wardrobe for baby Brooks, highlighting the endearing notion of a special bond between uncle and nephew. @it_tismeemily said, "5 years from now, there will be a video of Uncle signing him out of kindergarten just so they can hang out for the day."
Many people in the comment section start predicting that Hayden will be a great dad in the future as shared by @chelsea282828, "This is how he acts with his nephew?? He's going to be the world's best dad ever!" Not only that, but many singles were asking whether Hayden was single, to which Stone replied, "Sorry y'all, Hayden is not single. @cecetaylorr is a lucky girl."