A US resident from Pakistan has anonymously donated 30 million dollars to the victims who lost their homes and families due to the earthquakes in Turkey and Syria. This spontaneous gesture of kindness has helped uplift people amid the increasing death and destruction caused by the calamity. According to The Guardian, the prime minister of Pakistan, Shehbaz Sharif, tweeted Saturday that he was "deeply moved by the example" set by an anonymous countryman who walked into the Turkish embassy in the US capital of Washington DC and made the million-dollar donation to provide aid to the victims of the quake.
This generous donation comes after the United Nations World Food Program made appeals for $77m to provide rations to around 590,000 people who lost their homes in Turkey and 284,000 in Syria. As per the program, 45,000 of those people were refugees and another 545,000 were internally displaced. More than 33,000 people died after the terrifying 7.8-magnitude earthquake that struck parts of Turkey and Syria. Prime Minister Sharif formed a special cabinet committee to collect funds and supplies for Turkey and Syria, reported Anadolu Agency. The committee will hold a meeting in Islamabad to discuss ways to speed up the ongoing fundraising collection campaign.
The Pakistan National Disaster Management Authority said on Twitter that two more relief consignments were dispatched to "the sister and brothers" of Turkey to provide aid. Pakistan Air Force (PAF) said in a statement that its aircraft carrying 16.5 tonnes of humanitarian assistance donated by people for earthquake victims have arrived in Adana, Southern Turkey. The PAF is also working with the Foreign Ministry and the Pakistan Embassy in Ankara to repatriate stranded Pakistanis. Millions of people around the globe mourn the loss of lives in Turkey's devastating earthquakes. "I couldn't put my pain into words because everyone here is in shock and feeling pain for their Turkish brothers and sisters," Ahmed Shoaib, an Islamabad resident, told Anadolu.
Many organizations in Pakistan have launched fundraising campaigns to help Turkey during these trying times. The Alkhidmat Foundation Pakistan, one of the country's notable charitable organizations, has already dispatched volunteers to assist with search and rescue operations. "My father donated a good amount yesterday through Alkhidmat Foundation, and many of my friends are doing the same," Naila Hayat, a doctor from Peshawar, told Anadolu. Moreover, prominent figures from Pakistan visited the Turkish Embassy in Islamabad to express their sincere condolences.
"The people of Pakistan are shocked by the sheer scale of devastation caused by enormous earthquakes in Turkiye and Syria. We extend our deepest condolences to the people and government of Turkey," said Asif Luqman Qazi, director of foreign affairs of Jamaat-e-Islami Pakistan. "We will stand by our brothers and sisters in these difficult times inshallah," he added. "Very Dear Turkish brothers, sisters, mothers, and elders, we share your pain in this natural disaster. I, Asad Qureshi, on behalf of the nation of Pakistan, assure you that we are with you in every situation. Our heart beats in sync with yours," said a young Pakistani artist named Asad Qureshi.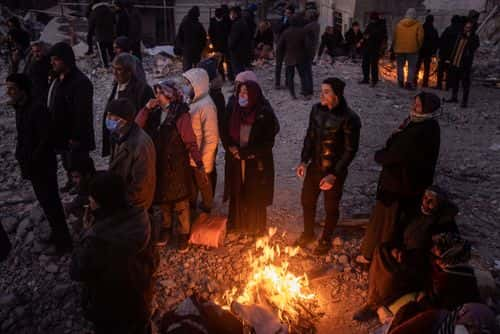 About 21,800 people were killed and more than 80,000 were severely injured by two strong earthquakes that destroyed southern Turkey. The earthquakes, which had magnitudes of 7.7 and 7.6, were centered mostly in Kahramanmaras province and affected approximately 13 million people across 10 provinces, including Adana, Adiyaman, Diyarbakir, Gaziantep, Hatay, Kilis, Malatya, Osmaniye, and Sanliurfa.
This is a developing story and we'll update you as we learn more. The information about the earthquake is swiftly changing and Upworthy is committed to providing the most recent and verified updates in our articles and reportage. However, considering the frequency of developments, some of the information/data in this article may have changed since the time of publication.