Seeing and spending time with friends is extremely easy in childhood and becomes increasingly difficult as we grow up. Those regular meet-ups and surprises become more expensive in terms of time, schedules and other commitments. What we are left with are catch-ups or visits to keep them involved in our lives. Zaid Leppelin–who by @navelgazinghq on Instagram–shared a heartwarming video explaining the blues one felt after a friend's visit.
Leppelin shared in a video how one feels after that whole week of fun, frolic, craze and excitement that comes with a friend's visit. He said, "The post-friend-visit blues are so real." He then shared glimpses of himself with his friend along with a relatable feeling. "Hosting your friends from out of town for a weekend, coexisting with them, experiencing life with them again," He added, "And when they leave, you realize that a lot of adult friendships are based more on telling someone about your life like over a coffee rather than actually experiencing life with them." Leppelin expressed as the visuals in the video shift from him being excited with his friend to him alone simply carrying on with his day as usual.
He added, "It made me realize that the magic of childhood friendships, going on adventures with your friends, taking the scooter around the block, it thrived on a sense of spontaneity and shared activity." Leppelin also shared how grateful he was and we should all be for these little catch-ups we have with friends. He also mentioned making the most of that little time you get with your friend visiting. "Having a friend visit you from out of town, in a way, forces you to practice that. Take them around your locale, showing them around. I made a dedicated effort to try and integrate them into my friendships," he said.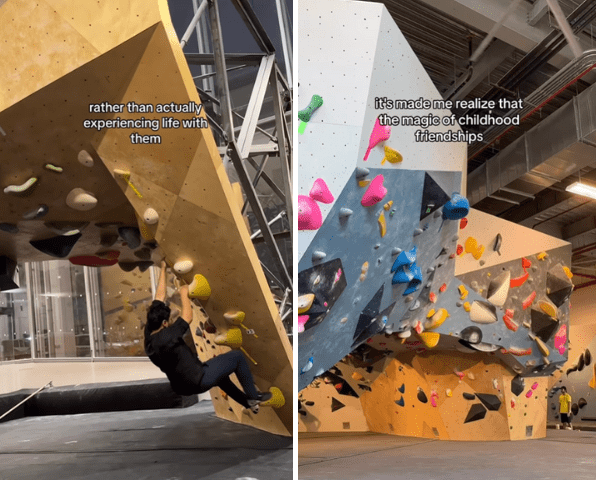 Also, Leppelin shared how we can do these things using examples he tries. He suggested trying other alternatives like art, painting and so on over the occasional casual coffee chat. He is seen sharing some painting time with one of his friends in the video, giving them a chance to bond better and still be able to make memories. "Childhood whimsy, that's the goal," Leppelin concluded.
He wrote in his caption, "Hosting friends from out of town and subsequent analysis of adult friendships (they could use more childhood whimsy!!)" Many could relate to these blues after a friend's visit from out of town. @ayden.starky said, "The 'telling them about your days' observation is true but such a bummer." @kait7y6 said, "It's amazing how you put these into words. It was also easy to do that as kids because we had no 'plans' just presence." Other commenters also shared different alternatives to make catching up with friends more fun and cherishing. @butterflypoo said, "Going grocery shopping with a friend is way more fun than just being a boring adult and doing your boring errands."
---
View this post on Instagram
---