Most people in their lives like to follow social conventions. These conventions give people in communities a sense of stability and an idea of their identity. Generally, it is assumed that in a household, a child gets emotional support from their mother and physical support from their fathers. But this often limits a child from expressing affection to their dad. So, Trey Sawyer (@trey_sawyer28) thought he would just remind people on the internet that it is never too late to show your pops love.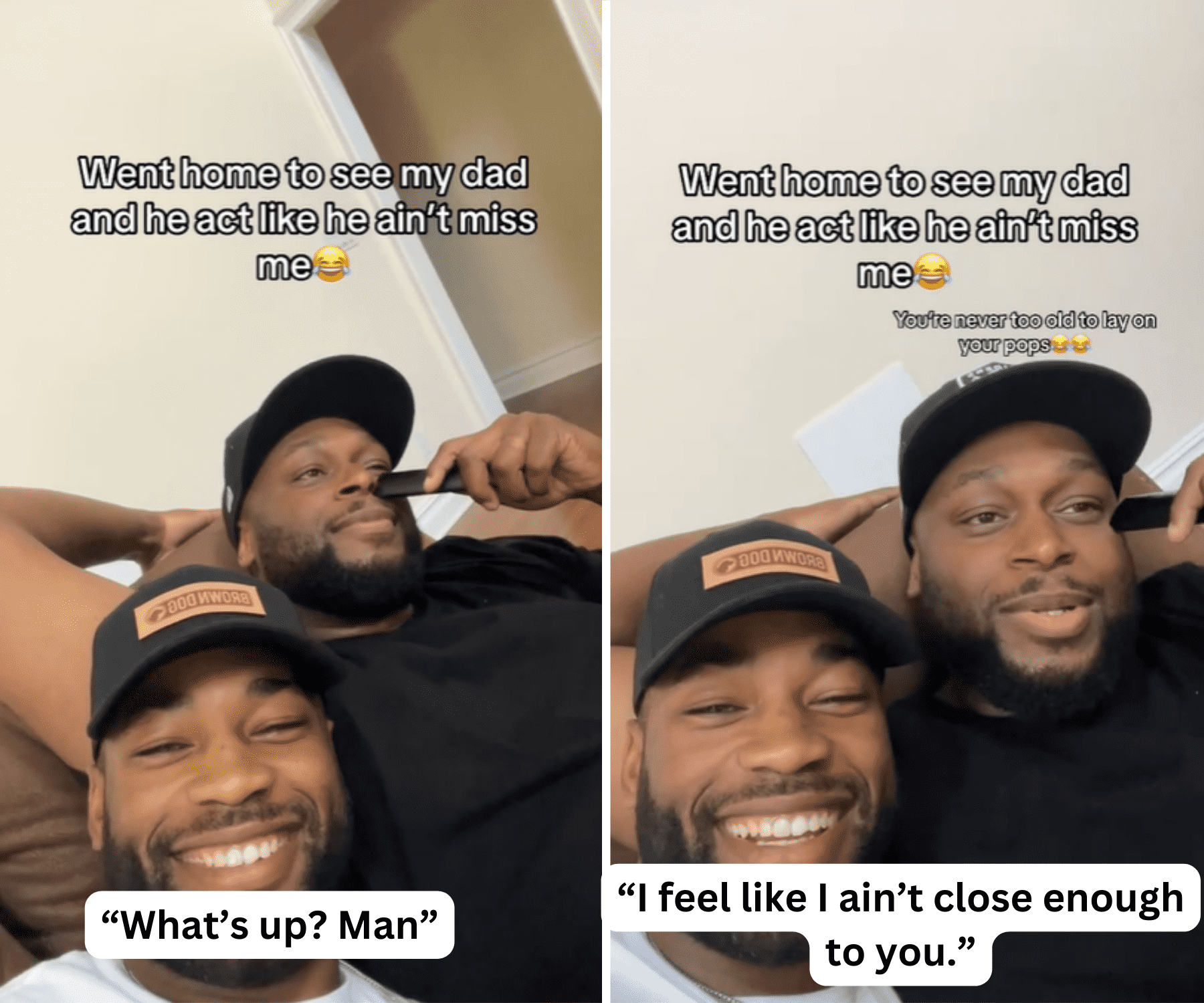 He shared a video to show how joyful emotional closeness between father and son can be in real life. In order to do that, he is displaying his equation with his own father. His dad is fathers everywhere - showing typical behavior of expressing love from afar. Sawyer wanted to change this and go through his armor. In the text overlay, he wrote, "Went home to see my dad and he acts like he ain't miss me." As expected his father did not want to showcase that he actually was overjoyed with his son's arrival, and acted nonchalant.
Sawyer began to slowly make his way onto the couch and leaned in to cuddle up to his father. Throughout the whole thing, he had a big smile on his face and when his father noticed, he cheekily said, "What's up man!!" Seeing the camera, the father knew that Sawyer was up to something and turned his face sideways, shyly. But, Sawyer was in no mood to stop and continued bugging him by saying, "I feel like I ain't close enough to you."
The father cutely retorted by saying, "You. You too close." By this time both father and son had become comfortable and began joking around with each other in a playful way. Sawyer cuddled up with his father said, "Nah, I'm close enough." Finally, he gave his pops a simple message, that no matter what happens, he will "miss his son", indicating he must drop this act of not being bothered at all. But, his father being a dad, continued denying how much he loved seing his son again.
The comment section loved this father-son bond. @thejayte could see through the father's cold exterior, "He missed you so bad. It hurts." @ihsan_naafi found it hilarious how the father tried and failed to keep his emotions in check, "The way they both laughed, knowing that he does". @nobodylikesyou051 expressed how children will always remain children for their parents, "He can't even pretend he didn't miss that baby. Y'all grown but will always be our babies." @lesie95 appreciated the way Sawyer approached his father, "Y'all so cute. He definitely missed you."