Flamin' Hot Cheetos have a wide fanbase all around the world. They are considered a great invention on the part of Frito-Lay, a multinational company that produces several snack brands. One fan of this timeless snack has gone to great lengths to preserve its iconic status. A TikTok user has created an elaborate sarcophagus that can withstand any weather condition, climate change and even the apocalypse. What was his aim? To preserve everyone's favorite Flamin' Hot Cheetos!
Nobody, the "meme artist" behind the piece, explained his intricate method in a TikTok video. When the body and enormous concrete lid are included, the concrete giant vessel weights a whopping 3,000 pounds. To help extend the life of the box, all of the concrete is strengthened with protective coatings. Inside the structure, Nobody preserved a bag of Cheetos in resin to withstand earthquakes and other disasters, according to Comic Book. He filmed his entire process of making the big container and even wrote the ingredients on the top. He then went on to dig a huge pit in the ground before burying the container. He put a plaque on the place of the burial that reads, "Historical artifact buried below. Do not open for 10,000 years. Year buried 2022." The video went viral with people applauding the dedication of the man in preserving his favorite snack.

One user commented, "They'll either think we worshipped hot Cheetos or that they destroyed us all. either way, they'll be correct." Another joked, "I thought I had been bored many times in my life, but now I've realized that I've never been truly, genuinely bored, like Cheetos-sarcophagus bored." A third user commented, "The only heartbreaking thing about this is knowing I'll never see it get found."
"The dedication to this project is astounding," said another.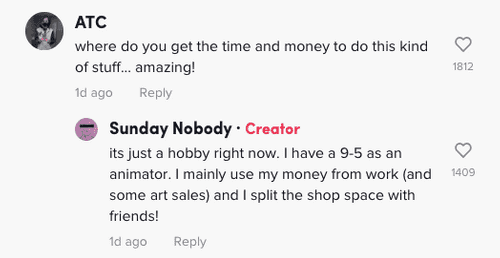 A TikTok user suggested, "I know this wasn't an ad but it's been more effective than any ad I've ever seen in my life. This is the future of marketing." The content creator even replied to one of the comments and mentioned the total cost of this dedicated project. He wrote, "here's my guess on cost: concrete: $400, rebar $100, forms/sled wood: $300, epoxy: $180, rentals: $170, random: $100. total: $1100. hope this helps!"
According to Tasting Table, Flamin' Hot Cheetos were made 40 years ago and have since become a fan-favorite. Moreover, the company had previously launched three other varieties of this chip, Flamin' Hot Limón, XXTRA Flamin' Hot, and regular Flamin' Hot. Moreover, Flamin' Hot Chipotle Ranch, Flamin' Hot Pepper Puffs, and Nashville Hot Cheetos were also in the line-up before being discontinued. However, Cheetos is now bringing back a few of these flavors after people called for the flavors to be brought back.
The craze for this popular snack doesn't end here, as a documentary titled "Flamin' Hot" is in post-production with Searchlight Pictures and will be released next year. The film will tell the story of Richard Montaez, who invented the spicy snack. However, Montaez's connection to the invention snack is long debated but the company believes "That doesn't mean we don't celebrate Richard, but the facts do not support the urban legend."