No matter how much people love their job, no one really loves to work all day long. However, one TikTok user has prompted a debate over a video he posted on the platform in 2022. In the viral clip with over one million views, @beardedoperator can be seen criticizing a woman who was complaining about having to work 40 hours a week. He started bragging about how he spends somewhere between 66 to 85 hours per week while juggling various jobs. That meant he was working around 17 hours per day, with barely any time to rest.
"All of my blue-collar brothers right now are stifling a laugh that would just drain the soul out of that kid," he says at the beginning. "How many of you heard in your head, '40 hours, I remember my first part-time job," he continues. "Do you want my schedule, kid? I will work 40 to 50 hours doing land development, you know, roads, water, power, concrete, take your pick, whatever happens. Then I work 16 to 20 hours as a bouncer. And then, when I'm done with that, I go spend 10 to 15 hours de-icing 22 acres of parking lot for my buddy who bought the Silver Lake Mall. Forty hours is a hobby! That's not even a job, that's a hobby," adds the man.
Not many people were impressed by his opinion on working for excruciatingly long hours to make profits for someone else. Many felt it was "sad" to watch a grown man brag about how his life is consumed by work. According to Inc.com, scientific research has proven that overworking is seriously unhealthy and laboring for more than 10 hours a day increases a human's risk of developing cardiovascular illness by 60% and makes them more inclined towards consuming alcohol and smoking tobacco.
The comment section on the man's post was left divided, where some supported him and admitted that most people have to work long hours to make ends meet whereas others mocked him for "not having a life outside work." @deterjohnny joked: "The worker has fallen in love with the system that exploits him." @moreiradasilva.1 showed some sympathy and wrote: "I don't think this is the brag you think it is." @brandonbizarre commented: "I mean respect and power to those who genuinely do enjoy it but there is more to life than working life outside it shouldn't be scoffed at."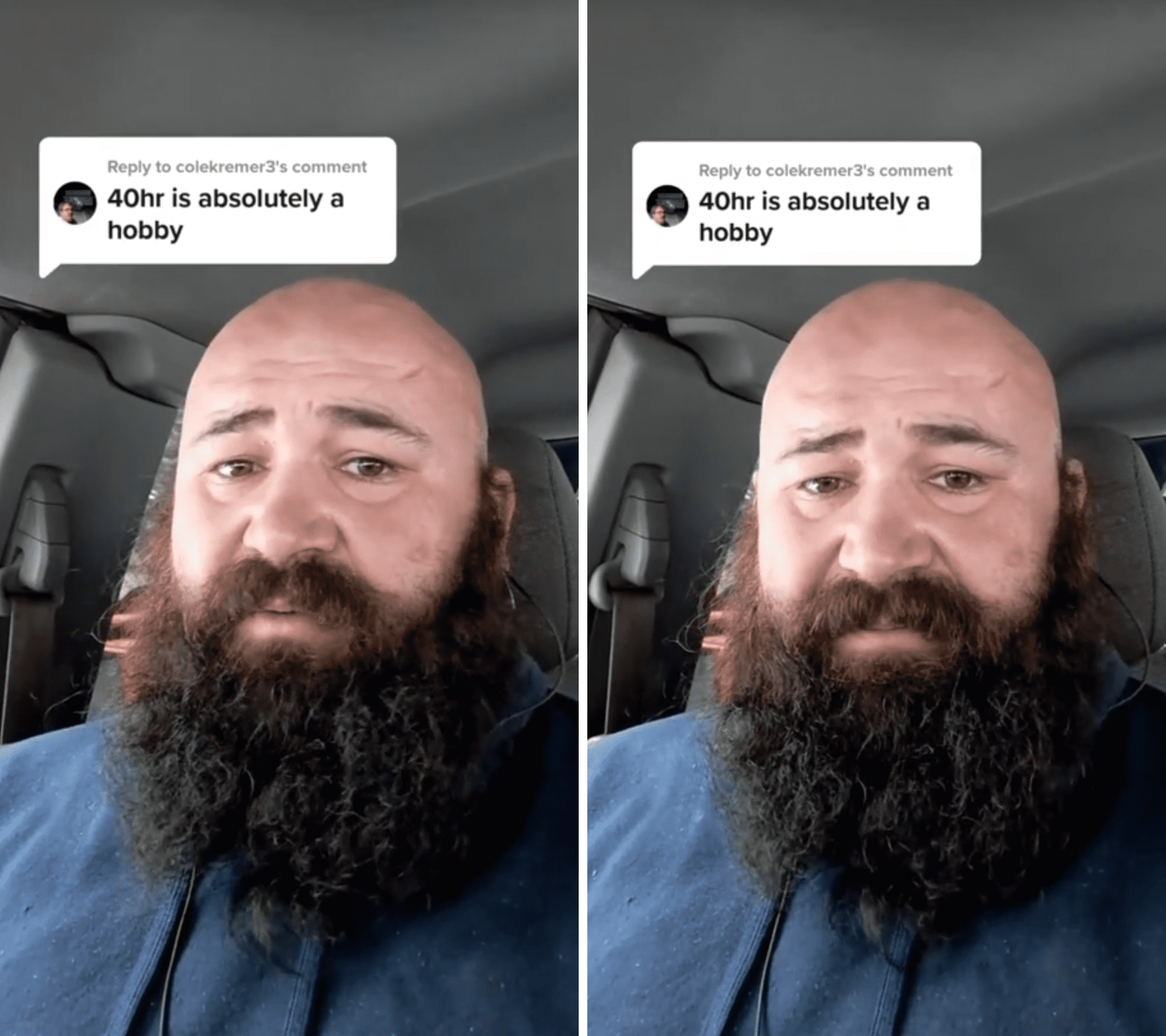 @beardedoperator also made a couple of follow-up clips to further express his thoughts on the comment he received on his viral video. "Now in that video, there have been two types of people in the comments, the ones who are proud that they work hard and the ones who are proud that they don't work hard," he said in one of his reply videos. He also mentioned how the demand and supply in society are not balanced and as a result of people not being willing to work on the supply side, the prices of objects and services they demand are getting higher by the day. The people who are being proud of not working hard are complaining about it at the same time. In a second video, where he got criticized for his bragging, the man said, "If we take on your lazy ideology, the world will break down by next week. Next, when you walk into the grocery store, there won't be any food on the shelves or fuel in the gas station." We guess the debate over appropriate work-hour limits is never-ending.