It is not an easy life for dog owners. Though they have the privilege of garnering immense love from their adorable pets, they are also always worried about the well-being of their animals. In doing so, pet parents get confused sometimes, trying the decode the gestures and languages of their little munchkins. That is why a query made by Reddit user no1caresworkhrder regarding his pet's adorable gesture has garnered quite a lot of traction.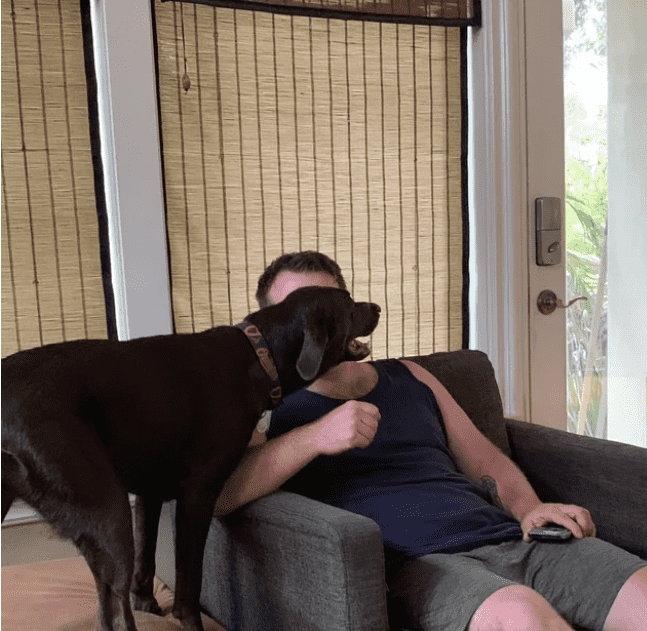 In the viral Reddit thread, a perturbed dog owner is asking fellow users the reasoning behind his pet's constant action of bringing her face in front of other people's faces. He wanted to know the reason behind this behavior in his pet Vicky. The dog owner wanted to know whether it was a response to something or a call for help. To his surprise, he found out that it was a fairly common phenomenon. Moreover, he wasn't mocked for his question but explained the phenomenon in an understanding manner. All the answers were positive in approach and indicative of a healthy community.
Vicky's behavior indicates that she indeed is a very happy dog, as per the traits described by petmd.com. Similar to Vicky, happy dogs have the habit of appearing to smile. The dogs seem to be more open and their mouths are soft in expression. Vicky's teeth are not visible, which is conventional, as aggressively showcasing their teeth is not an indication of being happy. This might be the cause of the pet owner's confusion. Since Vicky was not obvious in her expression of cheerfulness, the pet owner got confused and thought that this might be an indication of something else.
Another way in which dogs express their happiness is by bouncing from side to side. The quick movements are reflective of the ecstatic mood of the dogs. Dogs also showcase their desire to play with others by doing a bow. Dogs bow by lowering their chest toward the ground and putting their rear in the air. Oftentimes the dogs are direct in their expression and begin barking at a high pitch. The best way to understand whether the pets are agitated in such a situation is to focus on the duration of the barking. Happy dogs bark for less time in comparison to agitated dogs.
The comment section was both informative and adorable in approach toward Vicky. Specialist-Show-1003 chimed in with their own points, "Yup, I also read about how touching faces actually releases feel-good hormones. Animals and Humans. One of those weird facts that stuck with me." GreenPutty_ described the doings of their own pet, "My dog would come up to me whilst I was sitting down and plonk her face in my lap and whimper until I gave her a kiss on the snout. Many years later I found out about oxytocin which is apparently the natural love drug and the best thing I learned was that we both benefited from it... I miss that hound!"