Sabrina Flores and Brendon de Spain, both 23 years old and hailing from North Carolina, had a memorable wedding when Sabrina's friend and maid of honor, John Martin, gave a speech. During the speech, John played an old voicemail from Sabrina and Brendon's first date that had been edited for brevity. Sabrina admits that she was trying to play it cool when she first met Brendon on Bumble two years ago, but the voicemail revealed the truth. The voicemail was hilarious, and Sabrina was embarrassed when it was played in front of her friends and family. After the clip was played, John added, "I could not have said it better myself... let this be a lesson to you all, don't send me audio messages."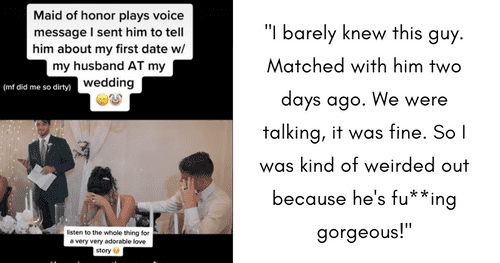 Sabrina said of her friend's speech, "I knew it wasn't going to be good, but I'd forgotten about it. When he said 'we're going to invite Sabrina up to say some special words... from the past', I was terrified." She went on to describe John as "mischievous" and said that he "embodies the philosophy of jest and just having a good laugh". In true best-friend fashion, John "embarrassed the living daylight out of me" by playing the voicemail in which Sabrina had called Brendon "incredibly sexy" in front of his grandparents.
Sabrina recalls her first meeting with her now-husband fondly. She had been in an unhealthy relationship before. That's why she was not looking for a relationship at all. She had even set her app radius to a very small area due to not having a driver's license. But when her match, who lived two hours away, asked if they could meet up, she was skeptical. At 10 pm, he called her out of the blue and asked her to meet him. She was hesitant, as her friends warned her of being in a dangerous situation, so she suggested they should meet the next morning for breakfast instead.
They spent the weekend together, picnicking in the park and talking for hours. They both knew, from the start, that it was something special. Six months later, he proposed in the same spot. They had been spending every weekend together since then and eventually moved in together.
Sabrina was surprised when the DJ at her best friend's wedding revealed that she was the extra guest. "John gave very sneaky clues throughout the evening," she said. "The MC who was leading different parts of the wedding came up to me and said 'okay, we have two speeches left. One of them is a special guest'." Sabrina's video of the surprise has since gone viral on TikTok, with more than 2.9 million views, over 339.9k likes, and 1560 comments. People are inspired by the story and Sabrina hopes that her story restores hope in romance and spontaneity. "People don't necessarily think these little stories can happen," she said. "It was nice to see this restoring hope."
The wedding was indeed a success and Sabrina and Brendon were overjoyed. The couple had endured years of living together. Through it all, they had found each other, which was the greatest gift of all. Sabrina and Brendon ended the night with a romantic last dance and a sweet kiss. As they walked hand-in-hand off the dancefloor, they were reminded of their first date and all the wonderful memories they had made together. They both knew they had something special that would last a lifetime.