Losing a child is devastatingly unimaginable for a parent. It does not matter where the children are, but a parent does not stop being a parent. One man in Arizona held on to a tree outside his house during a heavy storm and did not let go. Rachel Winans - who goes by @rachelmaffucci15 on TikTok - posted a video showing how the storm is raging outside her window and water is filling their pathway. The video then cuts to her fiancé crouched in their backyard in the middle of a storm, holding up a tree supported by a wooden pole.
In the backdrop, we can see how much the trees are swaying and how much rain is falling, but the man stands firm to defend the tree. The overlay text explains, "When the storm hits and you notice the trees are going down... and your fiancé goes outside to hold the tree up you planted for your son who passed away."
The storm has passed by the end of the video and Winans displays the aftermath of the microburst. A tree had been destroyed in their backyard, but the tree they planted for their son was "still standing strong." The caption added, "When Arizona gets a microburst and you are in the middle of it to keep your son's tree alive." The video clip received 15.4 million views and many heartfelt comments. "That's it, not defeated. defined. and he will forever live in your heart," commented @drwherewolff. "I am so sorry for your loss. But he's a keeper. And I'm sure your son was there holding it with him," wrote @kimada808. "Grown man with tears in his eyes at 7 a.m. Squeezing my son's hand extra tight who's in bed with me right now," shared @jc562020.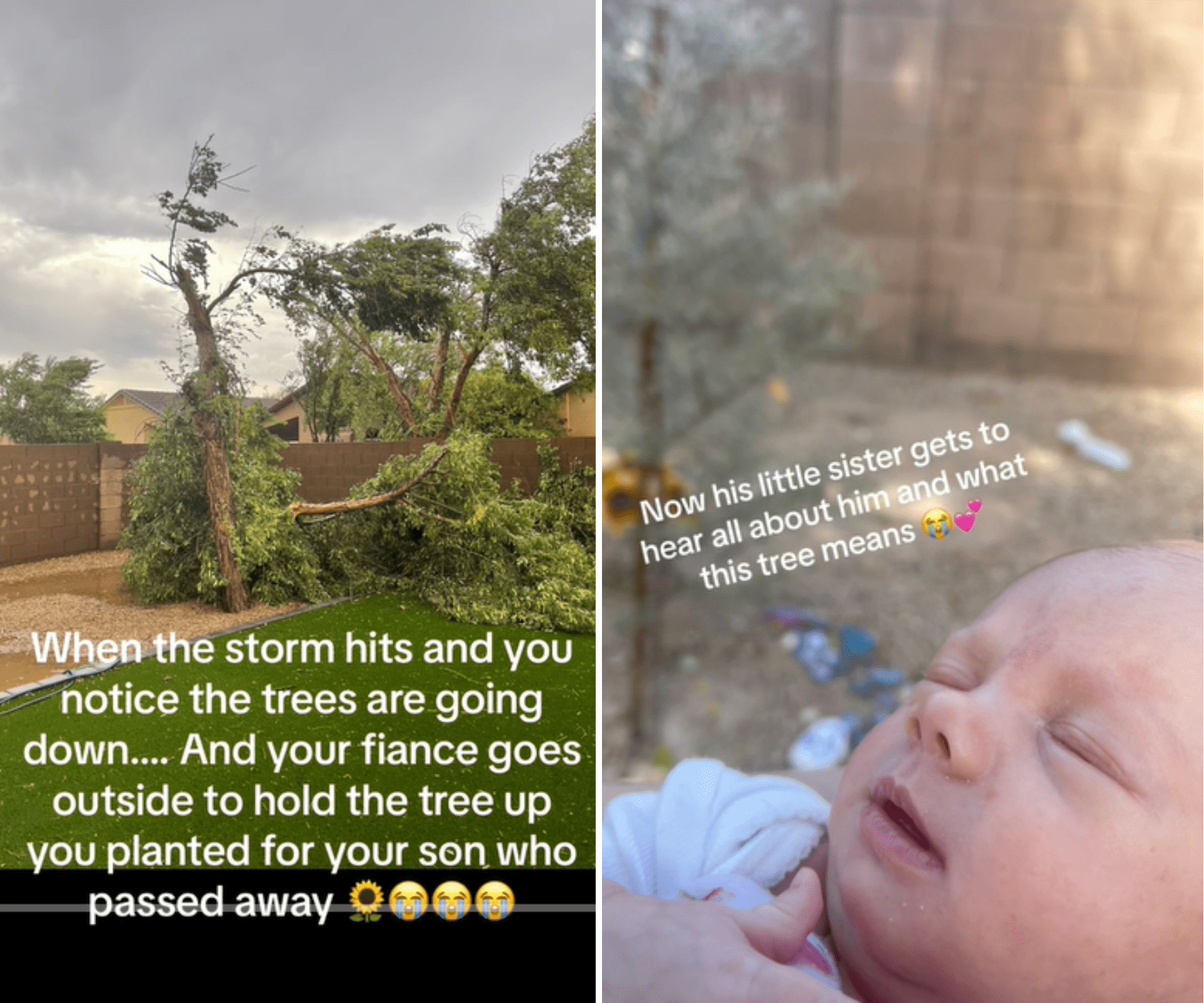 The tree obviously meant a lot to the couple, as they elaborated in a follow-up video. The video showed a compilation of pictures from the day they lost their baby prematurely to planting the tree in his name and showing their newborn girl that tree. The caption explains, "Our son was born prematurely at 24 weeks and 4 days. He was called back to heaven 2 days later. My passion in life has always been to be a mom since I can remember. And he gave me that title. When he passed, my world shattered and I was ready to leave this world. I couldn't live without him. But with my incredible MFM, she encouraged me to try again. Sure enough, we got pregnant and had his little sister, and I truly in my heart believe he sent her for us." "I'm truly grateful for the love we are receiving as his first birthday is approaching!" the caption adds.
The storm was a result of a microburst. According to the National Weather Service, a microburst is a localized column of sinking air (downdraft) within a thunderstorm, where wind speeds can reach up to 100 miles per hour. Winds at this speed can cause major damage to homes, other infrastructures and hundreds of trees." The Winans held on to hope through this storm and many others.