People with disabilities are often looked at through a stereotypical and ableist lens. It is considered by many that they lose out on several good experiences in life because of their particular disabilities. However, it is extremely crucial to understand that hope and positivity can bring many changes in their lives. It can allow them to have several beautiful experiences and moments that fill their life with wonder, excitement and functionality. A staunch example of this is an adorable video of a little girl trying a bionic arm for the first time. The video, posted by u/EatPrayNub, shows an 8-year-old child named Elisa expressing wonder upon trying out a functional bionic arm.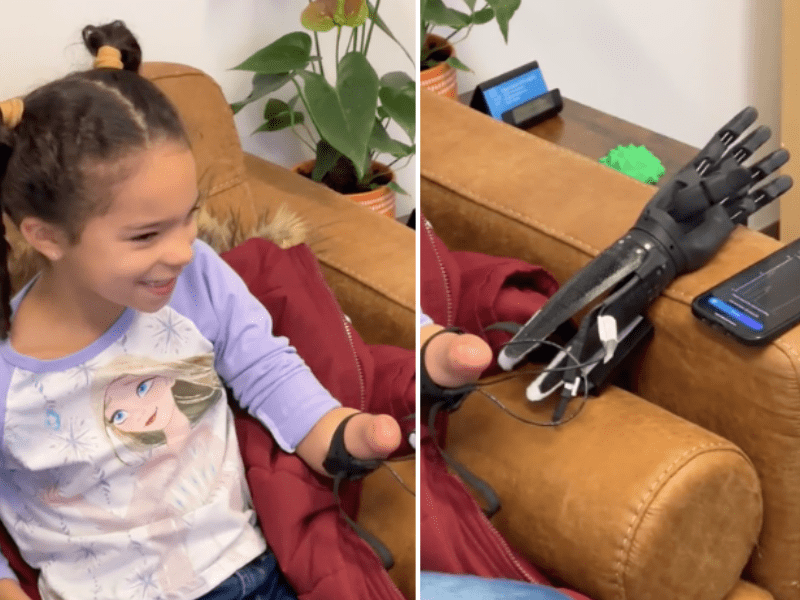 A bionic arm detects impulses from the user's muscles. When anyone with a limb disability puts on this arm and flexes their muscles just below their elbow small naturally produced electric impulses are detected by specific sensors. These are then converted into intuitive and proportionate prosthetic hand movement, per open bionics. The bionic hand is controlled by tense muscles similar to those used to open and close a human hand. Elisa uses this bionic arm to make hand and finger movements that bring her absolute joy. She clutched her jacket with her other hand as she couldn't contain her excitement after trying it out.
A medical professional assisted her in making these hand movements. She then goes ahead and does a small activity with her bionic hand that entails picking up a ball, placing it in a cup and then holding the cup as if she is drinking something. Elisa is thrilled throughout this experience and people on Reddit couldn't get enough of this wholesome moment. Reddit user u/Th3F4llen1 commented, "That is awesome. They'll only get better with each passing year." u/Adorable-Ad-3223 called her a "supergirl."
u/Slippystaymid said, "Her excitement really makes me smile! You can tell she feels special." Some people even shared similar experiences. u/Previous-Thought-146 said, "I have so much respect for the people who make these possible. Although not completely related, I've been helping my dad through rehab from a work accident and knowing such tools exist for helping everyone get back even a little bit of their mobility is comforting."
In a similar story, an 18-year-old Brazilian dancer named Vitória Bueno was born without both arms, but that never stopped her from pursuing a career in ballet. She's also become a big influencer on social media, where she shows off her exquisite footwork. She currently has over 400,000 Instagram followers and won the Golden Buzzer in the "Germany's Got Talent" Season 15 auditions in 2021. Although finishing second in her initial "Got Talent" competition, her performance qualified her to compete in the show's future edition, "America's Got Talent: All-Stars." Vitória's episode aired in January 2023, and she never fails to impress us with her grace and skills on and off stage.
Throughout her performance, Vitória demonstrated her characteristic lighter-than-air dance prowess, mixed with fleeting demonstrations of amazing flexibility. She flitted over the platform with her trademark bright smile, beaming with complete joy the entire time.