More and more people continue to lose their jobs today. In such situations, it can be difficult for individuals to be fully be aware of things that they sign before they leave a company. Companies can coerce employees into signing clauses or agreements that could prove to be troublesome for them in the future. Worry not, as The Labor Lawyer—who goes by @attorneyryan.12 on TikTok—shared a helpful video citing important advice for employees who had been laid off.
The creator begins the video by sharing that he had to turn down another potential client because there was nothing he could do to help them with their mistake. He shares that the mistake was a "critical" one that many people have done at jobs that they have worked at. The man explains, "So listen, just because your boss or HR says you have to sign something, does not make it true!" He states how employees were not obligated to sign anything when they were fired or quit.
The lawyer mentions how employers would insist on such formalities but they were ultimately lying as they were not lawyers. He continues, "If a lawyer for the company says you have to do that, please understand that lawyer works for the company, they're trying to screw you." The man explains how employees were "done" once they signed a severance agreement and took money from the company. He explains how lawyers could not help individuals in such cases and requests them to stop signing documents without properly checking them.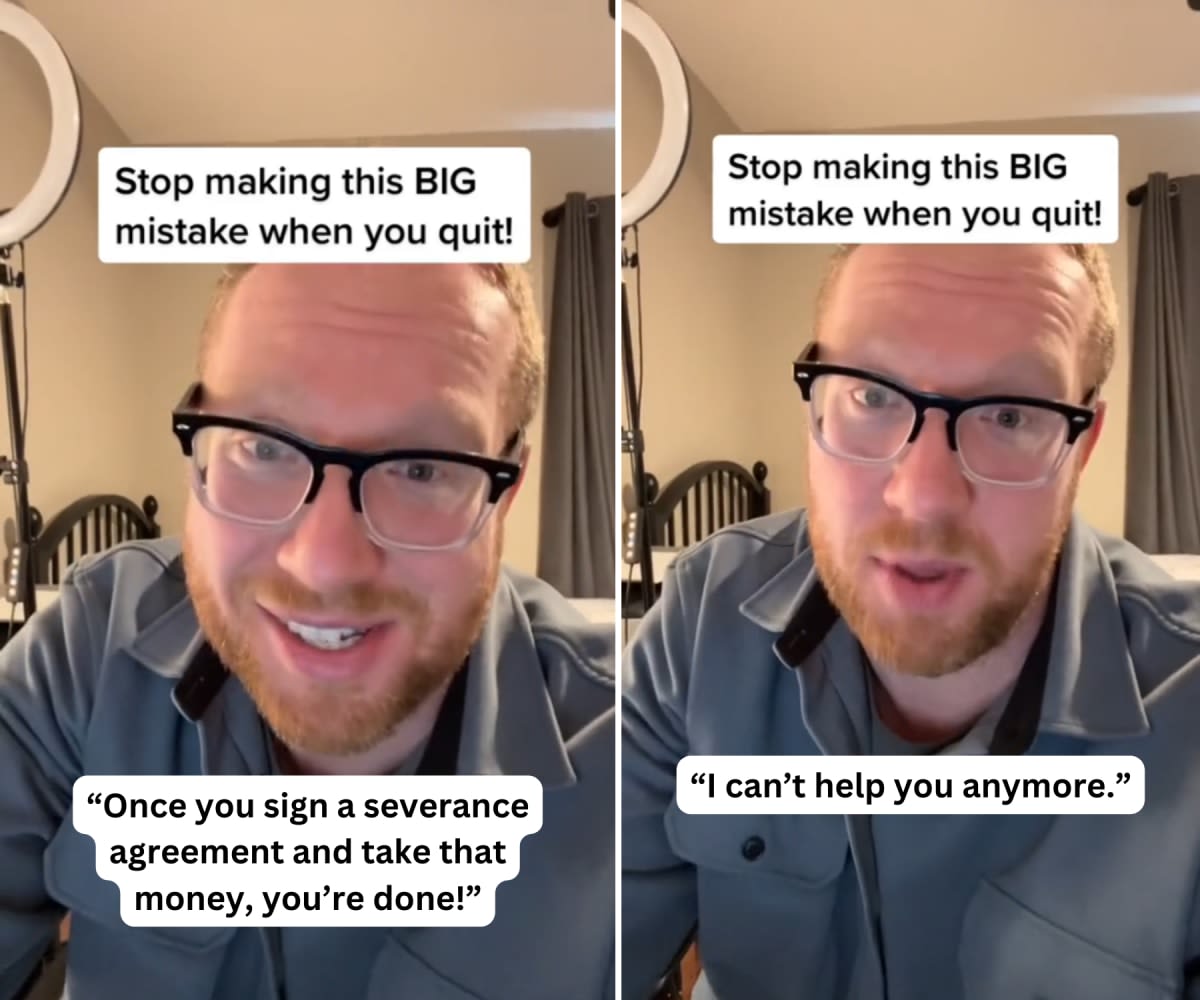 People shared their own experiences when it came to being laid off from their companies in the comments section. @patriciarcole said, "I didn't sign my severance contract because it said I had to promise not to make disparaging remarks about the company ever." Another user, @zombiesheep5 shared, "I refused to sign a writeup. They accidentally left it behind in the boss's office. At lunch I noticed it, somehow it disappeared and was never found." @jadedjourney commented, "I quit a hospital I worked at. I showed up at HR to turn in my keys and badge. They were like we need you to sign some paperwork. I said I'm not."
In such situations or life in general, individuals only stand to benefit from having a bit of legal know-how. Reb Masel—who goes by @rebmasel on TikTok—shared a helpful video where she talked about some general advice for people, based on her experience as an attorney. At the beginning of the video, the woman reveals, "This is 'Things You Should Know' based on what I have gathered as an attorney." She continued, " No, I will not elaborate, meaning, I don't care what you do with this, but it's not legal advice."
Her first advice involved asking people to "shut up." Masel later elaborated on this by saying that speaking up was not always the best option, which was contrary to popular belief. She explained how individuals could save themselves a lot of trouble by choosing to be quiet in situations where the power dynamic was imbalanced. Masel also shared that cops were legally allowed to lie to people and that individuals should be wary about friends.