Angela Cenedella, a mom who is a lawyer by profession, has some valuable advice for children who get into trouble and find themselves making a habit of it as it becomes increasingly difficult to come clean.
Cenedella, who goes by the username @thelawyeryerangela on TikTok, is a Harvard-educated lawyer, a mom of three and a legal analyst. She posted a video on "important things as a lawyer, things I will tell my kids," that's making waves online.
She starts by saying, "First if you do something dumb and get thrown in jail don't you dare call me and say, 'Mom I did something terrible!' Those phone calls are recorded. People confess everything on the phone to their mom — really, particularly to their mothers."
She goes on to say that one should never keep trauma to themselves. "After something bad happens to you, seek physical and emotional care immediately. Foremost for your health but also because if you choose to pursue any legal remedy later it's that immediacy of your care that helps with causation and is used as evidence. This will help you recover physically, emotionally and financially in a lawsuit," says the lawyer in the video.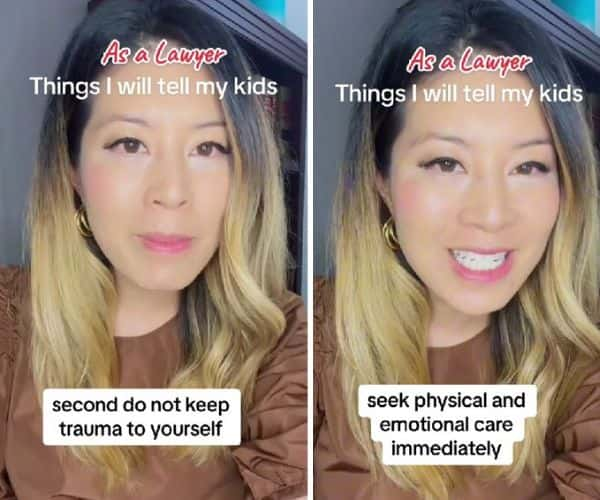 Lastly, she says it is wise to accept the mistake. "I say do not break more laws because you're covering up the first bad thing this is how people spiral. A missed deadline can turn into a forged signature, and a little debt can turn into embezzling. Whatever it is just stop at your first mistake," says Cenedella.
The video went viral with more than 6 million views and is captioned, "Love, your mom." Many on the social media platform appreciated the lawyer for her amazing advice. @unbrokenbadass commented, "Ok but 'stop at your first mistake' was the advice I needed all my life." @marv5765 wrote, "Finally! A lawyer giving actual good advice on here!" @angeltalk2 shared, "Trained my children this way. Thank goodness they are now adults and we all survived. Lol." @ucfnytes expressed, "Mom and criminal defense here, yesss to all of this!!" @abswo said, "As a therapist, thank you for stating the second and last ones!" @leighvmealone commented, "Best advice on the internet. Every teen needs to hear #3. Every driver needs to hear #2!"
---
View this post on Instagram
---
In another story, a crime reporter also shared some insightful advice in her TikTok video on how to stay safe in case a burglar knocks at your door. "So you should not get quiet and pretend that you are not at home when someone knocks on your door. I have reviewed hundreds of criminals and burglars, particularly in my 31 years as a crime reporter," says Lori Fullbright in the video. "And the vast majority of them tell me that they want to hit a house that's empty. They want to kick in your door when you are gone, take all your stuff, and leave, and it's terrible."
She emphasizes not staying quiet. "Make noise, go talk through the door 'Can I help you?' 'walk along', 'I'm not interested.' They now know someone's inside and if you want to lie for safety then say, 'Honey, get out of the shower somebody's at the door.' Let them know that there is more than one person in the house," she says.
She concludes the video by talking about how often kids stay silent when someone knocks and asks parents to teach their kids to not stay quiet.