Sometimes even the smallest of gestures can result in an overwhelming amount of joy. u/Fantastic_Bag4908 showcased it with a video he uploaded on a Reddit thread. The video features Arthur and Heloísa, two young kids having a playdate in the former's house. The whole situation is emotional because Arthur suffers from cerebral palsy, and therefore struggles with making friends. This was also the first time he was hosting a friend in his house, and in spite of the nervousness, both of them ended up having a great time with each other. The smiles that both the children had on their faces were infectious. People loved the heartwarming interaction so much that it was upvoted by 6k people in one day. It was originally uploaded by @lauradadsn on TikTok.
---
View this post on Instagram
---
Arthur and Heloísa study in the same school and have forged a beautiful relationship with each other. Arthur wanted to invite his best friend to his home for a playdate. His family finally managed to get it done, and from the visuals, it is evident that both of them were exceedingly happy. Both of them entered the house with beaming smiles. Then they held each other's hands as Heloísa looked around the beautiful house. After talking with each other for a while, both of them went to a trampoline where they played to their hearts' content.
The best friends then went to the playground where they played with balls and moved around enjoying the sun. The whole trip was not without treats, with both enjoying ice cream and a delicious meal. They wrapped up the playdate by reading a story during their bedtime.
Throughout the whole playdate, the most adorable thing to witness was the accommodating attitude Heloisa adopted towards Arthur. Many children do not showcase patience for their specially abled peers, which can make the latter feel lonely. It is because of this that 41% of disabled children feel discriminated against in their surroundings, as per UNICEF.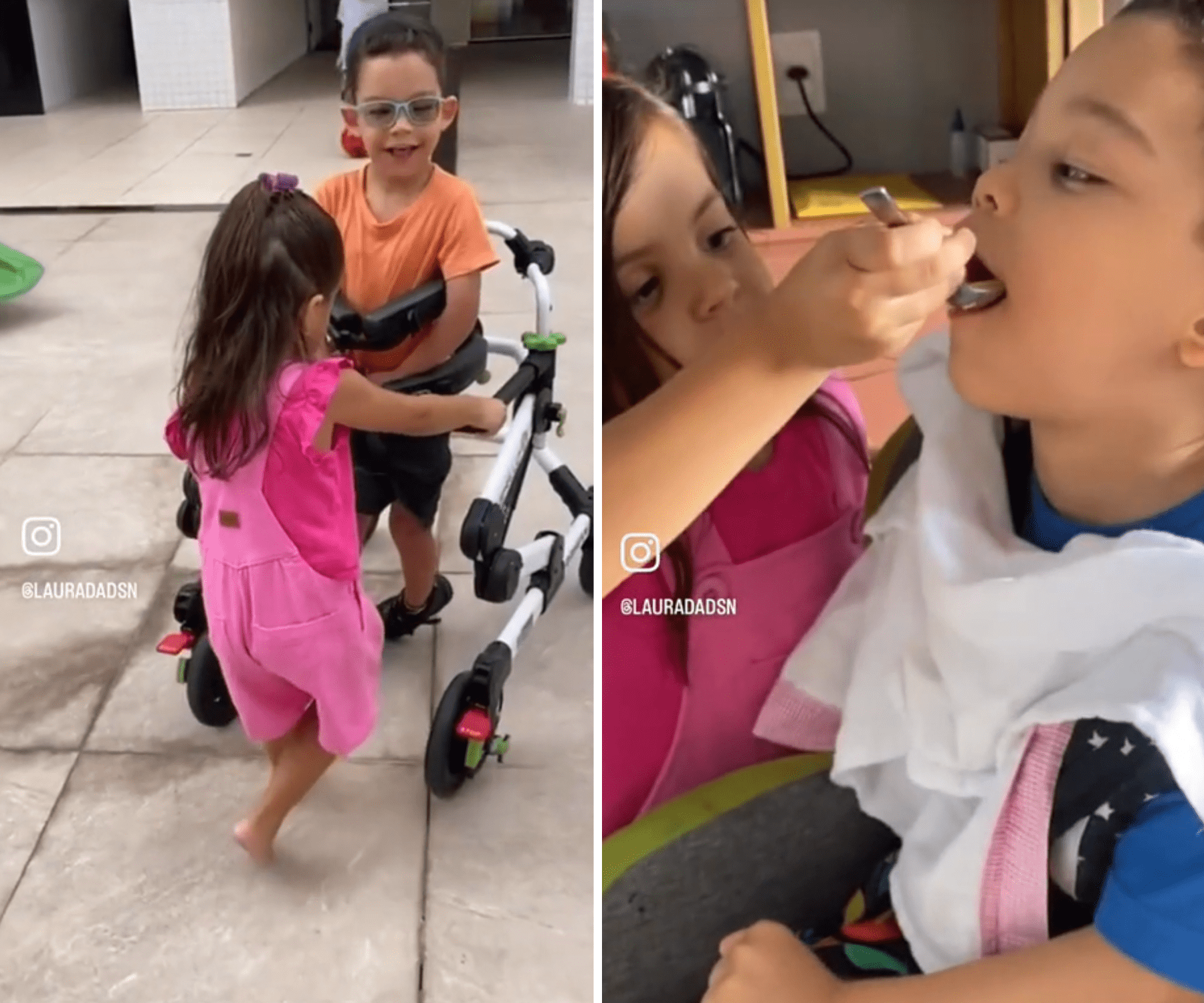 Heloísa was extremely considerate to Arthur at every step of the way. They both played games that were accessible to both of them. There were no activities that were physically exerting. It did not feel for a moment that Heloísa was holding herself back from enjoying anything. The video is an example of how a little accommodation can help children like Arthur feel included. Throughout the video, the genuine happiness on the faces of the children shows that friendship is indeed one of the most precious experiences in life that shouldn't be out of reach for anyone.
The comment section was delighted to see this adorable pair of best friends. u/Barabaragaki expressed her emotional reaction to the entire exchange, "You know how in like.. what? 70% of these, there are droves of people saying 'Who's cutting onions?' Or 'My eyes are leaking' or 'I'm not crying, you're crying?' I've seen countless numbers of them. This one got me though. She cares about him so much, and you can see it in all the things she does. It's so touching." u/CovfefeBoss appreciated Heloísa and wrote, "It's far more than friendship. She loves him like a brother. We need more people like this in the world."