Kelly Clarkson has been winning the hearts and souls of music lovers since she won the first-ever season of "American Idol" in 2002. Her career has seen its fair share of ups and downs, but Clarkson continues to amaze her fans with her latest releases and concerts. According to Entertainment Weekly, the "Stronger" singer was performing in hr elast concert in Las Vegas in August 2023 when she decided to invite two special guests to join her on stage.
The special guests were none other than her daughter River Rose and son Remington. The Grammy-winning artist performed her 2015 hit track "Heartbeat Song" along with her children as they did a mini dance performance with the tunes of "Whole Lotta Woman" on stage. Before letting her kids join her onstage, she informed her live audience that River and Remington have their mother's permission to "dance or sing something" during her Las Vegas residency, which started in July 2023.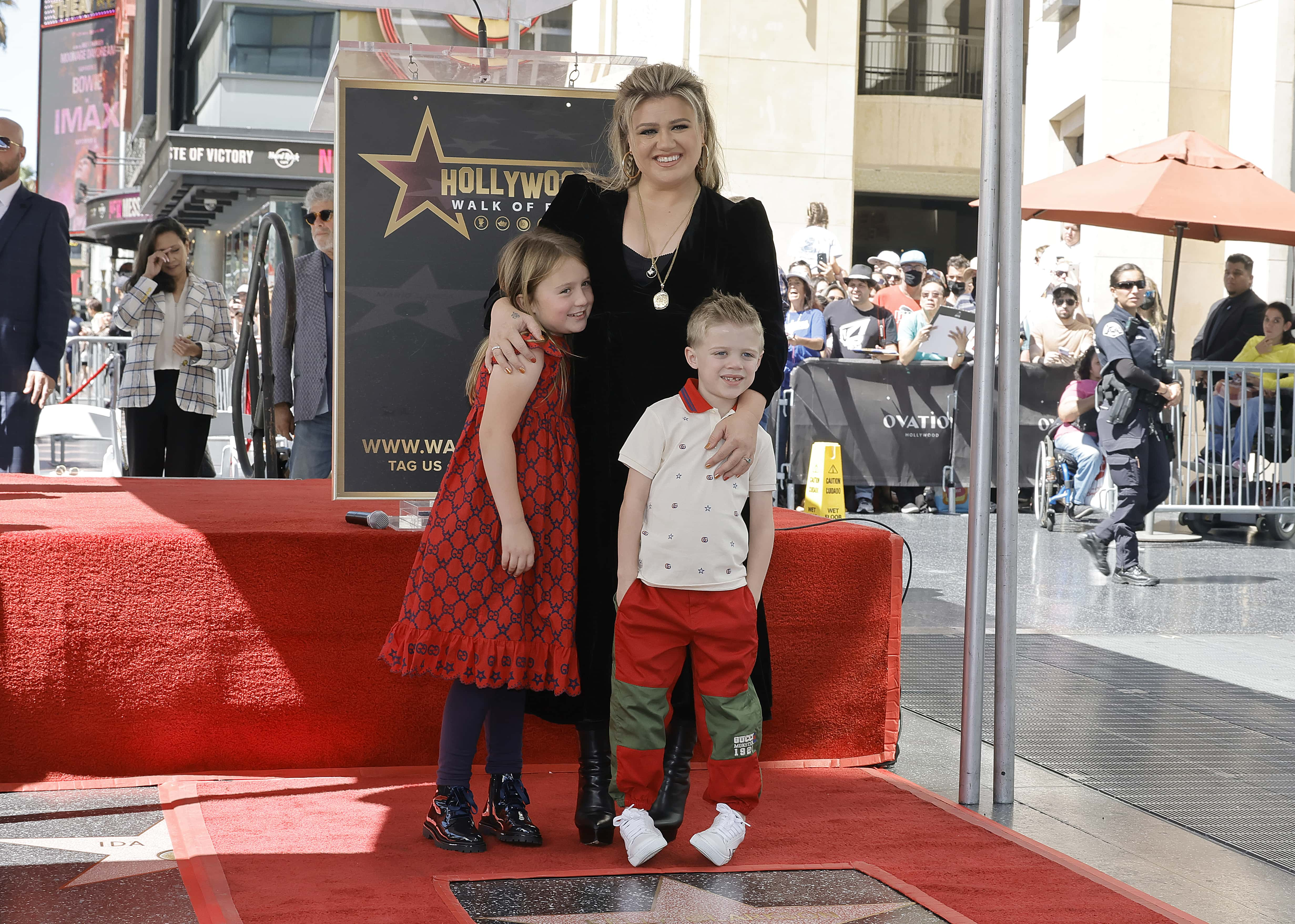 The pop star recalled that she found the idea presented by kids rather interesting and she even asked them about the song they wanted to perform. River Rose had apparently selected "Heartbeat Song" since it holds a special place in her heart. "She's been jamming to this song since she was a baby," the pop star told the audience before the trio started performing. "She loves this song so much, so she was like, 'Can I sing this song?'" She picked her dress, y'all. River Rose, come on out here!"
Clarkson hugged her daughter as she appeared on stage and showered compliments at River Rose for looking "beautiful." Clarkson being a dutiful mom, calms her daughter's nerves and boosts her confidence. "I love you so much. You killed it at sound check!" she told River Rose. "Are you ready to sing 'Heartbeat Song?'" The mother-daughter duo started crooning enthusiastically as River Rose jumped up and down while performing the song's chorus, even delivering a high note in the song.
"Give it up for River Rose, everybody!" Clarkson yelled once the song concluded and her daughter added, "Thank you, everyone!" Telling her daughter that she looked gorgeous before River Rose exited the stage, Clarkson was quick to announce that her son was up next in the line to perform with her. Unlike his sister, who was a bit shy, Remington was excited to join his mom for a good old-fashion dance party. "I was like, 'He's destined for greatness just for loving this song alone,'" Clarkson appreciated Remington for picking his favorite song to perform.
Clarkson stood by her son as he performed "Whole Lotta Women" and the crowd erupted with cheers and applause. As Remington showed off his dance skills, Clarkson shouted, "Get it, Remy!" The mom of two continued belting out the melodious notes as little Remmington performed happily throughout this collaborative performance. "Give it up for Remy B!" Clarkson cheered afterward and lifted her son to her lap as River Rose stood on the stage with a smile on her face as well.
Clarkson shares her son and daughter with ex-husband Brandon Blackstock whom she divorced in 2021 after seven years of marriage, per Glamour. Blackstock and Clarkson currently share the joint custody of their two children after settling in court in March 2022, as reported by TODAY. We hope these two talented kids grow up to pursue music or a career in entertainment just like their mother so we can get to see more of their combined performances in the future.