Josh Brolin is incredibly proud of his daughter, who recently finished her first dance recital, reported TODAY. The "Deadpool 2" actor shared a picture of his 4-year-old daughter Westlyn on his Instagram story on May 21, 2023. The child was smiling and wearing a pink dress with fringes on the skirt and a pink bow.
Brolin wrote on the picture, "So proud of my little girl on her first dance recital," with a lot of emojis. The actor has two daughters, Westlyn, 4, and Chapel, 2, with his wife Kathryn Brolin. They married each other in September 2016. He also posted a photograph of his daughters with their grandfathers, captioning it: "Grandpa(s) love." The photo shows his father, James Brolin, holding Chapel and the kids' other grandparent, holding Westlyn.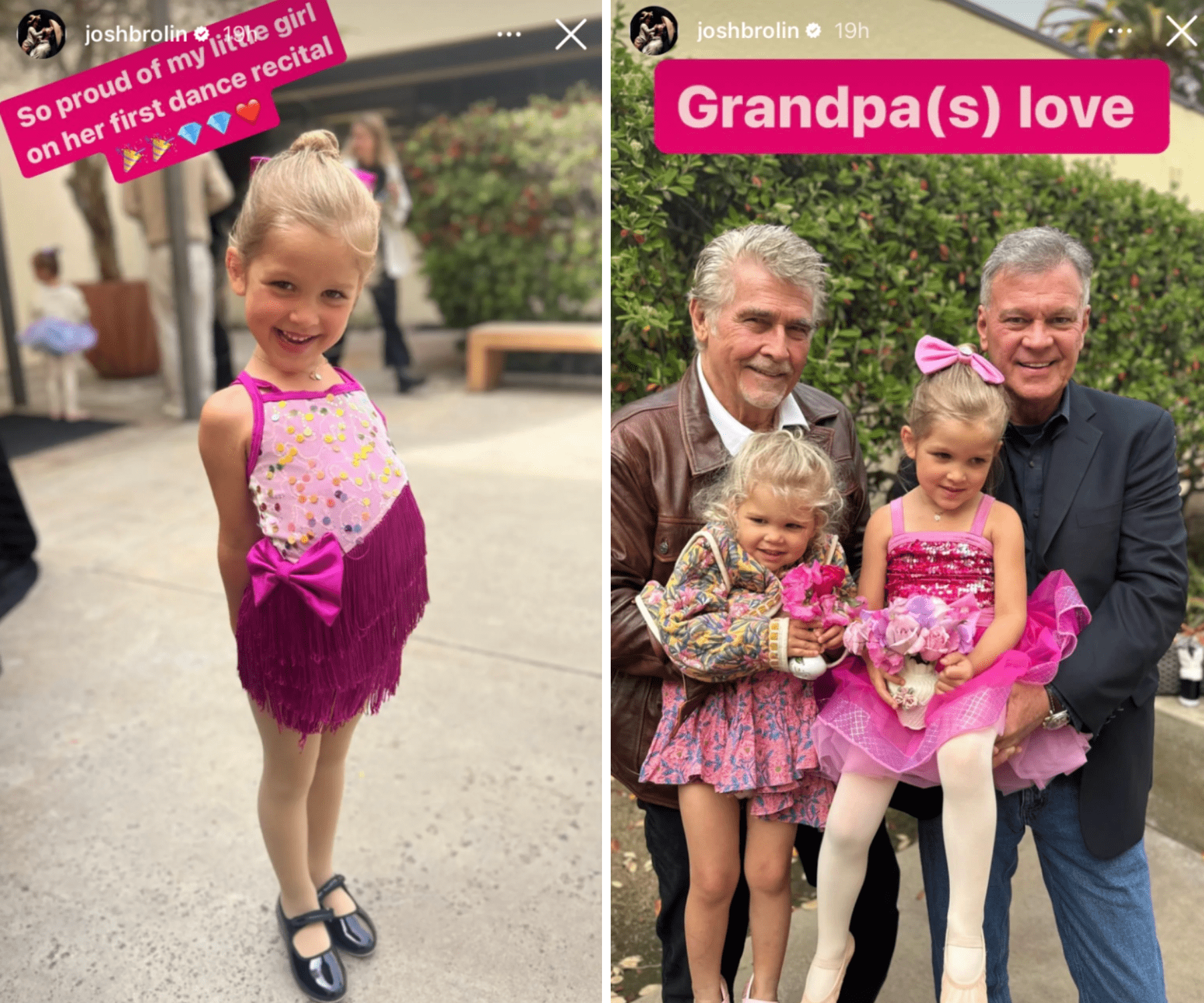 Brolin also has two adult kids, Trevor and Eden, with his first wife actor Alice Adair. Last year in an interview with Variety, the actor interviewed himself on "Actors on Actors" when Jeremy Renner was a last-minute no-show. He asked himself if he feels competitive with his kids as his daughter, Eden, is doing well on "Yellowstone."
The actor responded, "I do, especially the 1-year-old and the 3-year-old. The fact that my older daughter's an actress, she's already out of the house and she's doing her own thing. But my younger kids are really trying to take the limelight from me right now and it's tough, you know? I bring them to school, and when I'm walking down the street, when somebody says, 'Hey, man, I love your work,' it makes it all worth it for me. But right now, there's been a lot of, like, 'Oh, my God, what a cute little kid,' and I'm like, 'Hello?'"
Though Brolin and his wife Kathryn have been private about their kids, they shared a funny family photo on Instagram in December. Kathryn captioned the post, "Power naps and power poses." The picture was from a trip the family took in September to celebrate the couple's sixth wedding anniversary, reported PEOPLE.
The actor's oldest daughter, Eden Brolin, married her boyfriend, Cameron Crosby, last year. He wrote an Instagram post at the time, "I have little kids to raise again, entire lives to monitor and be sensitive to. I didn't grow old and go off to Italy. I stayed and walked my daughter over a grassy countryside to a commitment — a groom with tears falling down his cheeks — and I melted with it, into it. I am ripped open this morning. My son and my daughters are happy, contented. All the greatest gifts have no form, and sit there waiting to be acknowledged."
He also expressed gratitude for still being an active parent in Eden's life and that he could spend such an important day with her. "When your daughter gets married, it all shows up: the memories, a life lived (or not), and how certain relationships resonate. I am so grateful for this time and this place, to be able to have this time on," he said.