New Zealand Prime Minister Jacinda Ardern has resigned from her post. She cited burnout as one of the reasons for calling it a day, surprising many. It is rare to see a world leader prioritize their health, let alone quit their job. While many are rightfully hailing her contribution as a leader to New Zealand, some are praising her for showing that it's okay to prioritize yourself and your mental health. It's something we can all work into our lives. We must acknowledge that a relentless cycle of work-eat-sleep can wear us out. Ardern's decision also shines the spotlight on 'burnout.' New Zealand's Prime Minster Jacinda Ardern has resigned from her position saying she no longer has "enough in the tank" to move forward, reported The Guardian.
This shocking announcement comes at the New Zealand Labor Party's first caucus meeting of the year on Thursday, January 19. Ardern stated, "I'm leaving because with such a privileged role comes responsibility – the responsibility to know when you are the right person to lead and also when you are not. I know what this job takes. And I know that I no longer have enough in the tank to do it justice. It's that simple." Her time as Prime Minister will end no later than February 7, but she will remain a member of parliament through the year's election. "I am human, politicians are human. We give all that we can for as long as we can. And then it's time. And for me, it's time," she said.
Over the summer break, Ardern said she thought about whether or not she had the energy to carry her role as Prime Minister but, came to the conclusion that she did not. Ardern said the last five and half years have been the "most fulfilling" but it has been difficult considering the country's socio and economic "crisis". She further noted, "These events... have been taxing because of the weight, the sheer weight and continual nature of them. There's never really been a moment where it's ever felt like we were just governing." Moreover, Ardern urges fellow New Zealanders to remember her as "someone who always tried to be kind".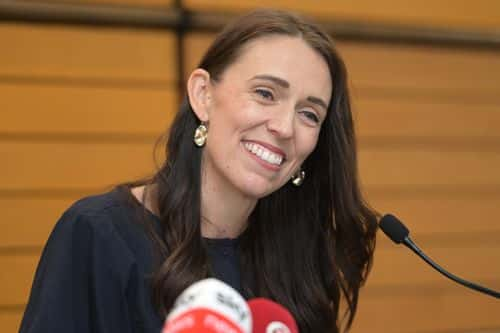 "I hope I leave New Zealanders with a belief that you can be kind, but strong, empathetic but decisive, optimistic but focused. And that you can be your own kind of leader – one who knows when it's time to go." Threats of violence against Ardern have significantly increased over the past year, from groups of conspiracy theorists and opponents of vaccinations who are enraged by the country's vaccine mandates and lockdowns. She did mention that this wasn't a factor in her decision from stepping down from her position. "I don't want to leave the impression that the adversity you face in politics is the reason that people exit. Yes, it does have an impact. We are humans after all, but that was not the basis of my decision," she explained.
As for the future, Ardern has no plans other than spending more time with her family. She thanked and appreciated her partner, Clarke Gayford, and daughter Neve, whom she gave birth so while in office as "the ones that have sacrificed the most out of all of us". She continued, "To Neve: Mum is looking forward to being there when you start school this year. And to Clarke – let's finally get married." Christopher Luxon, the National leader, said Ardern had "made a significant contribution to New Zealand, in what is a difficult and demanding job" and called her a "strong ambassador for New Zealand on the world stage".