Defense attorney Dan Eckhart is well aware that he has a tough challenge ahead of him. His latest client, Adam Johnson, made quite the name for himself in just the past week as one of the most identifiable faces of the January 6 riot at the U.S. Capitol building. Seen smiling wide and waving as he carried Speaker Nancy Pelosi's lectern out of the House chambers of the Capitol last Wednesday in a widely shared photograph, Johnson now faces charges of government property theft, violent entry, and disorderly conduct. Addressing this particular photograph while speaking to reporters Monday, Eckhart admitted that it poses a "problem" for his client's case.
According to CBS-affiliate WTSP, Judge Christopher Tuite set a $25,000 bond for Johnson in federal court on Monday after he was jailed Friday on a federal warrant in Pinellas County. Although the 36-year-old walked out of court around 4 p.m. on a 'signature bond' — which enabled him to get out of custody without putting up any money — he will have to pay if he fails to show up in court on January 19 for his preliminary hearing in Washington, D.C. While leaving court Monday, Johnson's lawyers were unusually candid when asked if Getty Images photographer Win McNamee's viral photograph of their client poses a challenge to their client's case.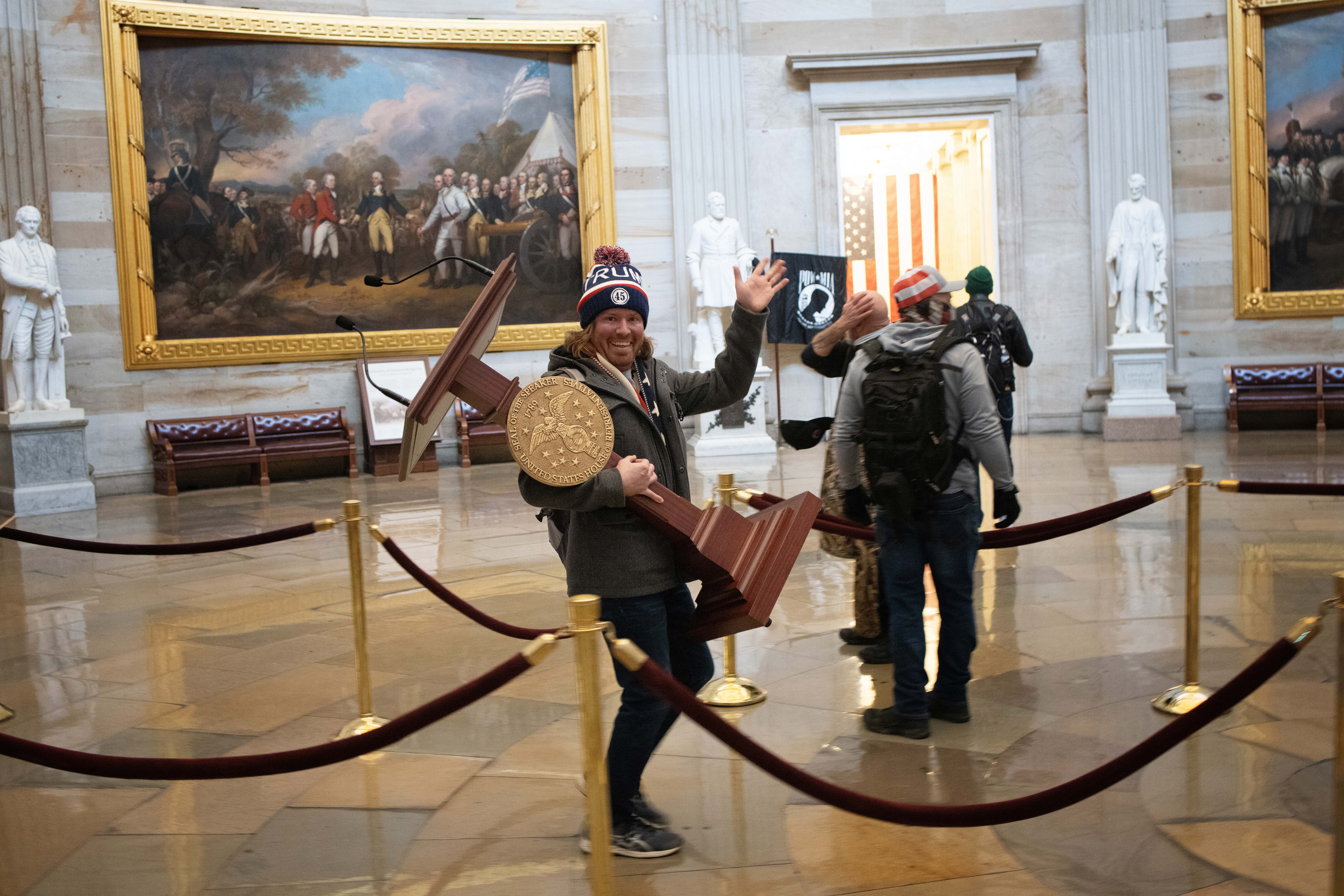 "I don't know how else to explain that, but yeah that would be a problem," said Eckhart, reports NBC-affiliate WFLA. "I'm not a magician […] so yeah we've got a photograph of our client who appears to be inside the federal building with government property." Johnson's other attorney, Douglas Land, stressed that they do not take last week's events lightly. "He's got serious felony charges right now and obviously he's taking this very seriously, we're taking this very seriously," he said. "I agree with the remarks the prosecutor made today. This has been a substantial incident in our history."
Under the terms of his release, Johnson would have been required to surrender his passport, submit to substance abuse tests, surrender all firearms, and wear a tracking device. He will also not be allowed to travel outside the Middle District of Florida, with the exception of traveling to Washington, D.C. for court cases, and has a 9 p.m. to 6 a.m. curfew. Judge Tuite warned Johnson that violation of any of these terms could result in a 10-year sentence plus contempt of court charges on top of any potential sentence from any pending charges against him.
According to the U.S. Attorney's Office, Johnson faces charges of knowingly entering or remaining in any restricted building or grounds without lawful authority, one count of theft of government property, and one count of violent entry and disorderly conduct on Capitol ground. "It is alleged that on Jan. 6, 2021, Johnson illegally entered the United States Capitol and removed the Speaker of the House's lectern from where it had been stored on the House side of the Capitol building," the U.S. Attorney's Office said in a statement. "A search of open sources led law enforcement to Johnson, who is allegedly seen in a widely circulated photo inside the Capitol carrying the lectern."
The case is being prosecuted by the U.S. Attorney's Office for the District of Columbia and investigated by the FBI's Washington Field Office and the United States Capitol Police. During a press call on Friday afternoon, Steven D'Antuono, assistant director in charge of the FBI's Washington Field Office, stressed that the investigation is a priority for the entire FBI. "Make no mistake, our work here is not done," D'Antuono said, according to Bradenton Herald. "Just because you left the D.C. region, you can still expect a knock on the door if we find out that you were part of the criminal activity at the Capitol."