Love is a beautiful thing, and it often comes in unexpected ways. A video shared on TikTok showed a husband surprising his wife before her surgery. The video was captioned: "Husband comes home early from his long-haul trucking route and surprises his wife a few days before her surgery. "I lost it when he said he was staying the entire week," read the text overlay. The clip is a heartwarming story of love and dedication that is sure to tug at your heartstrings.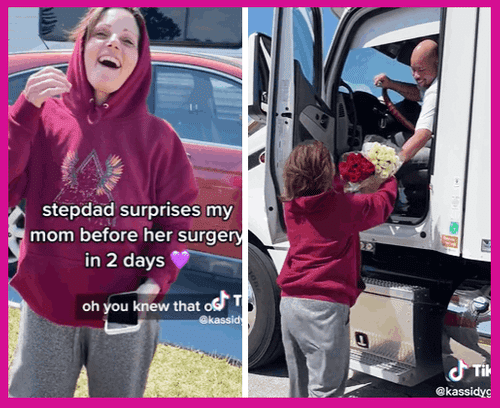 The story involves a husband who comes early from his long-haul trucking route. However, he made a surprise visit home a few days before his wife was scheduled for surgery. When he arrived, his wife was completely taken aback by his unexpected presence, and her emotional reaction was captured in a video that has since gone viral. He says, "Tada, I'll see you all week you are yeah yeah, alright don't go on the grounds dirty come here come here."
"I love you, not this is you know the most exciting moment but I want to be here with you." he continued. As the video shows, the wife was in complete shock when she saw her husband in the truck, he also gave her a bouquet. After a moment, he comes down from the truck and hugs her. She's holding onto him as though she never wanted to let him go. Her tears flowed freely as she expressed her joy and gratitude for his surprise visit.
The love between these two is palpable. Moreover, this video is a reminder of the power of love to lift us and carry us through difficult times. It is easy to get caught up in the hustle and bustle of life, but moments like this remind us of what is truly important - the love we share with those closest to us. People have shown their love to this video, "Aweeee. Now I need an update on how the surgery went please." says, Dolphins Rich
In a world that can often be harsh and unforgiving, it is easy to become jaded and cynical. Moments such as these restore our faith in humanity and remind us that there is still so much good in the world. The husband's surprise may seem like a small gesture, but its impact is immeasurable. It is a reminder that even the smallest acts of love can make a significant difference in someone's life. And for his wife, who is facing a challenging time, the surprise is a source of comfort and support. The outpouring of love and support for this couple on social media is an example of the impact their story has had on people's hearts. Many people have expressed their admiration and respect for the husband's act of love, with some even requesting updates on the wife's surgery.