Editor's note: This article was originally published on March 31, 2021. It has since been updated.
Homelessness is a serious problem in America with approximately 17 people experiencing homelessness per every 10,000 people in the general population. According to the National Alliance to End Homelessness, the rate of homelessness has been increasing and on any given night, there are an estimated 553,742 without a roof over their heads.
While there has not been any type of permanent solution for fixing the problem of homelessness, there are always some kind-hearted strangers who help them out when possible. Philip Vu, a 24-year-old vlogger befriended a homeless man from New Haven, Connecticut. After getting to know him, he planned a surprise so touching that it will bring you to tears.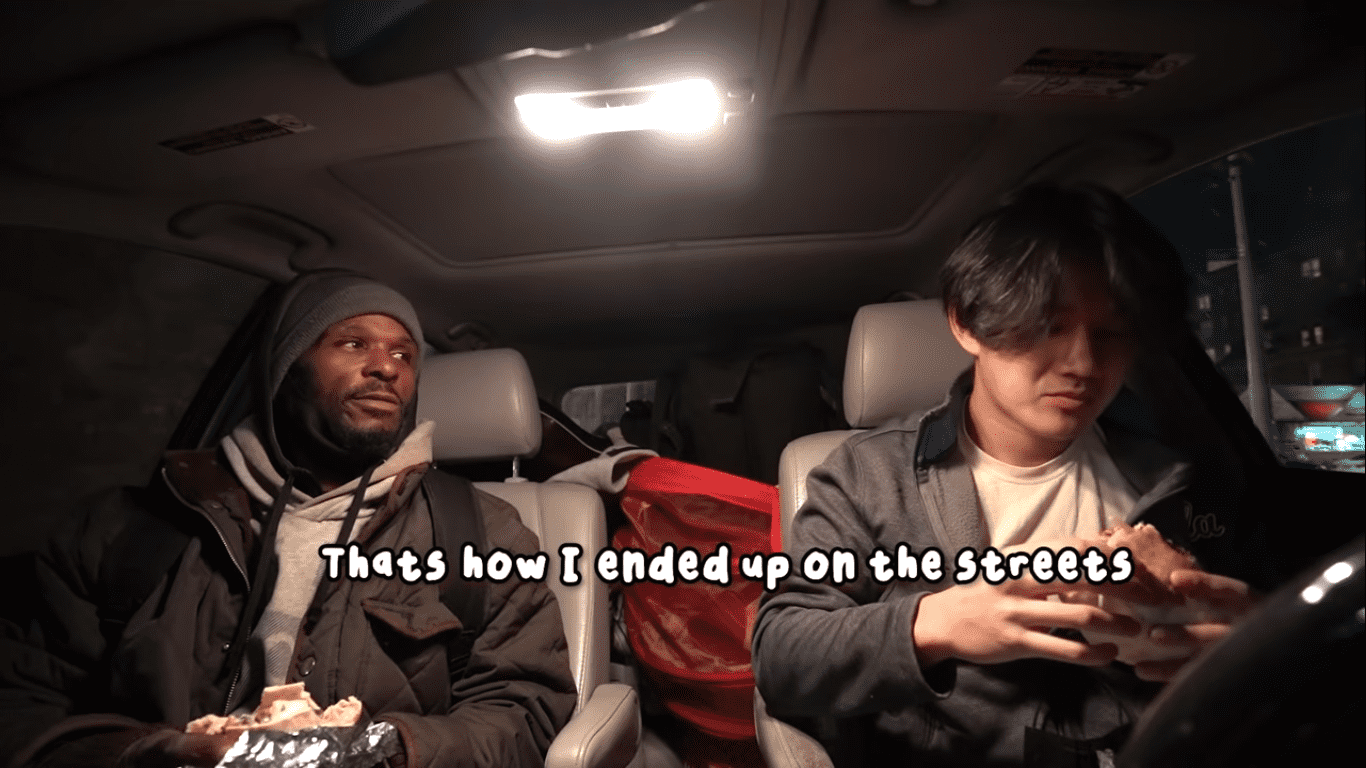 Vu first met Mike while trying to clean his car windows to earn a little cash for the cold night ahead. Even though Vu refused to let him clean the windows, he offered to buy him a falafel sandwich that the two ate in his car. After having a candid conversation for about half an hour, Vu pulled out his camera and started vlogging the conversation. The two men shared their life stories and the different cards they were dealt in life. Mike shared that he became homeless after his mother died in 2020 and that he had spent nearly 22 years in jail. He was trying his best to be better and not end up in jail again.
Vu, who belongs to an immigrant Vietnamese family shared that he too grew up with little to nothing and after graduating from college, he decided to travel the world. He came back home to a nice bank job which he quit to help people. He now drives around in his car doing just that, while also making video content for TikTok and YouTube. In fact, after having an incredibly moving heart-to-heart with a complete stranger, he uploaded the video to YouTube and a shorter version to TikTok. The video raked up more than a million views. Many of the TikTok users wanted to help Mike.
So Vu decided to raise money to help his new friend out. Together with his TikTok followers and friends, he was able to raise a total of $15,000 for Mike, $1,000 on Venmo, and $14,000 through GoFundMe. A friend of Vu's even got Capelli Sports to give Mike a whole collection of warm clothes. Vu decided to surprise Mike with the news of Chinese New Year after buying him lunch at Louis' Lunch, a famous burger joint in the city. After lunch, the two of them went back to the place where they first met and had another candid chat before Vu first gave him the merch from Capelli Sports and finally handed him the traditional red envelope with the $1,000 he had raised on Venmo in cash.
Mike was touched by Vu's gesture and broke down in his car. "Let me donate back to you," Mike said, overwhelmed by the money. This was even before he knew there was more in store. Vu then asked him if there was someone he trusted with a bank account and could help him with the money because there was $14,000 more waiting to reach him. Mike cried again and hugged Vu for his thoughtfulness and generosity. He even told Vu's mother through the video that she had an amazing son. Vu told Mike that he was glad he could help realize his dream for 2021, which was to put a roof over his head.
Metro reported that Mike has bought clothes, food, and a phone so the two can stay in touch. Mike is also currently getting his social security number, a birth certificate, and has applied for low-income housing. Vu helped him enlist with financial advisors so he could use the money responsibly and get his life back on track. You can watch the whole video here: