Editor's note: This article was originally published on July 9, 2021. It has since been updated.
High schoolers across North America with a passion for crafting, sketching and designing showed off their incredible creative talents in a bid to win a $10,000 scholarship. The Stuck at Prom Scholarship Contest—put on by Duck Brand duct tape—saw an array of impressive submissions from teenagers who created stunning prom dresses and tuxedos entirely out of duct tape. Erika Avellaneda, an Ottawa Grade 9 student who was one of the finalists after beating 102 other dresses, told CTV News that she thought the contest would be a "super fun" experience since "it's not like your average scholarship where you have to write essays."
Avellaneda's detailed, two-piece dress—which features gold, blue and black patterns, an open front, a long, elegant trailing skirt, and matching accessories—took her 143 hours and 17 rolls of duct tape to create. The teen revealed that the dress probably weighs about six pounds. "I worked for about 143 hours. Some days, I worked five hours, other days one or two," she said. "It was a hard process. A lot of sitting down and working, but it was worth it." Avellaneda added that she was inspired by the styles and colors of ancient Greece, Rome, and Egypt when crafting the outfit.
"I think it's incredible. I'm completely obsessed with it," said the teen's sister Claudia. "Erika is a little shy, but she's so creative. This is kind of like her way of speaking out and showing all the incredible designs that are in her head. I'm so proud of her. Everything I do is for Erika. She is such a queen. I'm so proud of her and she's only 15 years old. A lot of the other finalists are in their senior year in high school."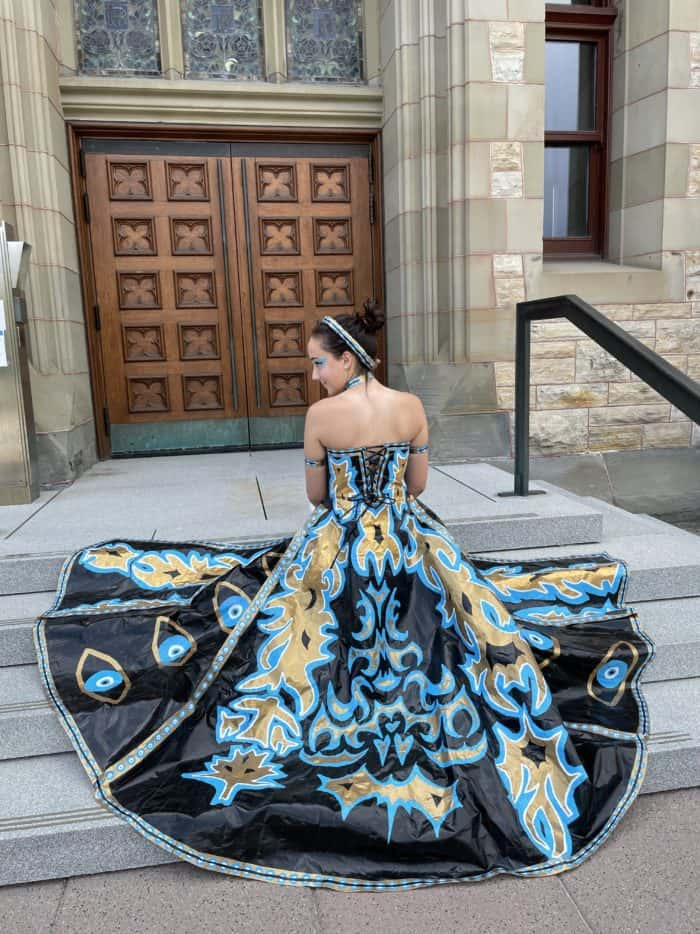 Meanwhile, the young fashionista's mom, Annette Dillon, explained that her daughter has always been a natural at art and design. "I think the dress is stunning. I think it's a real masterpiece," said Dillon. "Erika has always liked the idea of castles, ballroom dancing. For me, it gave a child the chance to get out of her head—you know, the worries of the pandemic and school and not completing your courses—and do something physical with her hands. So I think that was a huge benefit."
In her submission for the Stuck at Prom Scholarship Contest, Avellaneda explained she started off with the idea of creating something that fits the white academia aesthetic. "I pictured this dress being worn in a big architectural baroque castle ballroom dancing to classical music, like the ones you see in Rome and Greece. Originally the dress was fully white, but I was also inspired in doing a black-on-white clash. I was inspired by the style and colors that you would find in ancient Greece, Rome, and Egypt," she wrote. "A big part of the dress's inspiration was the colors of ancient Egypt like gold, white, black, and turquoise/blue."
"Once I realized that a lot of the colors I was already using were similar to those of the evil eye I knew I had to add it in. The evil eye can symbolize multiple means depending on what cultures you ask. Some may say that it attracts evil spirits, others say that it can cast a malevolent gaze back upon those who wish you harm. I was inspired by both, but I would like that my dress reflects a malevolent gaze upon those who wish harm on me," the teen added. Avellaneda admitted that irrespective of whether she won the grand prize or not, working on the dress was an experience she is unlikely to forget anytime soon. "I'm also pretty happy that I now get to have the dress and get to wear it," she said. "It's something that I get to have and tell people about. It's definitely a cool thing to talk about."
Check out the other talented finalists and their stunning creations below. You can vote for your favorite here.