Weddings can be an emotional affair, with people sharing stories and beautiful memories about the bride and groom. But who better than parents to share the perfect stories? Their stories may be ones that no one else would have heard before. In a heartwarming video posted on Instagram by destination wedding photographer @theloveselect, the groom's father makes a toast for his son and his daughter-in-law. He says, "So when I was thinking about what to say at my son's wedding, I thought immediately about the feeling I had when he was born, and Michael and Betsy were still in the hospital, and I came home and...sorry" he pauses, already getting emotional. "I woke up the next day like any parent, and I thought, you know what, this is like the most meaningful day of my life."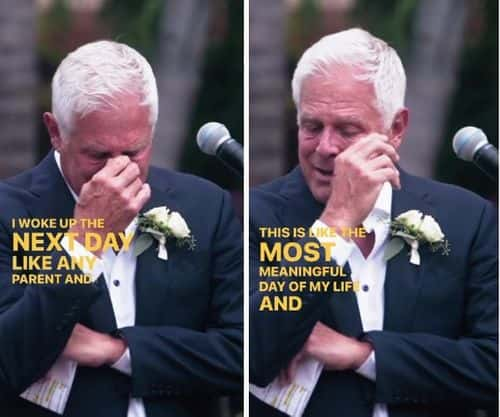 "And you hope for your kids, they're going to be healthy, they'll live a long life, they're going to make the right decisions, they're going to be a good person, but most importantly, they'll find somebody they love. And when Michael met Cori, it was a dream come true," he said. "It really was for all of us. And you know, Cori is independent, she's smart, she's thoughtful, she's caring, she makes Michael a better person, and that's what you dream for your child."
The video was posted on December 29, 2022, and has more than 86,000 likes. It is captioned, "This toast hit different." The daughter-in-law, Cori Quinn also responded on the video. She wrote, "I'm so blessed to have the most amazing FIL @verynicebt 🥺 Thank you again for capturing our special day so beautifully @theloveselect 🤍" An Instagram user @misti_nelson commented, "Amazing tribute and love bestowed to son & daughter in law. Quite a man and I bet he's a great husband too. He is going to be an awesome grandfather!"
The video was also uploaded by goodnews_movement on Instagram and has more than 100,000 likes. It is captioned, "EMOTIONAL TOAST: This father looks back at his life as a father & the ONE thing he really wanted...watch. 😭 ❤️" Here too, people have showered the video with comments. Viewer @kerrimere reminisced of her own wedding and wrote, "My dad didn't give a speech but he blubbered like a baby as he walked me down the aisle, same for our dad/daughter dance"
Talking about weddings, in another video, a stepfather made sure to make his stepchild feel like the queen of the world. He wrote beautiful vows for her and read them to her before turning to make his vow to her Mom. In a Reddit video, he can be seen going down on his knees during the wedding and saying, "Autumn, someday you are going to stand up here wearing a pretty dress just like Mom. Until then I hope that I can show you what true love looks like, and I hope that I can show you what kind of a man you deserve to marry." In the clips, the girl can be seen standing with her mother and stepdad while he looks at her lovingly; then there are clips of her dancing with her stepfather and spinning happily on the dance floor.
He continues, "I promise to always believe in you, to always support your dreams and I promise to always hold your hand and walk by your side. You will never be alone because you will always have your stepdad. I love you," the girl responds, "I love you too" he puts on a mickey mouse ring on her finger and they hug.