Our parents and grandparents are often not used to the new features of technology like we are. They seek help in accessing several features of smartphones, cameras and electronic devices that they are not familiar with. While sharing the tips & tricks of technology with them, these moments can prove to be beautiful as you connect with your loved ones on different levels. A similar heartwarming moment was caught on camera between a woman and her grandparents, who did not know about the front camera. Liv O'Donnell shared the now-viral clip on TikTok, which now has over 15 million views. The video starts with Liv applying lipstick while looking into the camera.
She wrote in the text overlay, "I pulled out my phone to do my lipstick and my grandma HAD to tell my papa about it." Her grandmother was watching her apply lipstick and was completely shocked and mesmerized. She turned to her husband and Liv's grandfather, saying, "Charlie look! I can put my lipstick on and anything. Wow and that's how you look." Her grandfather was also surprised and said while looking at himself on camera, "Young guy, just a young guy!" This adorable reaction resonated with many as they recalled their own experiences with grandparents related to technology.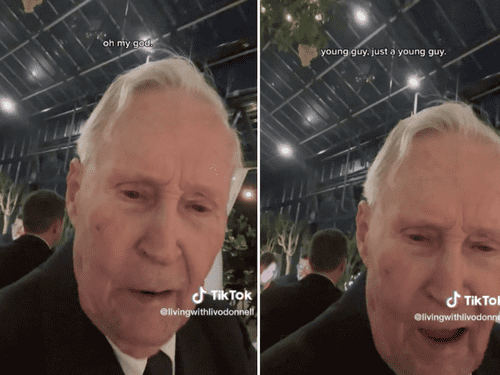 TikTok user @changed.my.name.2.laurie commented, "You're going to cherish this one day. Back it up. I cherish a voicemail my papa left me." User @gingergymrat "Wow, what I would give to have a video of both my grandparents before they passed especially as cute as this. Thank you for sharing this sweet moment." Another user @kayautmnc commented, "This reminds me of my grandparents and made me want to cry. We lost my papa last January. Please remember to cherish their love and these moments." This adorable moment highlights the importance of creating memories with our parents and grandparents that we can cherish for a lifetime.
In another example of such a moment is a viral video shared by @GoodNewsMVT on Twitter. A couple is seen in the video waving a banner that says "Baby." The woman's parents are taking the escalator down, and when the mother sees the banner from a distance, she becomes distraught and yells, "Oh my God!" They then come down and embrace their daughter and son-in-law. "I'm so happy," the mother says as she kisses her daughter's belly.
Moreover, in another such beautiful moment, Grandpa was made to feel special when his coworkers threw him a "grandpa shower." A grandfather is seen entering his workplace and getting shocked in a video posted on Twitter. "The ladies at my dad's work threw him a surprise 'grandpa shower,'" reads the text overlay on the video. He is then shown feeling upset as he looks at the gifts. He pulls out a present that says, "My Gramps loves me more than baseball." A banner in the backdrop reads, "Congrats Gramps." "Can we make grandparent showers a thing?" asks the text. It concludes with a video of his daughter and the caption, "Can't wait to celebrate with you and Clare Bear."