Grandparents love spending time with their grandchildren and they do their best to make it as memorable as possible. A grandfather named Steve in Minnesota built a 200-foot-long backyard sledding course for his grandchildren and they loved it. Steve's daughter, Nicole Warner posted a Tiktok video in which Steve is finishing up the course, and children are seen enjoying sledding down the slope. The whole sledding course is decorated with lights. The video is captioned, "It took him 80 hours."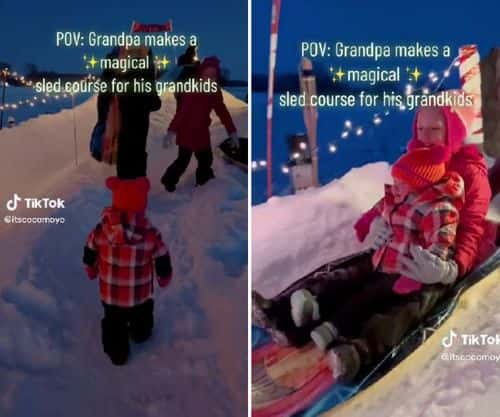 Warner said that the grandchildren voted to name the slope after the grandfather calling it, "Papa Bear Plunge." "They have spent hours sledding already, and plan to use it for the rest of the winter," Warner said. "Their reactions have been priceless, smiles from ear to ear," according to GMA. Steve said that seeing the children's joy makes him feel like a proud grandfather, as reported by FOX9.
This is apparently the first time that Nicole's father made a sledding course, however, he did build ice rinks when they were growing up. Many Tiktok users were impressed by the grandfather's efforts. A Tiktok user wrote, "🥰 This will never be forgotten. Go, Grandpa." Another user said, "🥰 This will never be forgotten. Go, Grandpa." Third user wrote, "ok…Grandpa of the Year Award." However, Minnesota is one of the many states which is facing heavy snow and blizzard over the past several weeks.
In another video about a grandfather, he is seen updating his family photos to have his grandson's post-transition picture. His grandfather asks his grandson for a new photograph to swap out the pre-transition photos of the TikTok user in a graduation cap. Nicolas was visiting his family in Spain when his grandfather asked him for a new picture to update the old one in the house. "My grandpa wanted to change my pre-transition picture," reads the text in the video, in which the senior is seen smiling while removing the back of the picture frame.
He then replaces his grandson's pre-transition photo with one of the young transman posing in front of a lake wearing a white shirt and green pants. "Grandpa of the year award," the text overlay at the end of the video reads. Nicolás also praised his grandfather in the caption, writing: "He is the only one who has never messed up."
"I posted this one specifically because a lot of trans youth are scared about what their family members will think or do when they come out," Nicolás said of the now-viral clip of his grandfather. "I was certainly worried about that too. I posted the video to show that it isn't a generational issue—that being old isn't an excuse to be unsupportive of family you are supposed to love."
He then says that his grandfather is one of the people who has been very supportive of his transition journey. "It's reasonable that people mess up your pronouns or accidentally dead name you when you come out but he didn't have any issue. He has never flinched once," Nicolás shared.
"As an older person, he is setting an example for the rest of the world. It means a lot to me," Nicolás said. "Not only is he doing that, but he also writes notes with my name all over the house so that my grandma with Alzheimer's remembers when she forgets. They are both so supportive and I am very lucky to have them both in my life."