It's not every day that a 21-year-old college graduate takes a moment to look back at her journey to get into some of the most prestigious schools in the country, let alone whose admissions essay is so well-received that it goes viral. But a TikTok user, Kalissa Persaud, a 21-year-old, is no ordinary college student. Rather than focusing on the typical topics of success, ambition and drive in her admissions essay, Kalissa chose to take a different direction and write about an unexpected topic, her childhood hero, "SpongeBob SquarePants." "If I had to estimate, I'd say I've watched every episode of SpongeBob SquarePants at least eight times," Kalissa's college admissions essay begins. "I speak candidly when I say SpongeBob is my hero."
"Hearing chuckles and seeing contorted faces when I declare this is inevitable," she admits. "But nonetheless, I say it with the utmost candor and confidence every time. And why shouldn't I? I've devoted 13 years of my life to this sponge." And boy, are we glad she did! Kalissa recalls her earliest memories of watching SpongeBob — when she was 4 years old and would return from school, immediately begging her grandmother to switch the channel from Bollywood movies to her fave yellow sea creature. Then, to her grandmother's dismay, she'd belt out the theme song and perform — moments that, in hindsight, fueled her dreams of becoming an actor.
"It's no secret that the setup of the SpongeBob SquarePants show is bizarre," she reads in her video. "A sea sponge, a starfish, and an octopus (ironically named Squidward) are neighbors; a crab has a whale daughter; and the antagonist of the show is an evil genius zooplankton with a computer wife. One could choose to criticize the ridiculousness of the show or simply indulge in the absurdity of it all. I chose to do a bit of both."
"There were no rules in the episodes. The opportunities were limitless. It showed me that my imagination could run wild and, more importantly, being able to access my imagination was a meaningful skill," she said.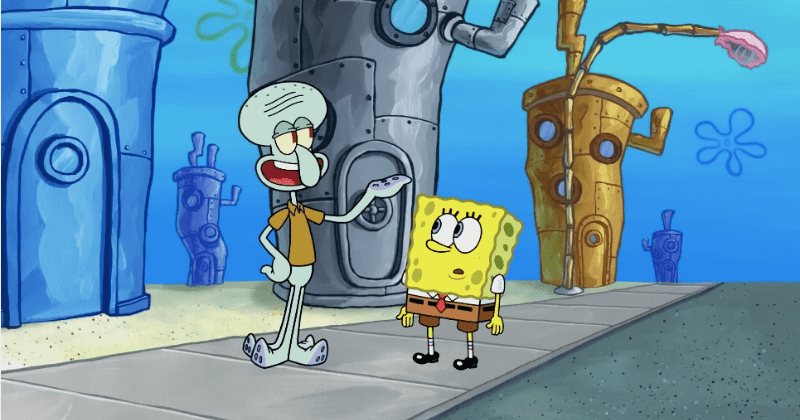 "Seeing these zany scenarios planted a seed in my brain at a crucial development stage, which in turn made me a more creative person." "Being myself has never been an issue for me, but believing in myself was. Especially in my first year of high school. I was stuck in a rut. I felt mediocre all the time. Whenever I thought of any scenario, my mind made a list of every little thing that could go wrong, even if it was completely irrational."
"I thought back to the first episode of SpongeBob in which a swarm of anchovies came to feast at the Krusty Krab, where SpongeBob is seeking employment as a fry cook. He keeps calm amongst all of the anchovy chaos despite it being his first day, and efficiently serves Krabby Patties. I questioned when I became so doubtful. If SpongeBob could serve a thousand anchovies on his first day, then I could definitely try to gain some lost confidence back," she reasoned.
"SpongeBob has been a driving force in shaping the person I am today in more ways than I thought," she said. "SpongeBob may be responsible for my passion for acting. After all, being an actor requires confidence and imagination — two things of mine that were greatly developed through watching SpongeBob. I look forward to further developing these things throughout college and the rest of my life. In the words of Mr. SquarePants himself, 'I'm ready!'"
The essay earned Kalissa entry to not one, not two, but nine colleges, including UCLA and USC, which have admission rates of about 9% and 12%, respectively. "Post-grad life is uncharted territory for sure, but whatever comes next, 'I'm ready,'" Kalissa said. And ready she is. Kalissa graduated from Hunter College with a major in theater and a minor in English this past January and is now ready to take the world by storm. Who knows, maybe the world will even get to see a real-life SpongeBob SquarePants one day! Now, that would be something.