Remember when 5-year-old Austyn asked her grandpa to the Valentine's Day daddy-daughter dance? Everyone is enamored with how Austyn and her grandfather have a blast in the clip from their dance date that her mother, Kelsey Woolverton, promised to show everyone. According to the New York Post, the community recreation facility in Papillion, Nebraska, holds the unique father-daughter event every Valentine's Day. However, things were looking a little different for Austyn Woolverton because she could not attend "date night" without her dad. Her father, Michael Woolverton, died of a fentanyl overdose when she was only 18 months old. "She doesn't have memories of him, but from the very beginning we have talked about him," Woolverton said.
Austyn decided she would ask her grandfather, Steve Guenther, to be her date at the daddy-daughter event. Her mom told Grandpa in advance so he could be available that evening. In the video, Austyn says to her grandfather softly, "There's Valentine's Day dancing." But we need our dad to go." She added, "My dad's not going to go." "Will you go with me?" Her grandfather obliged gracefully. "She is usually not that emotional about her father's passing, and so it just kind of struck us all with surprise that she eloquently asked him that way," mom Kesley Woolverton said. "I had no idea she would put that together—that she needed her dad to go—but he wouldn't be there," Woolverton added.
The awaited evening had arrived and Austyn was excited to dance with all her friends and her grandfather. She got her hair and makeup done and looked very adorable. Her grandfather matched her all-red outfit with a red tie and she had tiny hearts on her dress with red shoes. She got a matching red and white corsage from her grandfather, who also donned a white boutonnière with red accents, completing the aesthetic of the look. "Their bond is like nothing I have ever seen before. They are like best friends," Woolverton said. Austyn and Guenther like watching Nebraska Cornhuskers football together and have even gone to a game together.
It's lonely without her father, but Guenther is glad he can be there for her anytime she needs a father figure. "I feel blessed that Austyn and I have this bond and I can be there for her when her dad can't," he said. Her dad's food memories still live on in their family. After he passed away, Austyn and her mom moved from Oklahoma to Nebraska, where her parents helped raise Austyn. "My mom and my dad both kind of helped me raise her in that year-and-a-half," she said. Guenther says that people online don't see Woolverton's positive parenting of her daughter. "She has faced one of the hardest things anyone can ever go through and has done a wonderful job raising Austyn and keeping Austyn's dad alive in their hearts," he added.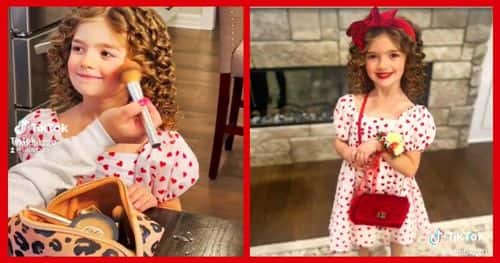 After posting the video of Austyn and her grandfather, Woolverton felt "overwhelmed," by the responses on TikTok. "I guess I didn't realize how many people have lost their dads or don't have a dad in their life until the video came out," Woolverton said. "That has been inspiring to me just to know that I'm not alone, and they're not alone in our situation," she said. The date night video on TikTok reached over 22.7K views and the people were in awe. @KaliAdams commented: "There will never be a man in her life that will measure up to v the standard her Gpa just set. She'll never settle for less than she deserves. 🥰" Amen to that!