Long flights are often tiring and people find it hard to pass the time when flying from one destination to another. However, airlines offer several in-flight entertainment channels to keep their passengers engaged and active while they are in-air. Technology cannot be trusted at all times and hence, there might be a few times when these in-flight entertainment stations malfunction and stop working. Flight attendants can't really do anything about it but this crew member made it his personal mission to entertain the passengers when their in-flight entertainment stopped working.
During their Air Asia flight from Cambodia to Vietnam, two Australian travelers shared a heartwarming incident when their flight attendant surprised them by singing Ed Sheeran's song "Perfect" over the intercom, turning the cabin into an impromptu karaoke stage. With the inflight entertainment system malfunctioning, the passengers were treated to a delightful performance, filling the air with East Asian-accented English instead of the usual announcements. One of the travelers, Ashleigh—who goes by @ashwebster on TikTok—expressed her joy and bewilderment stating that she had never felt so confused and happy at the same time.
Users on the platform loved the gesture and voiced their support in the comments section. @mediocre.mer was quick to point out, "This is so sweet. Why is everyone so quiet, I would've been hyping that king up." Another user @velocitygirl94, commented on the flight attendant's efforts to entertain passengers, saying, "He has no business performing to anybody, but at the same time, I love him and hope he thrives.
Many users also shared similar experiences of flight attendants providing them with entertainment on their flights. @mojo_syd shared a similar incident: "I was on a flight to the Philippines and the air stewards did a quiz/trivia over the PA and handed out prizes." Others recognized the wonderful air host, @hollymanser5 said, "OMG, we literally had the same guy on our flight to Thailand like five years ago."
In another heartwarming moment on-air, a Make-A-Wish recipient, who bravely conquered cancer at the age of six, received a heartfelt tribute from a Southwest Airlines flight crew. The touching moment was captured and shared on TikTok by the girl's mother, Laura Marie. The heartwarming video, showcasing the "mama to a warrior" and her daughter, Jessa, quickly went viral, amassing over a million views.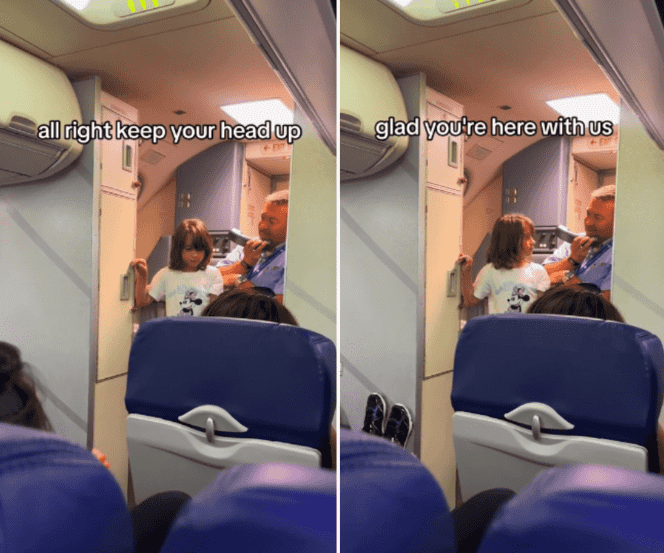 Expressing gratitude to Southwest Airlines for their exceptional treatment during Jessa's trip, Laura Marie captioned the video with appreciation for the remarkable flight crews. However, it was the final journey home where the crew's kindness truly stood out, making it an unforgettable experience for the family. Laura Marie conveyed their immense gratitude to Southwest Airlines for playing a significant role in making their trip special.
In the video clip, a flight attendant makes an announcement, revealing the presence of a "very, very special guest" on the plane, whom they wanted to honor. Standing beside him, wearing a vibrant Minnie Mouse T-shirt, is six-year-old Jessa, who is introduced as someone returning from her Make-A-Wish foundation trip.