There is nothing wrong with asking for a fair salary for one's job, be it a nurse or a flight attendant. Moreover, it's important to understand that every job has its own challenges and struggles and that can only be understood by the person working in that particular field. A flight attendant Megs Gordon—who goes by @la_megnificent on TikTok—recently justified why she is asking for $92/hour and she sure has a point.
"First, that $92/ hour is after 14 years of service and that only is for flight hours. That means when we show up at the airport an hour and a half before departure, we are doing your boarding, helping with carry-ons, closing bins, arming doors, and serving pre-departure beverages in first class, all of that is free. By that I mean we don't get paid for that at all," says Gordon in response to another TikTok user @sandybrownrn_15, who is a nurse.
She goes on to say, "God forbid there even be a delay because guess who is not getting paid to be away from their loved ones - flight attendants. Secondly, flight attendants don't work on a 40-hour work week, we work on an average of 75 to 80 hours a month. We are paid bi-monthly." She then says, "If you really stop and think about that, the $92 an hour, which as a reminder, is on the high scale of seniority, amounts to about $7,000 a month before taxes. That's really equal to what would be deemed the middle class."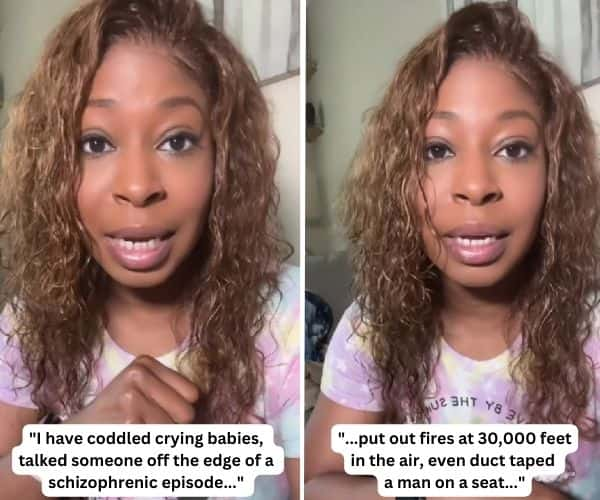 Gordon also talks about what she has done on flights to help the passengers. "I have coddled crying babies, talked someone off the edge of a schizophrenic episode, put out fires at 30,000 feet in the air, and even duct taped a man on a seat because he thought it was ok to fight me over a gate agent telling him to check his bag," she says. Responding to Brown, she concludes, "Instead of playing the whole 'my job is more important than yours,' how about you work for a union that doesn't mind fighting for what you think is fair pay for nurses? I don't come into the emergency room trying to dictate how much nurses should be paid just because I've watched a few episodes of Grey's Anatomy."
The video garnered over 391k views on the social media platform. Many in the comments sections were supportive of Gordon. "Y'all need to get paid from the second you step foot in that airport!! Your services are invaluable!" commented @theshattshow. "Get it, sis! Flight attendants are nurses, servers, babysitters and more. Y'all deserve all the money," wrote @lenasophiebean. "Period!!!! Everyone thinks that they know what flight attendants do and don't know half of what we go through on a daily," shared @iamjadarenee. "I'm a nervous flyer I'd pay you $92/hour for the sheer feeling that all is well that you provide. Thanks for all you do!" expressed @fun_in_dysfunction29.
---
View this post on Instagram
---