As people age, they may face a range of daily difficulties that can impact their quality of life. Physical limitations such as reduced mobility, hearing or vision loss and chronic health conditions can make simple tasks challenging. Social isolation and loneliness can also take a toll on their mental health. In times like these, it is essential for them to receive support from their family or community to have a better quality of life.
One such instance of the warmth of community was witnessed earlier this month when a 95-year-old man struggling to mow his lawn received an unexpected helping hand. A fire department crew passing by his house stopped to help him and the heartwarming gesture was caught on video and posted on Twitter.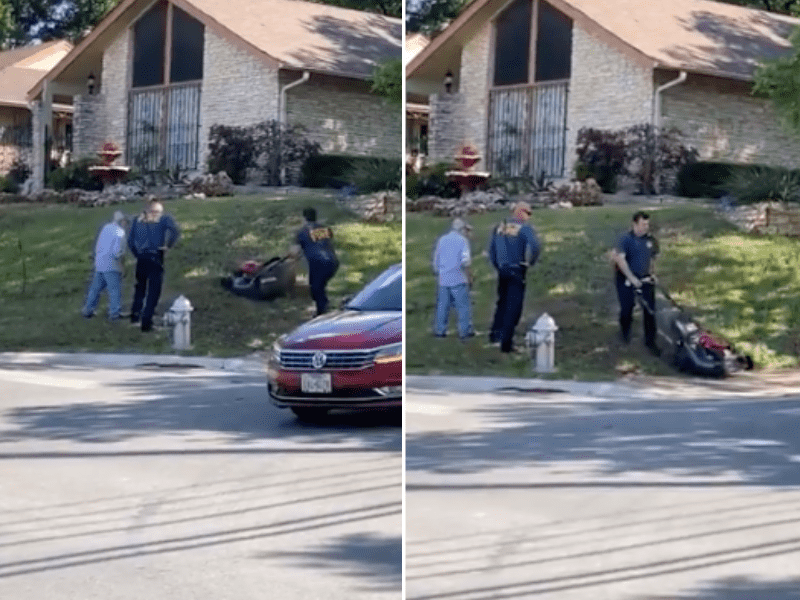 The video was posted on Twitter by the Austin Fire Department with the caption, "Our E6/C-shift crew passed this house yesterday and saw the 95-YO resident struggling to mow his lawn. They stopped the unit to give him a hand; FF Rivas made quick work of the hilly front yard. Kudos to them for serving those in need, no matter what that need may be!"
The video shows the crew mowing the man's lawn while he stood by and talked to another official from the department. The video went viral and gained over 40.4k views. People were moved by this beautiful gesture.
Twitter user @tunoroppity commented, "Beautiful! Just think. They could've just waited until they were called to his place over a cardiac arrest or a life-threatening injury. Instead, a lawn got mowed, an old guy had company, an FD guy got some great exercise, and another had a great conversation with a 95 year old man." Another person @drummike2012 said, "Firefighters rock! If the rest of our public servants took public service as seriously as you do the world would be a better place." @LibbyZink wrote, "Thanks so much for helping a citizen in need; it means a lot in these trying times."
The incident highlights the importance of taking care of the elderly and the impact of small gestures of kindness. It also shows how public servants such as firefighters can make a difference in their communities by going above and beyond their call of duty to serve those in need. In a world where people are often too busy to stop and help, this story serves as a reminder that even small acts of kindness can leave a significant impact on someone's life.
In a similar story, Isaiah Garza, a designer, fulfilled the dream of a 97-year-old veteran named William Goode by taking him on a trip to Disneyland. The two spent a fantastic day at the California theme park together. The elderly man expressed immense gratitude towards Garza, stating that prior to their meeting, he had lost hope and believed that his life was nearing its end. However, after their encounter, his outlook changed drastically, and the two individuals forged a strong friendship. As a result, the TikTok influencer resolved to make the veteran's lifelong dream a reality.
Garza created yet another an unforgettable experience for Goode by accompanying him to SoFi Stadium on October 16, 2022, to watch his favorite football team, the Rams, play against the Carolina Panthers. Garza documented the excursion in a video montage that began with the two meeting as Goode was walking with his walker. In the video, Garza can be heard saying to the veteran, "I want today to be the greatest day of your life."