McDonald's has always been a crowd favorite among everyone. Whenever we are not in the mood to prepare a healthy breakfast spread for ourselves, McDonald's becomes our go-to option. All we need to do is head over to the nearest drive-thru or McDonald's outlet and order their scrumptious breakfast which consists of the staple eggs and pancakes for sure. However, recently, a McDonald's employee dropped a bomb on the internet, revealing how your McDonald's breakfast is not freshly made at all.
A TikTok creator who goes by @blexican_shay83 has exposed the fast-food giant with some shocking revelations over a video and it just might make you reconsider making your own breakfast at home instead of grabbing fast food in the morning. The 20-year-old worker acted as a whistleblower and claimed that nothing on the breakfast menu of McDonald's is freshly prepared and most of it comes prepacked and it's just heated up or compiled together before serving.
"Things that McDonald's won't tell y'all — y'all be getting folded eggs that come already made," Shay said as she opened up a box of pre-made eggs which were wrapped in plastic cases. She turned her camera towards another box which consisted of pre-cooked hotcakes. "Your pancakes, they are made already. They don't do nothing but warm them up," she continued. The pancake batter isn't regularly prepared each day when the customers order it. Instead, they are fished out of a box and heated on a pan to serve the customers who order them.
Shay continues spilling the tea about the fast food franchise by showing a box full of pre-made burrito mix which goes into the delicious wraps people love. A cardboard box labeled "Egg-sausage-vegetable mix for burrito" holds the contents. However, this isn't the first time someone has exposed the fast food chain for questionable ways of preparing and serving their food. Shay even made some follow-up videos to speak out after people thought she was in the wrong for exposing McDonald's. Another TikTok user called @gia2bad, who also worked as a McDonald's employee, shared a clip from an outlet where they pour a 4-pound bag of sugar to prepare their iced teas.
She also showed her viewers pre-cooked hotcakes, burrito mix and similar folded eggs wrapped in plastic and stored in the pantry. "If y'all were wondering why the sweet tea is so sweet at McDonald's," Gia wrote in the overlay text where she showed herself pouring the sugar into a bucket of tea and mixing them. "Yes, we use a whole bag, sometimes two," she added in the caption. TikTok users bombarded the comment section where some wrote about how they already knew about McDonald's declining food quality, whereas others were straight-up shocked.
@bleecortez77 wrote: "How old is this when it gets heated up and they charge anywhere for a combo $8 to $9. Everybody needs to stop going to the restaurants." @irondesigns813.com recalled: "Dang when I worked there (20 years ago ) it was actual eggs made and folded there. And the round eggs. So sad." @christone713 exclaimed: "Damn things have changed since I use to work at McDonald's when we used to make all those eggs. But everything else was pre-made like pancakes burrito mix."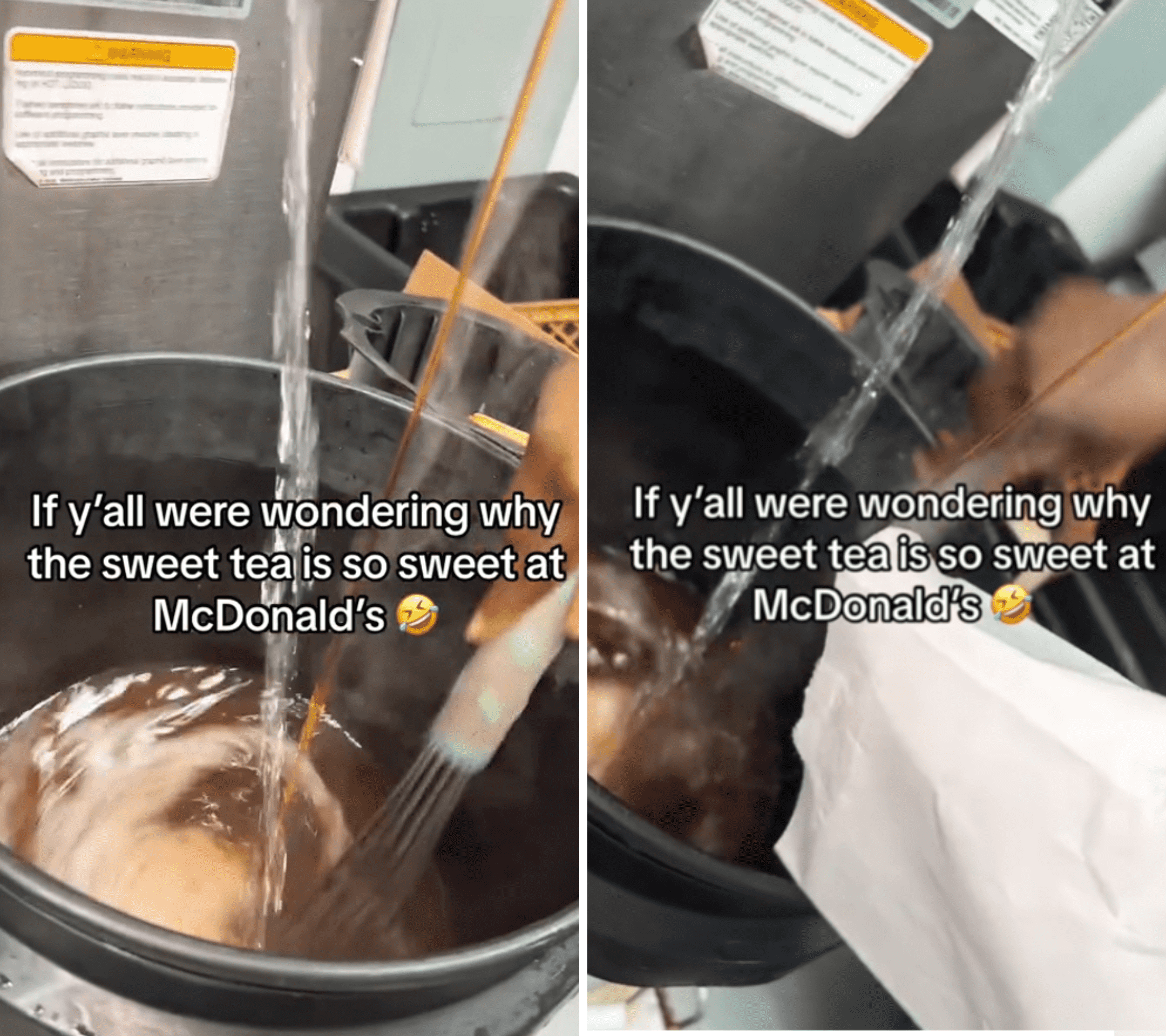 @cruzvalenzuela24 added: "I used to work at McDonald's as an unloader back in the day and the one I worked at was strict over letting stuff go bad we would get a load every day." Well, maybe it's high time to reconsider our dietary preferences and cut down on the junk food served by famous fast-food chains. We never know how old or stale our food is when we consume them from the outlets.