Young Gus from Denver, Colorado, had mixed feelings when he found out his older sister, Catie, was engaged. Even though the duo has more than two decades between them when it comes to age, they're still incredibly close. The then 9-year-old Gus wondered if his big sister would still have time for him. While he was looking forward to the big celebration, he was also worried that he wasn't going to see his sister as much.
"She's just the best sister I could ask for," he told CBS News in 2021. "No one could compare." That's why he was a bit apprehensive about his sister getting engaged. "I was worried that she wouldn't spend as much time with me as she used to," he said. "So it was really stressful in that way because I didn't want to lose her."
When Troy and Catie Hudson were set to be married, they never expected Gus to steal the show. "It wasn't something that we were necessarily prepared, emotionally, to hear," the groom said.
At the wedding, Gus just couldn't hold back. He wasn't planning on giving a speech but the words just poured out. He said that there was something magical about the moment that prompted him to give a speech. Whatever worries he had instantly went away. "I'm so happy that you guys got married today. And I know I might seem a little sad up here, but these are tears of joy. Catie, I love you so much and I'm so happy you gave me a brother-in-law," Gus said bursting into tears.
The couple joined him and the waterworks just kept on going. The beautiful moment was caught on camera by wedding filmmaker Ori Swiatkowski and the whole family and everyone at the event was incredibly moved by the young boy's emotional words. Catie rushed over to give her sweet little brother the biggest hug. "He's just like, 'I'm doing what I want to do. Here we go.' And he's passionate," she said of her brother. There wasn't a dry eye in the room after his tearful confession to the bride and groom.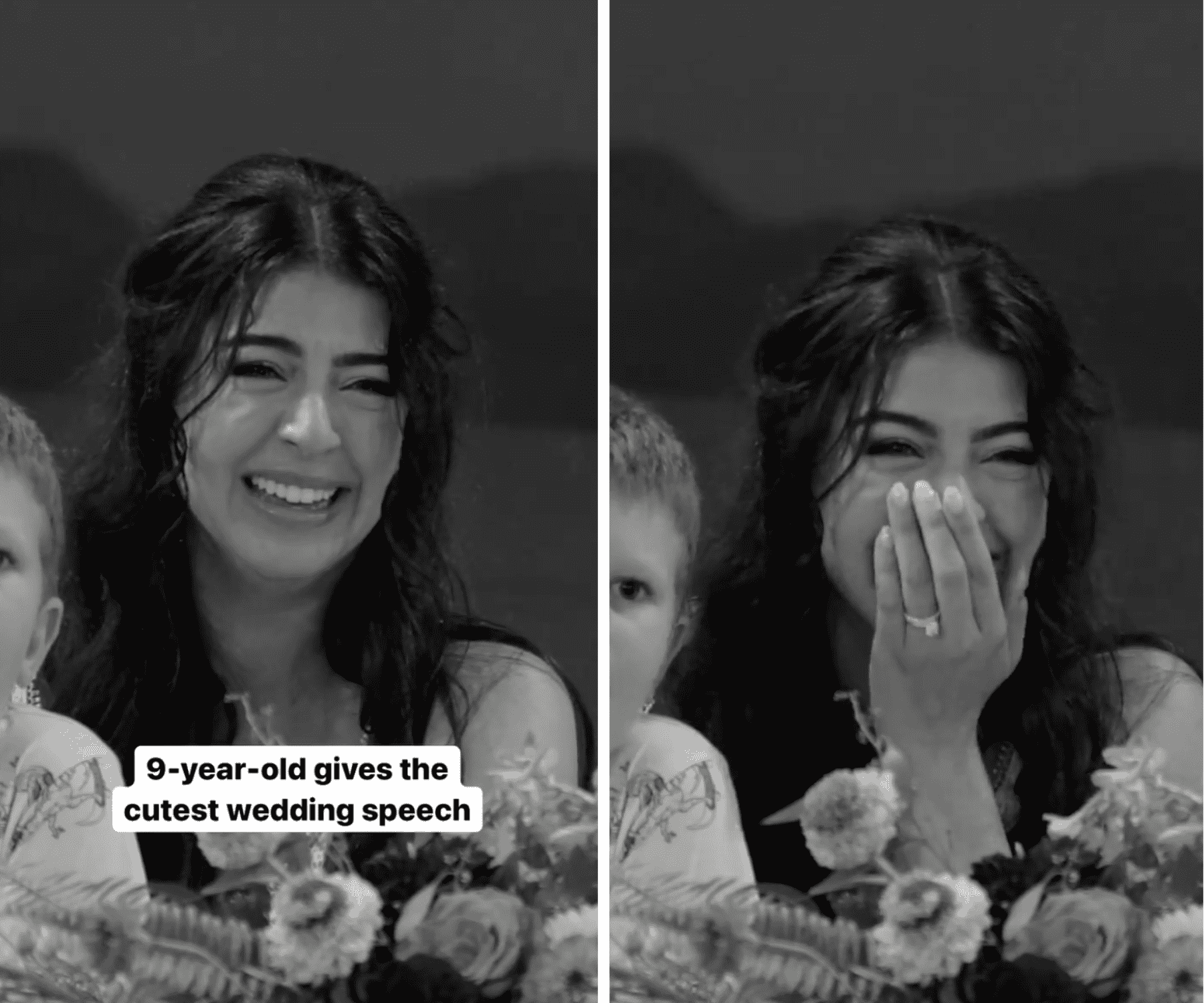 Gus proved that not only is he in touch with his emotions, but he's wise beyond his years. When the brother of the bride was asked why he said what he said in his wedding speech, Gus said that you shouldn't let fear drive you away from your family. He said, "Don't let that separate you because deep down you love them and they deep down love you."
---
View this post on Instagram
---
Social media users noticed the same thing about the little boy, with @sandramoore4356 writing, "His emotional intelligence is mind-blowing. His grasp on how to express himself far surpasses many adults." @jeromejackson1029 added, "Omg! I'm crying. How precious is this little boy! God love him!" @deridaluke9357 pointed out, "He is just 9, and way mature beyond his age. This is a sweet brother and although he thought he was losing his sister, he made the husband know that he gained a brother. He had me in tears. He sure is a cutie."