Have you ever struggled to find out which side of your car is the gas tank? If yes, then you are not alone. Most of us have gone through this confusion often, especially when one has a new car or if someone has not paid much attention to it. However, now you no longer have to crane your neck out of the car windows to see the tank cover, thanks to a TikTok user, @tinukeawe. In the video, she seems shocked to get to know that the car shows an arrow with a petrol tank symbol when the vehicle has run out of petrol. She says in the video, "Guys, I was today years old when I found out that this arrow when you've run out of petrol on your car shows you which side your petrol door is on." The video has gained more than 5000 views and is captioned, "I know I'm NOT the only one who didn't know this simple life hack! Shout out to @Ms Clo for telling me otherwise I would have thought it was there for decoration and I've been driving for over 10 years."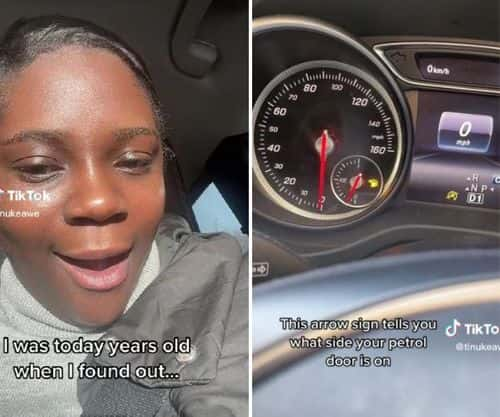 Many on the platform were thankful for this piece of information. @winnieannanforson commented, "omg you're kidding! I had no idea!!" @lexart2612 commented, "Looooool… now we all feel dumb." @nafolan_ commented, "I was also today years old 😩" @chelschelsea1 commented, "When I found out I couldn't believe it!!😂"
In another story, an Amazon driver turned out to be a great help to a 92-year-old woman when she wandered away one day in 2021 from her house. Since Gigi's dementia is in an advanced stage, she struggles with memory and critical thinking. She had wandered about her Franklin Square, New Jersey neighborhood after leaving her house unannounced.
The Amazon driver, Wilmar, saw Gigi while she was at Franklin Square and stepped in to help her out. "I was delivering and I saw this older lady was walking by. She waved at me, which isn't an odd occurrence, people wave at you all the time as an Amazon driver. But she was waving at me like something happened," Wilmar recalls to Ring. "I noticed how she had this wristband on. And it had her name and her information, as well as who to contact."
With the information, Wilmar was able to contact Gigi's granddaughter Karen because of a medical alert bracelet that she was wearing. She gave him their address and he graciously took Gigi home while she was away picking up her mother from a doctor's appointment.
Karen saw the way Wilmar brought Gigi in, assisting her in getting out of the van and holding her hand as she was coming near to the door. "I was able to flip on my Ring camera and watch them come into the driveway," says Karen. "It gave us that extra layer of comfort and relief that we could see everything. That it wasn't just a phone call, it wasn't just somebody saying, 'Oh, she's in,' it was us actually visually seeing that she was safe, she was where she needed to be."