Most of us have had a crush on someone in our high school or college days. When it's unrequited, we wish to get over such strong feelings, but do we really? Time might be of help, but once you see that smile again or those eyes meeting yours, you might feel those butterflies and bees stabbing your heart again. A doctor from Tampa could resonate with this feeling when he proposed to his high school crush 60 years after first meeting her.
Tampa International Airport witnessed Dr. Thomas McMeekin, a dermatologist, excitedly waiting for Nancy Gambell's plane to land. A video clip posted on TikTok by @jobuns_ went viral, garnering over a million views. It read, "POV: The doctor you work with rekindles with his high school sweetheart from 60 years ago and proposes." It's safe to say love is in the air(port).
Later, the video shows the man escorting her to a seating area, where he gets down on one knee. A video captured by @adayamilavila shows that before sitting Nancy down, Thomas greets her with a hug, a bouquet of roses and a box of jewelry. He then gets down on one knee and places a small pillow on the ground. He reads a speech from a piece of paper while his sweetheart sobs and holds his hand. The video concludes with images of the couple and their friends celebrating their engagement with homemade signs and balloons.
A part of the proposal showing what "true love feels like" was also captured by @angelial.fedrick3. Public proposals are not always adorable, but Thomas had the sweetest speech ready to be read from the bottom of his heart, which seemed to have surely delighted Nancy.
"My dearest Nancy, it's been 60 years since we first met, 56 years since we first dated, 10 years since I saw you last and 20 days since we rekindled," Thomas said. "You have always been the one I had a crush on since your cheerleader days. Bring a smile to my face and makes my heart skip a beat. Your beauty inside and out has always captivated me. Your kindness and compassion to those less fortunate... have touched my heart and changed me in ways that are hard to describe."
He further explained why he loved her and how much he recently enjoyed reconnecting with her. "Your mind and sense of humor have me amazed and laughing non-stop. You are everything I've ever wanted in a partner, lover and friend, and so, Nancy, I come to you humbly today, June 30th, with a proposal," Thomas continued.
"I want to spend the rest of my life with you to cherish every moment we will have together, to make every day an exciting new adventure, to grow old with you and wake up in your arms every morning, to share our dreams and aspirations, to laugh and cry and support one another through thick and thin. I love you more than words can express, more than you could ever comprehend. I want to spend the rest of my life proving that to you making you the happiest woman in the world," he added.
"Will you, Nancy, do me the honor of being my soulmate in life, my partner in every sense of the word, my beloved wife forever?" Thomas asked at the end of his moving speech. "Marry me?" The stunned woman struggled to speak as she sobbed and nodded her head to say yes. "Oh, yes," Thomas exclaimed, throwing his arms in the air as the two embraced. People in the comment sections adored this sight that shouts, "It's never too late."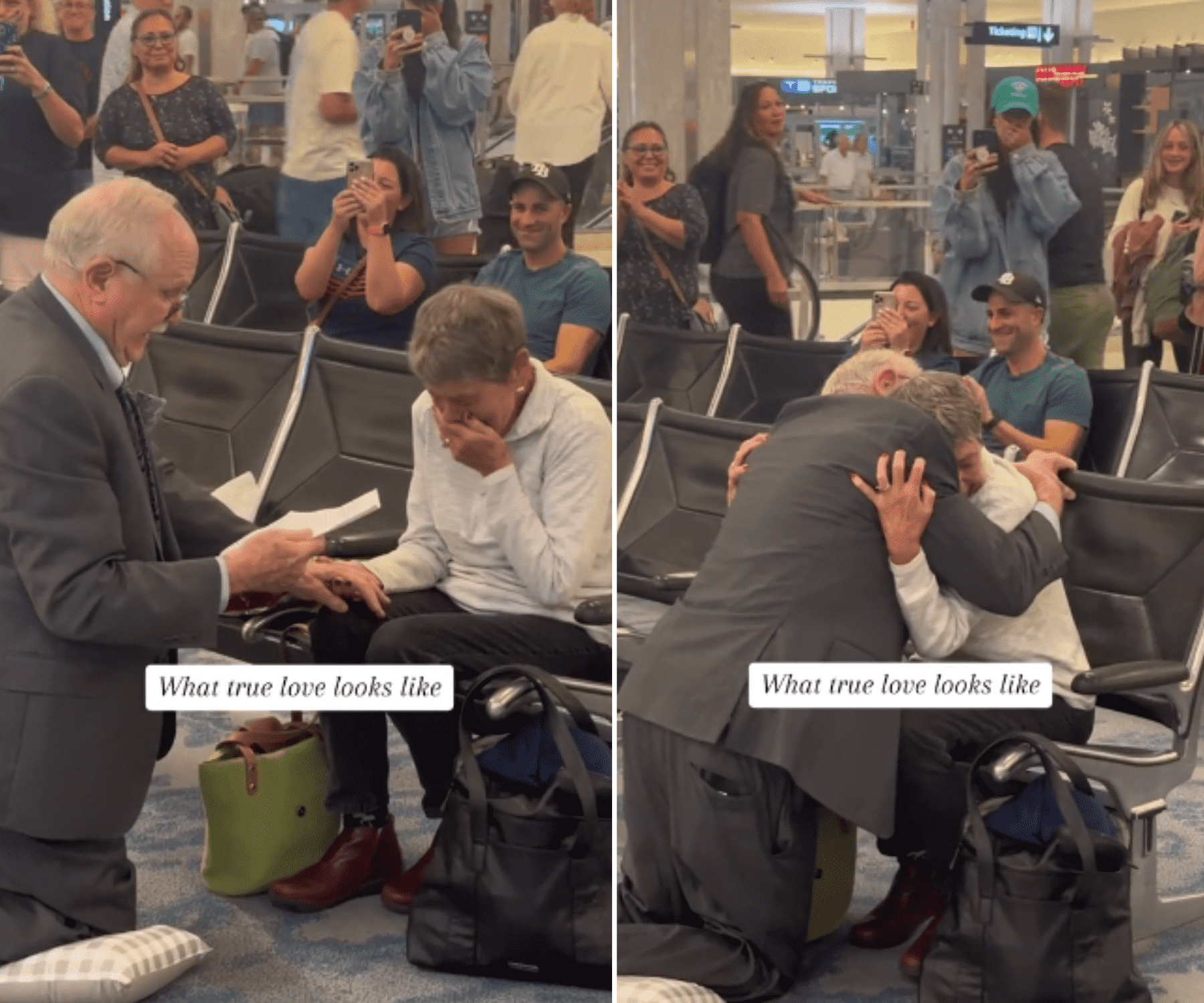 "You know what's really sweet about it? I bet they see each other as they were in High School. Remembering all the fun they had. Beautiful," commented @deltamarie15. "I've cried over this proposal 3 times already!" shared @klmr0501. "I love that he proposed to her the second she landed. He didn't want to waste a second of the rest of their lives together," added @catquinn.
Unfortunately, their romance didn't work out six decades ago. After reconnecting last month, the former lovers quickly realized their feelings for one another had not faded despite the passage of time. The elderly couple talked on the phone for nearly three weeks before Nancy decided to fly to Thomas' home state of Florida so they could meet in person, reports Daily Mail.