A video of a daughter dancing with her Dad has gone viral on TikTok. Dad-daughter dances are pretty popular even otherwise but this one featuring Justine Tuckett, and her father Bill Lorance is different because this was their first dance in two decades. Bill Lorance has just returned home after spending 22 years in prison. The video is now sparking a conversation on the incarceration system and rehabilitation. "My Dad has been in prison for 22 years," reads the on-screen text in the Instagram Reel posted on October 8, reported BuzzFeed News. In the video, Justine Tuckett starts to tap her toes. The on-screen text now reads, "I got to pick him up this week." Her father now joins in with her and they dance in tandem to Patrice Rushen's Forget Me Nots.
---
View this post on Instagram
---
Lorance was released from California Medical Facility, a state prison, on October 5 when he was permitted three days of family time before his six-month transitional program starts. For Lorance and Tuckett, it was a poignant moment. He had gone to jail for killing his stepfather in 1999 when his daughter was just 5 years old. He had missed many important milestones in her life that he would have loved to have witnessed. From dance recitals to her prom, and even her wedding. Lorance will never get back all those years lost in prison, but this dance helped him connect with Justine Tuckett, 28, and it meant a lot, not just to them, but a whole lot of people on TikTok and Instagram. The video garnered more than 45 million views on the platforms.
---
View this post on Instagram
---
Some people posted nasty comments on the video saying he should be back in prison. Lorance is stunned by the level of hatred out there. "There are people who think I should have stayed in prison for the rest of my life," said Lorance. "They're just inflamed that he gets to get out and dance with his daughter, and his victim's daughter will never dance with him." According to the National Institute of Corrections, at least 2.7 million children in the US have a parent in jail, which translates to 7% of all children having a parent in jail in the US.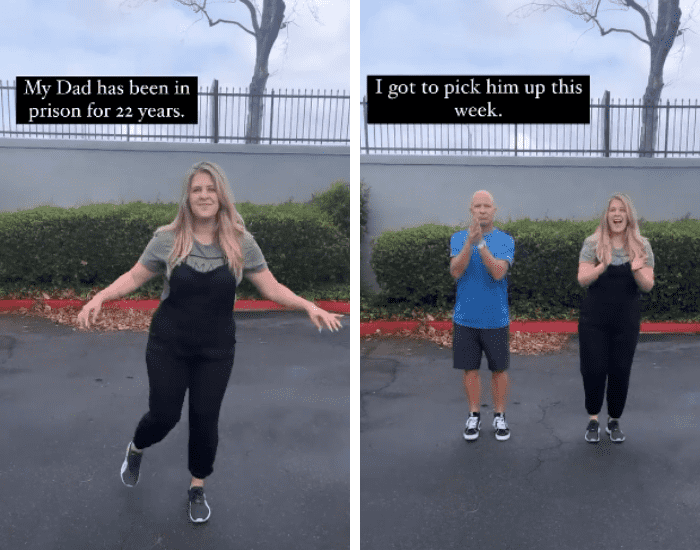 For Lorance, who loved dancing in clubs and making home videos, before his time in prison, this felt like he was regaining a bit of his old self. He had heard of TikTok and other social media platforms and the different trends but he debuted in style as danced with his daughter. He had always wanted to make home videos with his family and he was now realizing his dreams now. The dance was Lorance's idea, especially because he knew his daughter, much like him, loved to dance.
---
View this post on Instagram
---
Lorance hadn't even touched a smartphone before, but also because caught using one in prison could add time to his sentence. When the pair were recording the video, he found the concept of a smartphone "shocking and mesmerizing." He was curious how it recorded video, where the music was coming from etc, recalled his daughter.
Tuckett actually teaches dance at a dance fitness class named Dirtylicious. Tuckett, who knows social media too well, is aware that not everyone would take to their video and attack him over his past. She said those incarcerated deserved a second shot at life. "​​My Dad put in the work every day, he is unrecognizable from the person he use to be before prison," the video's caption read. "Some resilient people CAN be reformed. Some people DESERVE to re-enter society again. Some WILL embrace their children, grandchildren, and family once again. Someone like my Dad. 💕" Tuckett, being a dance teacher choreographed the moves and she chose Patrice Rushen's Forget Me Nots for its simple movements and slow tempo. "I wanted to upstage her. I suck. I'm not even dancing, I looked like a robot that needs grease," said Lorance.
Tucket said her DMs are flooded with people asking her advice on how to maintain a relationship with an incarcerated loved one. They are now often posting content on the matter together, with Lorance discussing his past addiction and anger issues. "I'm interested in speaking about how guys can be rehabilitated while doing time," said Lorance, looking back. "I know people are going to be like, Look at this dum-dum taking pictures of his breakfast, but it just proves it's all new to me," he said.
---
View this post on Instagram
---