It's been more than two weeks since Taylor Swift began her Era's Tour and people can not seem to stop talking about all the wonderful experiences they had at the concert. Similarly, one of the best moments was captured by a TikTok user, @cgtraintermartin. In the video, a dad can be seen singing with the daughters and having an amazing time at the concert. They are singing Taylor Swift's song, "You Belong With Me." They sing in the video these lines, "And you've got a smile. That can light up this whole town. I haven't seen it in a while. Since she brought you down. You say you're fine, I know you better than that. Hey, what you doing with a girl like that? She wears high heels, I wear sneakers...."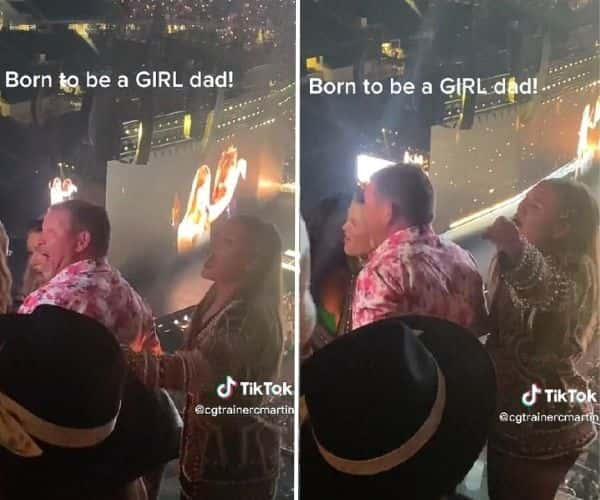 The video is captioned, "Born to be a GIRL dad!" It soon went viral with 1.2 million views and 189k likes. Many on the social media platform loved the father daughters time together. "I love this! saw a dad at a lady gaga concert going just as crazy singing with his daughters and I thought all is right with the world at this moment," commented @ssweaver975. "He's the dad we all wish we had!" wrote @momandwifelife11111." "Life is so much more fun when the men in your life just let themselves have fun lol," pointed out @kelseyoverboard. "I've had a bad day and this is the first thing to make me smile all day," mentioned @mollycashioned. "This is so my dad hahaha he came clubbing for my birthday last year and carried all the girls' handbags 😂 he had like 8 handbags around him," shared @violettedil. Another TikTok video, posted by Carol Martin, shows the dad with his daughters singing, "Love Story" and the father seems to know the lyrics to all the songs. He can be seen singing and enjoying himself with his girls.
A father's relationship with his daughters is indeed a special one. Another dad had a sweet moment with his daughter while doing ballet with her. In the video posted on Reddit, a father-daughter can be seen performing ballet together to the song, "You Say" by Lauren Daigle. The dad follows the dance steps perfectly well with his daughter, including the lifts and sways. The crowd can be heard cheering for the two after the amazing performance.
The video has more than 36,000 upvotes on Reddit. It is captioned, "Dad & Daughter Moments: A Ballerina's First Public Performance With Her Father..." The Reddit users appreciated the father for being there for his daughter. u/Daphnetiq commented, "It's adorable. He's even matching her pink outfit. I love how other parents on the back are also supportive." u/ThreeLeggedParrot wrote, "I'm so excited for this. I CANNOT WAIT to participate in something with my daughter that she is interested in. I can't freaking wait." u/jentlyused expressed, "Warms the heart to see involved parents like this, and all the encouragement behind them.🥰" u/tkingsbu pointed out, "Pure love :) As a dad, that made me smile :) What a lovely family :)" u/hungrymimic commented, "This dad is really going for the gold in Dadism. Love to see a parent so actively involved in their kids lives, it has such a profoundly positive impact!"