Reading is a crucial hobby for kids that extends beyond being a pastime. It helps create a foundation for a lifelong ability to learn faster and fosters imagination. For kids, reading can expose them to a world with diverse cultures and perspectives while invoking critical thinking. Parents play a crucial role in introducing their kids to the world of books. Tyler Gray, a single father, recently shared how he cultivated a bond with his daughter through their love for books on his Instagram page @singleparentsociety.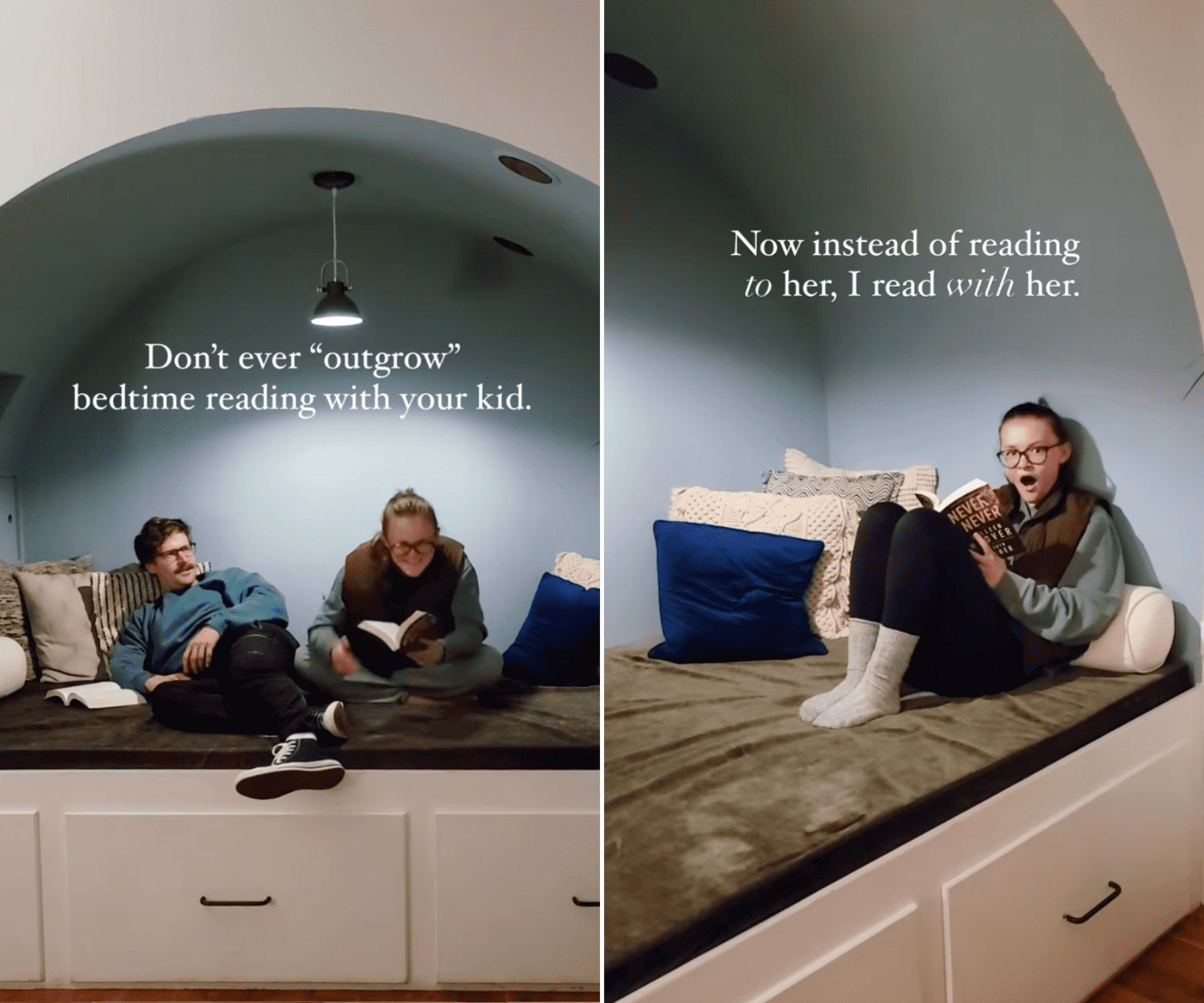 The viral post has accumulated over 904K views and 131K likes on Instagram. In the caption, he reveals how his daughter Riley has always been a "bookworm." Despite becoming a teenager, her love for books persisted. "Now instead of reading stories to her at bedtime, we read together. It's genuinely the best part of every night," Gray shared. He revealed that they also go on night drives a few times a month, where Riley wraps herself in her "car blanket" and reads to him from the passenger seat. He expressed that both of them had grown fond of their night excursions. The man then shared his insistence to other parents to get their kids into reading books, reiterating that he loved having a "book girl daughter."
According to Gray, books benefitted his daughter by making her more curious and open-minded. He concludes the post, saying, "Seriously, read to and with your kids! No matter how old they are, just do it." Other people on the platform loved the post and expressed their thoughts in the comments section. @maladroite.fille commented, "I can't even imagine how safe I would have felt in this family, with this person as my parent."
---
View this post on Instagram
---
Another parent, @jasla14, shared, "Love this! My 8-year-old and I pick a book we both read. So, even if we're not reading together, we can talk about it!" @bezurkr_ complemented the father, saying, "This looks like the most comforting father anyone could have. She's lucky." With the number of electronics increasing in every household, it has resulted in fewer teenagers reading books.
According to a study conducted by the American Psychological Association, less than 20 percent of American teens indulged in reading for pleasure, in contrast to a significant 80 percent who spent their time on social media every day. The use of digital media experienced a massive surge from 2006 to 2016. The same period also witnessed a doubling of internet use by 12th-grade students.
What is even more interesting about these figures is the decline of television and movie consumption. During the 1990s, 22 percent of eighth-graders said they watched five or more hours of television per day and this dropped to just 13 percent in 2016. These figures highlight that kids were devoting more of their time to their smartphones and computers. Researchers also pointed out that kids still did not want to read on electronic devices, which was more convenient.
Many kids read because their syllabus insists on it, but the real benefits come out of reading for pleasure. A similar study completed by the Pew Research Center revealed that students who read for fun did much better on the reading section of standardized tests compared to others who did not. It's still not too late to bring about a change and parents can make a big difference by easing their kids into the healthy habit of reading.