Simple activities and everyday life can be a tad bit more challenging, especially for people who grow up with special needs. However, with supportive people around to encourage and educate them, the sky is the limit. Jason Linton–who goes by @dadlifejason on the platform–often documents his family life on his social media channels. Earlier this year, he made one of the many videos with his son Christian while giving him the haircut he wanted. Christian has some special needs that cause him to have a speech delay.
"Today, my son surprised me as I cut his hair," Linton said at the beginning of his video and mentioned how he has issues with his speech. "He rarely speaks during haircuts. So, after he asked for a boosie fade, I thought he was done talking. But today, he asked me if I get bullied for the way that I speak." The father continued cutting his son's hair and narrating in voiceover about how Christian gets bullied for the way he speaks. "While I was processing that statement, he told me about all these things that he would have loved to do if, in his own words, 'he spoke normally,'" Linton continued.
"It hit me that Chris was so aware of how different he was. He knew that he would be treated differently because of it. I started telling him how he could do all these things he had dreamt of and I will help him because I believe in him. He said he could do them, but he would just do them differently with my help. I hope that the future is kinder to people like Chris because people like Chris have dreams and aspirations," Linton continued while skillfully giving his son the haircut he wanted.
Linton also adds that people like his son have the "audacity to accomplish their dreams too" and all they require is some help from kind-hearted folks. "You got this, Chris. We are all rooting for you," Linton said as he planted a loving kiss on his son's temple and concluded the video. The heartwarming video has gone viral and gained over 14M views and 2.3M likes. The TikTok community and parents who have kids with special needs were moved by this touching video of a dad bonding with his son and giving him the comfort and support he needed. People left a bunch of heartfelt responses to the video.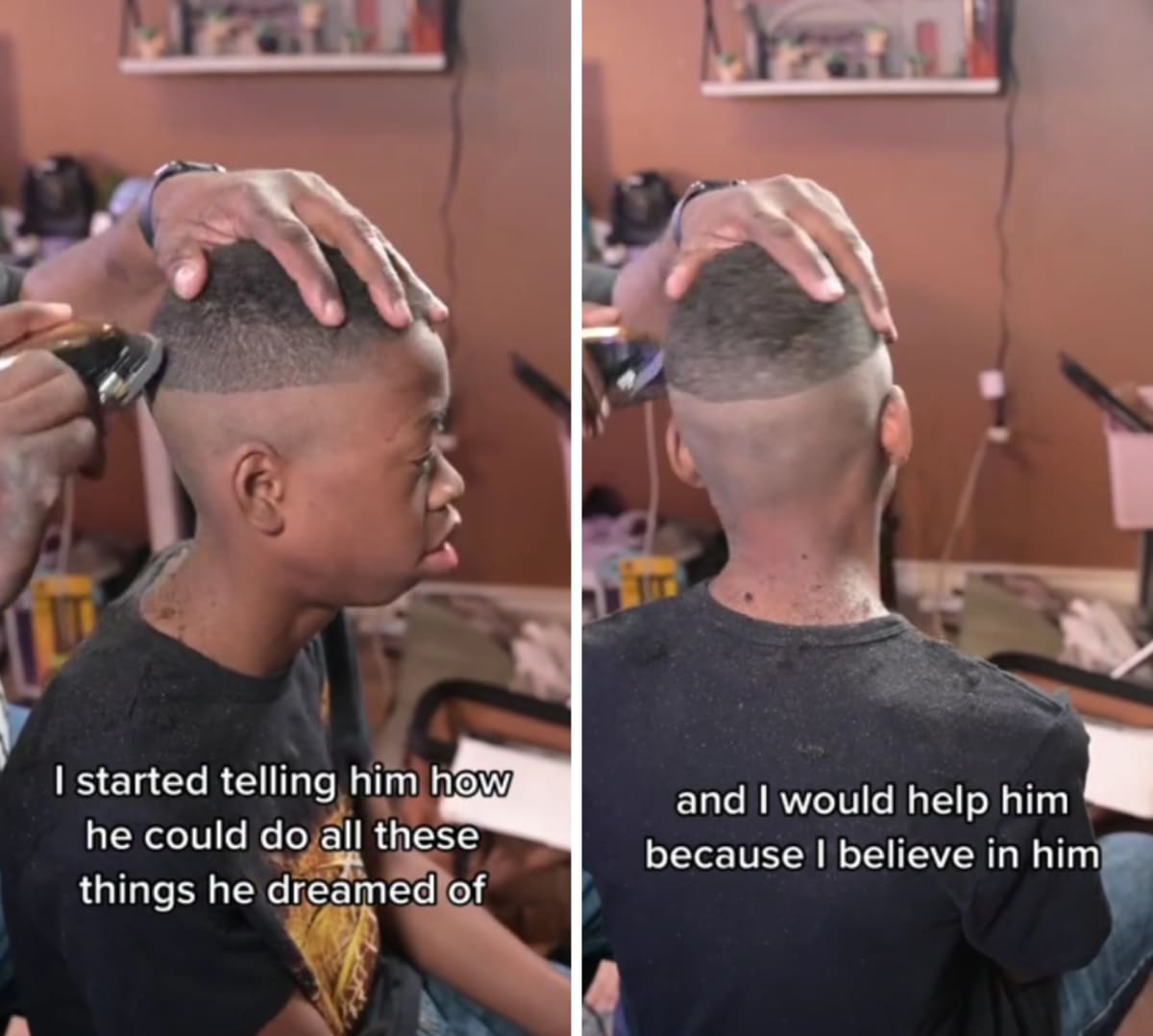 @wannabedidou complimented, "Bro asked for a boosie fade and got one of the best father figures he could ever ask for and a community who supports him." @meghanmccarthy commented, "You're such an awesome dad! Let Chris know I get bullied for the way I speak, but it hasn't stopped me from doing anything I want!" @fancymilk13 shared, "I don't have a speech delay, but I had cancer and fought my way out of it. I believe that even if I can't be outside as much as other kids, I can still achieve my dreams of becoming a professional soccer player (p.s. The reason I can't go outside as much is because I had cancer on my neck)."
---
View this post on Instagram
---