Kids value the bonding time they get with their parents. It might be for a few hours a day, helping them study, reading them a book, or just simply asking how their day was. These small things go a long way and children remember them throughout their life. In an adorable video posted on Reddit by u/uchman365, a father and daughter are seen sharing one such bonding moment. In the heartwarming video, the dad gives his child the best quirky hairstyle possible for school. The girl's excitement as she sees her fun hairdo come together is absolutely beautiful and infectious.
The dad says at the beginning of the video, "This is going to be a good crazy hair day." He first makes a pony on the child's hair and then uses a white hair color spray. The child is seen laughing and saying, "What are you doing to my hair?" He begins by spraying in the front and then moves to the back of her hair, coving her face with his hand. Then the father makes a hair bun and covers the white part of her hair with a tissue before painting the bun with pink hair spray. The little girl keeps squealing and laughing while her dad is giving her the perfect look. In the end, he asks her to look at the camera and again, she squeals and laughs. The kid is sure in love with her new look.
The adorable video has received more than 7k upvotes on Reddit. It is captioned, "Dad and daughter prepare for crazy hair day." Many on the platform loved the dad-daughter time together. u/baldforthewin commented, "They are both so happy! She'll remember this forever. So cute." u/gemma_stone9 wrote, "I can't love this enough! Dads are so important in their daughters' lives. So much joy in her eyes." u/sweetpeastacy expressed, "SO SWEET! I love when dads get involved, it doesn't have to be moms having all the fun! They're both so precious." u/KrankySilverFox shared, "That is precious. Love seeing dads being sweet with their daughters."
In a similar video, a child approached her parents with a request to get a haircut after she saw her dad give haircuts to her brothers. In the video posted on Reddit by u/Living_Wickihowla, the dad can be seen using a razor on her hair, but he is just pretending to shave it. Her hair is beautifully braided with different color clips on the back. The dad just runs the razor from the front side of her hair, near her ear, and then in the middle of her hair, so that she believes he is actually cutting it. To make sure that her hair does not get shaved, he is using the razor from the opposite end. Moreover, he even pretends to remove extra hair from places while using the razor.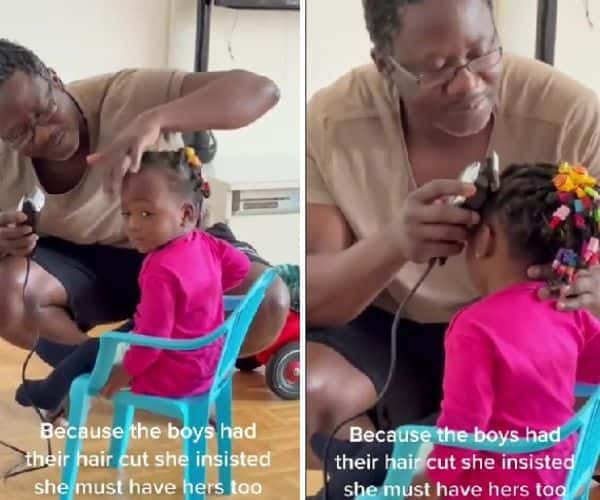 These are the sort of dads that every child deserves. Moreover, these kids will remember and cherish these moments of utter joy and happiness forever.