True love can make people forget all things planned and live in the moment, hand in hand with someone who is their future. Something similar struck lovebirds Amir Khan and Kat Warren who were left stranded on the Eiffel Tower on the day they got engaged. Amir's plans for the day were very different from how it ultimately turned out. He had plans to ask his lady for her hand in marriage in a garden, hoping for privacy and then top it off with a romantic dinner on the River Seine. However, cupid seemed to have other plans in store for them. This was owing to a person who picked Khan's proposal day to climb Paris' 1000 ft iron pride and leave the visitors stranded. Those who were left stranded included Khan, Warren and Pat Eaton-Robb, a reporter from the Associated Press who got their romantic story out.
Once the elevators were stopped, the visitors had little choice but to enjoy their extended time on top of the tower. The wait for the climber to be led down and arrested gave Khan a chance to rethink his proposal and do it even better. He shared, "I figured we might be here longer than I imagined. So I didn't want to miss dinner and she always wanted to be proposed to on or under the Eiffel Tower. So I figured, 'This is it, this is the moment.'" Warren was equally ready to "Yes" the moment and so she did. She said, "He had a pretty good chance of me saying 'Yes' all along." She further joked that being stuck on the 330-meter tower meant there was little room for a 'no' and had that happened "somebody else would be climbing the Eiffel Tower today possibly."
The climber was found between the second and third floors of the tower, led down by a specialist team of climbing firefighters and then arrested by the police. Alice Beunardeau, the Eiffel Tower communications director revealed that the climber held a banner which was about the American singer-songwriter Billie Eilish. She said, "I think it was 'Free Billie Eilish,' I'm not certain of that at this moment but on the face of it, that was the message." What was the climber's ultimate goal for climbing up the Eiffel Tower in support of Billie Eilish is a question that remains unanswered. However, the question of a lifetime's partner was answered for Khan and Warren who, amidst all the chaos, found themselves in the picture-perfect romantic moment to say 'I do'.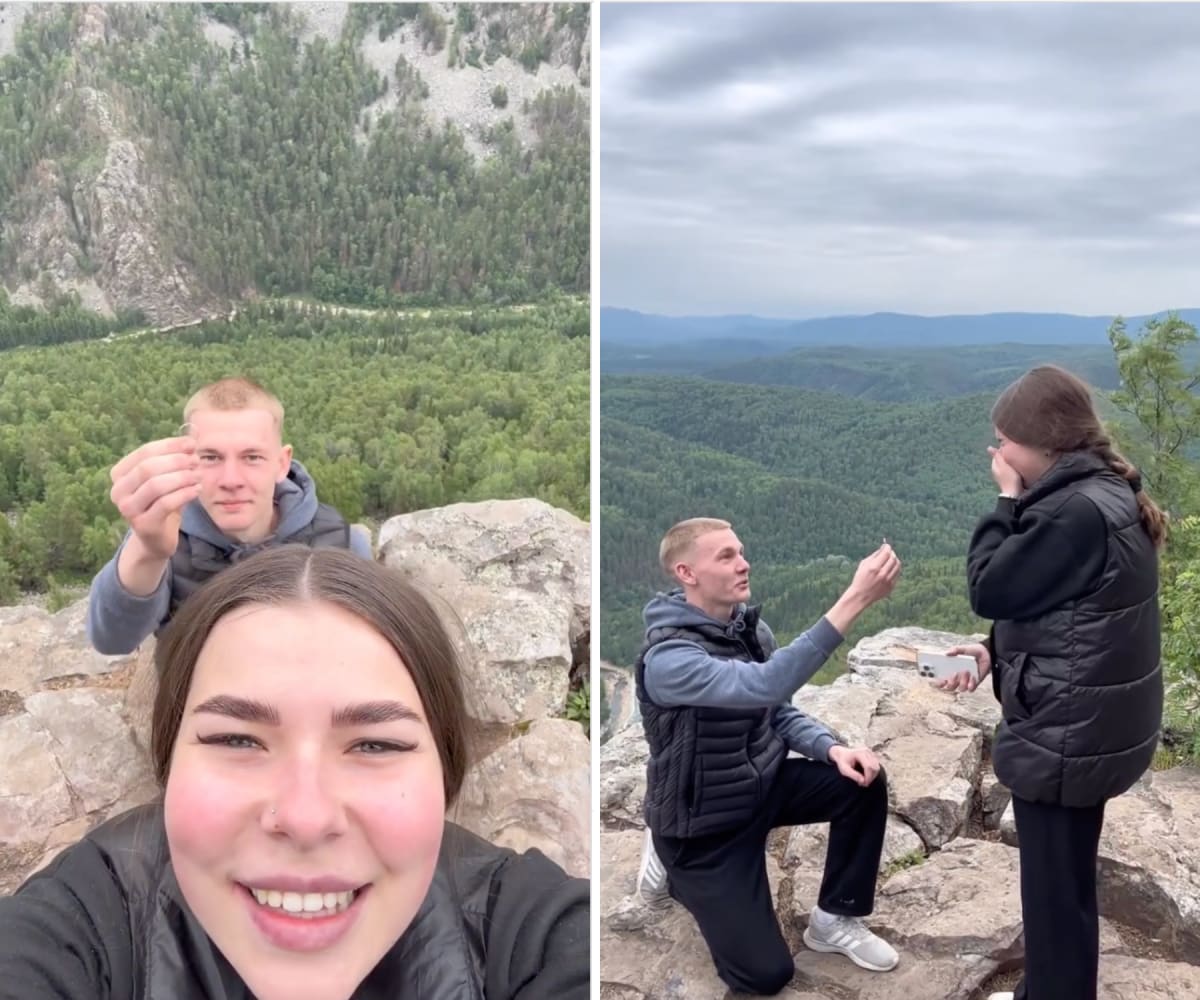 In another wholesome proposal story, a couple went viral for their special moment which was surrounded by beautiful natural scenery. In a video posted on Instagram by Semyonov (@semeov_ey) and Varvara Kuznetsova (@prostovarua), the couple can be seen enjoying a day of trekking. The moment happens when Kuznetsova is recording a selfie video and notices her partner with a ring box. Pleasantly blushing and surprised, she put her phone down to say 'Yes' to the present moment of a lifetime.