Editor's note: This article was originally published on December 10, 2022. It has since been updated.
New York City is pretty expensive to live in with rent rates skyrocketing and inflation on the rise. In these distressing times, a comedian conducted an experiment to see how long would $100 in the biggest city in the world work. Frankie Hoy has gone famous on TikTok, amassing over 100,000 followers as he films a financial experiment in which he attempts to stretch $100 as far as possible, reported NBC News.
He documents his everyday spending and saving money in each video. This includes showing viewers how he brews handmade coffee from the van in which he lives. Other times, he talks about where he got a cheap slice of pizza. In several recordings, he chronicles the free meals he receives from his catering employment. The goal is to be open about where he spends money and where he can save money. He concludes each video by revealing his remaining total. In a few cases, he has even mentioned days when he spent no money at all.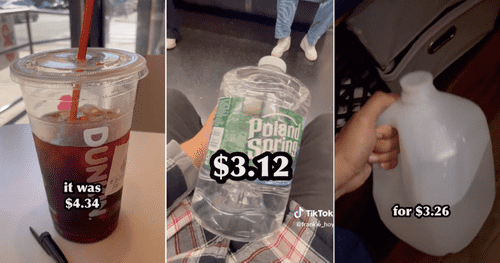 Hoy debuted his first video in the series on November 4, when he purchased a $4.34 coffee and a $3.36 gallon of water. Thousands of people soon began following his adventure. He said, "When I was getting 50,000 [views] I got anxious. I was like: 'Oh, my God. I don't know any of these people.' And then it became hundreds of thousands, and I got anxious again." He added that it has "been a roller coaster of being anxious and then not being anxious," however, most of the responses from people have been positive.
According to Hoy, the experiment had two favorable results. He has gotten more financially smart, and his TikTok viewership has expanded. Some of his videos have received over a million views. As he is a standup comedian, it also allows him to promote his work to a wider audience. Hoy was at an open mic comedy gig when one of his videos garnered people's attention for the first time. Until he opened TikTok, he had no clue why his phone was pinging so often. He saw some comments saying, "I'm invested" and he wondered what was it all about.
After opening the application, he realized that it was his video. He also added that as a result of the experiment, he has stopped consuming alcohol, which has helped him save money. He's also learned to control some of his late-night cravings, such as ordering an entire pizza. Instead, he attempts to make more informed decisions, such as ordering from Too Good To Go, an app that assists restaurants in selling surplus food to customers at reduced pricing.
He said, "I'm really happy I got people interested in following and people to see my stand-up, but I really enjoyed the vlogging part of it." It's also been exciting to witness such passion from his fans, according to Hoy. Some have taken to his catchphrases, such as his old-fashioned method of pronouncing "New York City" or his extended way of saying "dee-lish-ous." Moreover, several people have been inspired by his experiment and are making videos trying to stretch $100 as long as possible.
His video of day 27 of his experiment where he just spent $1 during the whole day. A TikTok user commented, "This has become my favorite series, and I've started making my own coffee at work for free." Another added, "The way he says New York City makes me feel like I'm going to be okay today."