Many people have been complaining about not being able to find a job. According to Trading Economics, the number of job openings in the US has fallen by 384,000 to 9.6 million as of March 2023. Having a high-paying job and being able to afford the cost of living has become a big concern among people, as reported by Dailydot. In such a scenario, a TikTok user, Cat (@catmorning), spoke about the misunderstanding between different generations, like boomers and millennials or Genz in terms of earnings. She starts the video by saying, "I'm about to graduate in May a lot of the conversations I've been having with my parents lately have been about what I'm going to do when I graduate, where I'm going to go."
"My mom works for a company that's just like huge and she said something that makes a lot of sense in regards to why it's so hard to find a job. Or even find a salary right now that would be livable as someone who is fresh out of college."
This is what her mother shared. "She said that a lot of the people who are in charge of hiring there commonly say things like 'college grads expect way too much,' 'I didn't have that much when I graduated,' then she says, 'yeah, when I first started I made $36,000,' so I was like $36,000 today or $36000 in 1980,'" says Cat in the video. After that, she began to compare the salaries then and now. Cat says, "So she made $36000 starting off entry-level bank teller in 1980, right now out of college, I want to make $24 an hour, which would put me at $50,000 a year which is equivalent to having a $16,500 salary in 1982."
She then looked into the numbers of what a college graduate would earn now. "The average college graduate in 2022 is making $55260. In 1982, the average college grad was making $102,200 right out of college. So today's $26.50 an hour is 1982's $49 an hour."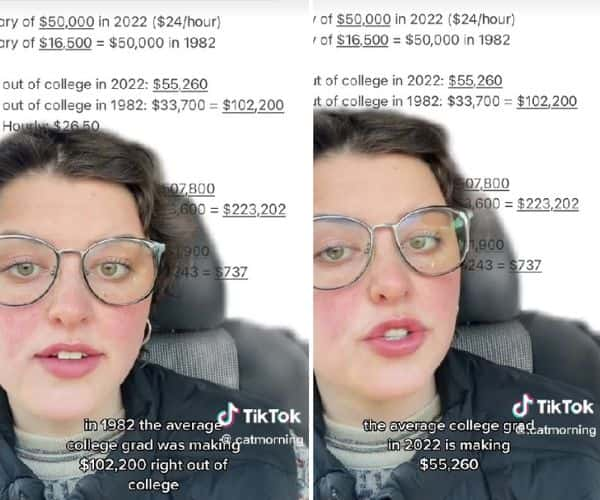 "So this sentiment being held by boomers of 'oh well, they're just expecting too much.' I just don't think they know what numbers they're talking about. Like in their head, they are like, 'I made $36000 in 1980 and you are asking for $50,000 now,'" states Cat. She went on to look into other numbers like housing and apartments also. "In 2022, the median selling price for a single-family house was $507,800. In 1980, the same price is equivalent to today's $223,202," explains Cat. She goes on to say that in 2022, the average rent for a one-bedroom apartment was $1900 and in 1982, that same number was equivalent to today's $737. She thinks that boomers cannot conceptualize this because "they were in the upswing of big business," "capitalism was booming" and "they look at us and they are thinking 'entitled.'" Cat concludes, "Literally don't know what the f--k I'm going to do when I graduate and anytime I talk to my parents they're like 'stop having such high expectation.'"
The video has gained more than 2.2 million views and 503k likes. It is captioned, "Sorry but I'm just so over people projecting their lived experiences from 1980 onto me thinking it's super relevant to today's reality." Many in the comments section could relate to what Cat said. @ryanshappy commented, "But at the same time will say "I remember when movie tickets were a dollar" "I could fill my tank for 10 bucks" Oh so you do get inflation…" @cerinapocino wrote, "And the best thing is that most boomers got their jobs WITHOUT a degree, they gatekeep a club they wouldn't even get into now." @feistybee said, "My dad argued with me about housing prices. "Your mom & I bought our house for $108k in 1981." ($300k today) Their house is now worth over a million."