As the adrenaline of their conspiracy-fueled rampage through the U.S. Capitol building wears off, participants of the pro-Trump protest are now faced with the consequences of their actions. While some — like Elizabeth from Knoxville who couldn't believe she got Maced for storming a restricted building without lawful entering — received at least a part of their dues on the spot, the FBI has requested the public's help in identifying the rest. Many have since come forward with valuable information, including one woman who recognized her ex-husband in photographs and videos on the Senate floor clad in a combat helmet, body armor, and other tactical gear while carrying zip-tie handcuffs.
According to NBC 5, Larry Rendell Brock of Grapevine, Texas, was recently arrested in connection to the January 6 riot after his ex-wife of 18 years reported him to the FBI. Officials revealed that the 53-year-old surrendered to FBI agents Sunday after agreeing to meet them at the Grapevine Police Department. Brock has since been charged in federal court, in the District of Columbia, with knowingly entering or remaining in a restricted building without lawful authority, and with violent entry and disorderly conduct on Capitol grounds.
The arrest affidavit alleges that more than one person turned in Brock after recognizing him in the news footage. "I just know that when I saw this was happening, I was afraid he would be there," Brock's ex-wife allegedly told the FBI, according to the affidavit. "I think you already know he was there. It is such a good picture and I recognize his patch." John Scott-Railton, a senior researcher at Citizen Lab, at the University of Toronto's Munk School was also among those who notified the FBI about Brock after identifying him through the Texas-themed logos and military insignia on his combat helmet and body armor.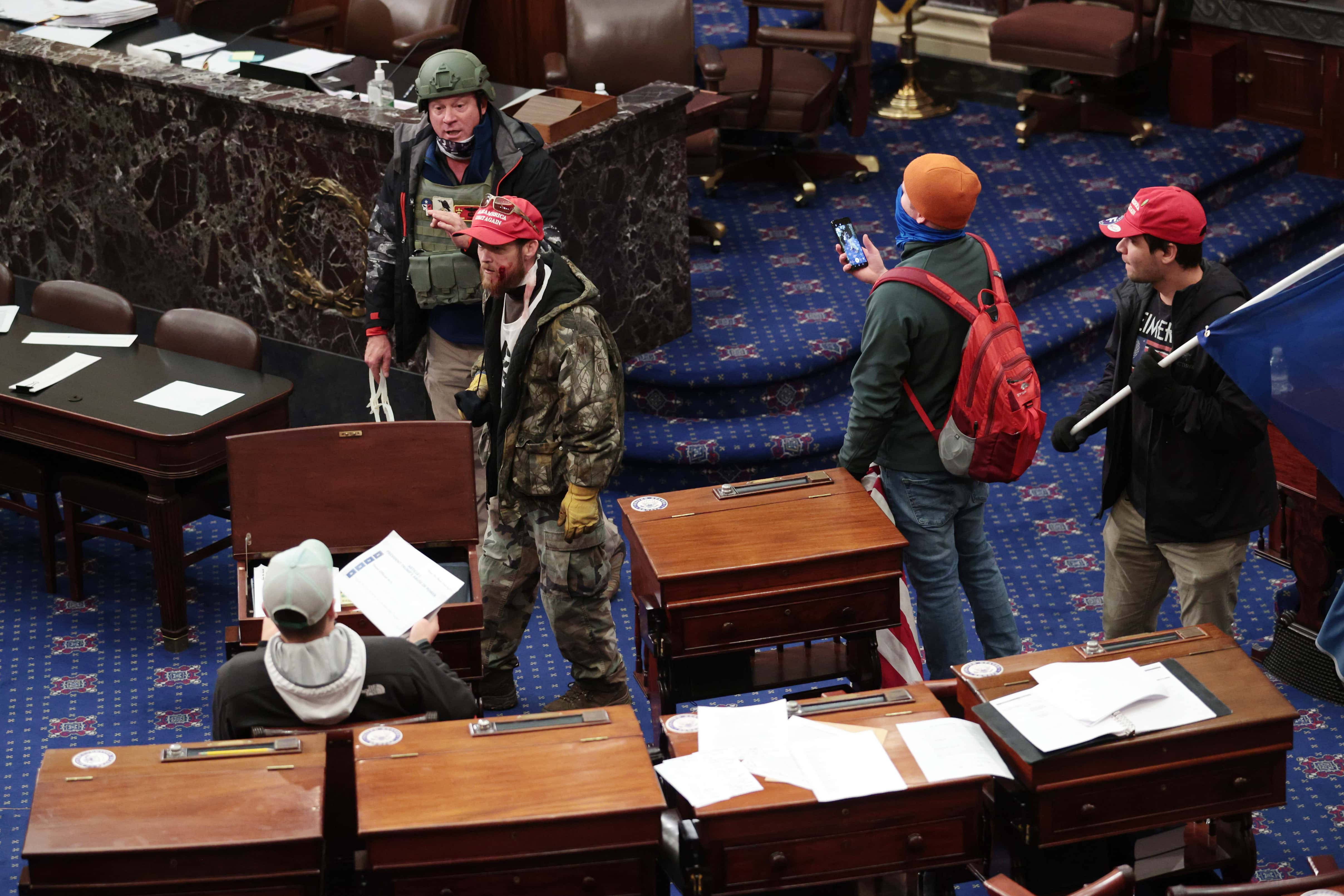 "I used a number of techniques to hone in on his identity, including facial recognition and image enhancement, as well as seeking contextual clues from his military paraphernalia," Scott-Railton told The New Yorker. "My first question was, 'Who is this man with military-style patches?' He's wearing a bunch of gear. He looks pretty comfortable in it." Scott-Railton was also able to find a recently deleted Twitter account associated with Brock that featured a Crusader as its avatar. "All those things together, it's like looking at a person's C.V.," he said.
Brock, a father-of-three, reportedly graduated from the Air Force Academy in 1989, with a major in international relations and affairs. In a LinkedIn profile that was recently deleted, he described himself as having served as a chief operations inspector and flight commander with the 706th Fighter Squadron where he led over two dozen pilots at one point. Brock himself confirmed that he was the man in the photos and videos in an interview with The New Yorker prior to his arrest during which he echoed Trump's baseless claims of election fraud. "The President asked for his supporters to be there to attend, and I felt like it was important, because of how much I love this country, to actually be there," he said at the time.
Brock claimed that he does not identify as part of any organized group and that when he arrived at the Capitol he simply assumed he was welcome to enter the building. Although he is seen emerging from Speaker Nancy Pelosi's office suite in a video shot by ITV News, Brock denied the same saying that he "stopped five to ten feet ahead of the sign" bearing her title that insurrectionists later tore down and brandished. As for the zip-tie handcuffs he was photographed with, he claimed that he had found them on the floor. "I wish I had not picked those up," he said. "My thought process there was I would pick them up and give them to an officer when I see one... I didn't do that because I had put them in my coat, and I honestly forgot about them."
Two family members and a longtime friend revealed that Brock's political views had grown increasingly radical in recent years. "I don't contact him anymore 'cause he's gotten extreme," said Bill Leake, who flew with Brock in the Air Force for a decade. Both of Brock's family members said that he had made racist remarks in their presence while one recalled: "weird rage talk, basically, saying he's willing to get in trouble to defend what he thinks is right, which is Trump being the President, I guess."