Seven US Capitol police officers are suing former President Donald Trump over his role in the January 6 riots. The cops have filed a lawsuit against Trump, Stop the Steal rally organizers, and far-right extremist groups for spreading lies that led to the attempted overturning of the 2020 election results. The lawsuit accuses them of spreading lies that eventually incited the insurrection that injured more than 140 police officers on January 6. "Plaintiffs and their fellow law enforcement officers risked their lives to defend the Capitol from a violent, mass attack — an attack provoked, aided, and joined by Defendants in an unlawful effort to use force, intimidation, and threats to prevent Congress from certifying the results of the 2020 Presidential election," reads the lawsuit. "Because of Defendants' unlawful actions, Plaintiffs were violently assaulted, spat on, tear-gassed, bear-sprayed, subjected to racial slurs and epithets, and put in fear for their lives," the lawsuit says.
The lawsuit was filed Thursday in US District Court for the District of Columbia. "Plaintiffs' injuries, which Defendants caused, persist to this day," read the statement. Donald Trump is already facing a couple of legal actions with regards to his role in the US Capitol insurrection. The former President has denied having any role in the attack, despite repeatedly telling protesters to march to Capitol Hill. One of the key arguments in the lawsuit is that they spread lies about the election being stolen and "incited violence against members of Congress and the law enforcement officers whose job it was to protect them." Some of the others named in the lawsuits are alleged members of far-right extremist groups Proud Boys and Oath Keepers, who are currently facing criminal charges for their alleged roles in the riot.
The police officers who defended Capitol Hill during the insurrection are still dealing with physical and mental trauma from the attack, as they made clear during a hearing before the House select committee investigating the events of that day. Their accounts made clear that they are still dealing with physical and mental trauma from the attack.
Earlier this year, two US Capitol Police officers sued Trump for inciting the crowd and said they suffered physical and emotional damages because he allegedly "inflamed, encouraged, incited (and) directed" the mob that stormed the Capitol. Democratic lawmakers, including former House impeachment manager Rep. Eric Swalwell of California, have also sued Trump and his associates over the attack.
Trump has repeatedly spread lies about the election being stolen and said as much on the morning of the insurrection in an event. The rioters went straight from Trump's event, Save America Rally, to Capitol Hill, trying to overturn the election and seeking out House Speaker Nancy Pelosi and Mike Pence in particular. "We took him by surprise and this year they rigged an election, they rigged it like they have never rigged an election before," said Trump at the rally, reported ABC News.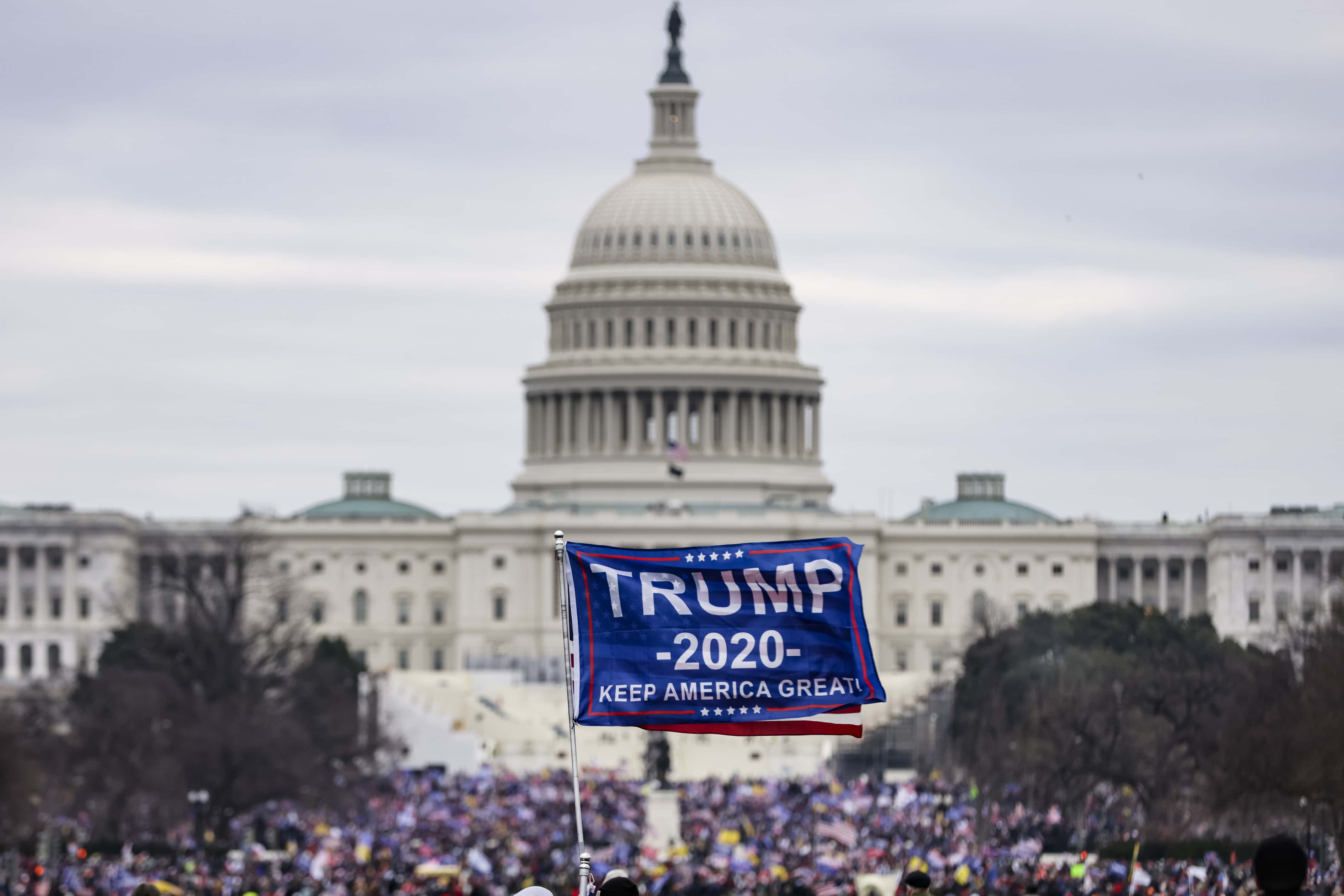 He repeatedly pushed the lie despite ample evidence confirming the election wasn't rigged. "Now, it is up to Congress to confront this egregious assault on our democracy. And after this, we're going to walk down. Anyone you want, but I think right here, we're going to walk down to the Capitol. Because you'll never take back our country with weakness. You have to show strength and you have to be strong," added Trump. "We will never give up. We will never concede. It doesn't happen. You don't concede when there's theft involved."
The lawsuit comes just days after the US Capitol Police's Office of Professional Responsibility ruled that a USCP officer did nothing unlawful when they shot and killed pro-Trump rioter Ashli Babbitt on January 6. As we reported, the statement read, "USCP's Office of Professional Responsibility (OPR) determined the officer's conduct was lawful and within Department policy, which says an officer may use deadly force only when the officer reasonably believes that action is in the defense of human life, including the officer's own life, or in the defense of any person in immediate danger of serious physical injury."